Visiting Kent by train
The county of Kent has over 100 railway stations with Tonbridge seeing the most passengers in 2017. It's an important railway junction with lines to London, Ashford, Hastings, and Redhill. The direct train to London Charing Cross from Tonbridge takes around 45 minutes, which might explain its popularity. A market town, Tonbridge is home to Tonbridge Castle.
The county town of Kent is Maidstone, a bustling hub for the surrounding area with lots to do for visitors. Trains from London St. Pancras or London Victoria to Maidstone both take roughly just over an hour. Popular Maidstone attractions include the Archbishop's palace, the 14th-century home of the Archbishops of Canterbury, and Leeds Castle.
With 500 acres of beautiful parkland and gardens, daily activities, free falconry displays, spectacular events, special tours, and year-round attractions, Leeds Castle is one of the best days out in Kent. Canterbury is another popular city in Kent and is one of the most visited cities in the UK. A UNESCO World Heritage Site and the spiritual home of England, it's home to Canterbury Cathedral, St. Augustine's Abbey and St Martin's Church.
Kent high-speed trains
Javelin trains cover the high-speed train line in Kent and are currently the only domestic high-speed rail service in the UK. Reaching speeds of up to 140 mph, they connect London to Kent's major cities, including Margate, Dover, Canterbury and Whitstable. Check out our Kent high-speed train route map below – we've highlighted all the destinations you can travel to on a Javelin high-speed train.
Kent high-speed train route map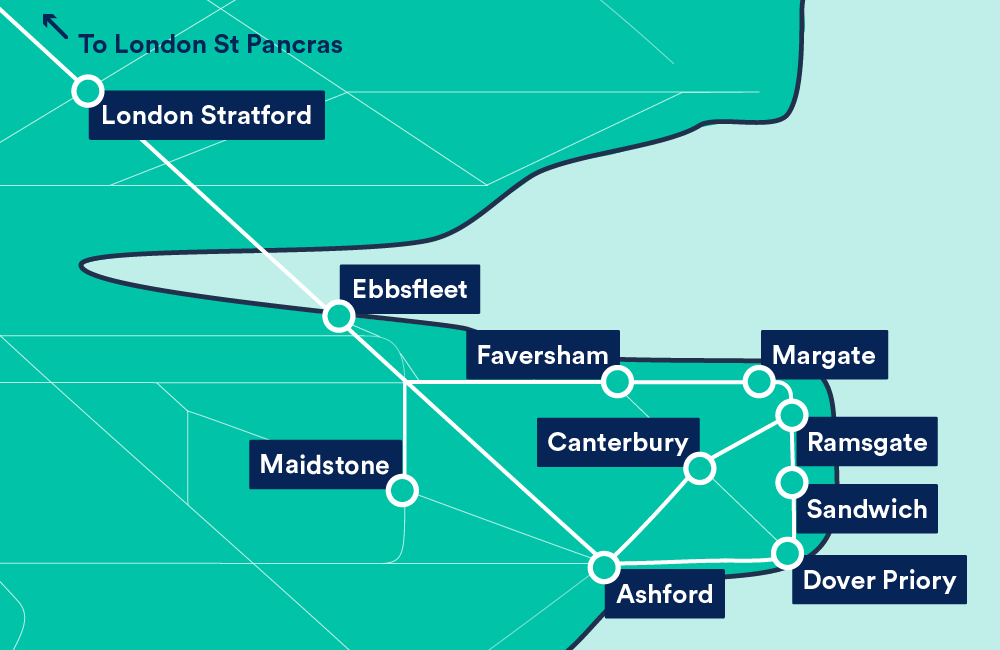 Need more information on Javelin trains? Check out our dedicated page to Javelin high-speed trains.
Top attractions in Kent
Kent has an abundance of scenic countryside and coastal paths for visitors to explore. With so many major cities and towns with iconic landmarks, visitors are truly spoilt for choice. One of the most popular walks for tourists is a stroll through the medieval streets of Canterbury. There are many guided tours with knowledgeable guides, but one can easily navigate their way through the city on their own. A good place to start from would be Canterbury Castle, a short five-minute stroll from Canterbury East railway station. Canterbury Castle was one of the three original Royal castles of Kent but has been in ruins for almost 700 years. Only the square keep, some of the castle walls and a small portion of the bailey are still standing. From the castle grounds, a walk down Castle Street and then on to St. Margaret's Street takes one to the Canterbury Tales, a dramatic recreation of Chaucer's famous tale that gives visitors a peek into medieval life. Just down the road from Margaret's Street is the High Street, with the usual collection of shops pubs and restaurants.
One pub that isn't so usual is The Old Buttermarket, a traditional pub with a fascinating past. One has to step inside to discover its secrets and maybe indulge in some of its signature classic British dishes and real ales. A stone's throw from the pub you'll find the entrance to Canterbury Cathedral. It's one of the oldest and most famous Christian structures in England and dates back to the year 597. The Cathedral is both a holy place and part of a World Heritage Site and is definitely worth a visit.
Last but not least, Kent is home to plenty of sandy beaches, including Margate and Broadstairs. Perfect for a day out with the whole family. If the weather's on your side you might be surprised by how exotic the south east of England can look!
Kent train stations
Find a complete list of all Kent train stations below.
Bat and Ball
Borough Green and Wrotham
Frequently asked questions
How can I get cheap train tickets to Kent?
It's easy to grab yourself cheap train tickets to Kent. We'd recommend using a Railcard, buying your ticket in advance or travelling during Off-Peak hours if you can. 
Are trains running to Kent?
Trains run frequently almost every day to Kent, although there may be less services during the weekends and bank holidays. Check our live train times for up-to-date information on trains to Kent.
How long does it take to get to Kent by train?
You can view train timetables and travel times to Kent in our Journey Planner. Kent is well connected to major cities around the UK by train, just enter your departure station and travel date into our Journey Planner to see how long it takes.
Can I use my Railcard to save up to 1/3 on my trip to Kent?
Yes, there are several types of Railcards you can use to save up to 1/3 on your trip to Kent, these include:
Having a Railcard means you can use it whenever you want outside of Peak times for a whole year too.