Barcelona Sants train station
The modern Barcelona Sants dates back to the 1970s, making it newer than Barcelona's other central railway station, Estació de França. The station is in the west of the city and a short distance from the city centre.
Barcelona Sants is served by Renfe's flagship AVE high-speed train service. Platforms 1-6 cater to AVE services. High-speed trains from Sants station run south to Malaga, Sevilla and Madrid, as well as north to Girona and across the French border to Perpignan.
Barcelona Sants also caters to other services, such as the Euromed train connecting Barcelona to Valencia in 3 hours, Barcelona to Port Aventura theme park in 1 hour, as well as trains from the French TGV high-speed network. You can even catch a six-and-a-half-hour train from Barcelona to Paris.
The station is the main hub in Barcelona for regional and suburban train services, and it's well connected to other public transport services too. The metro station (Sants-Estació) is also part of the complex, providing links to the rest of the city.
Address
Plaça dels Països Catalans, 1, 7, 08014 Barcelona, Spain
Metro and other transport links
The train station is served by the Sants Estació metro stop. Lines L3 and L5 run through Sants Estació. There are ticket machines in the metro station with an English language option.
Alternatively, there are taxis outside the station, as well as a bus stop.
Transfers from Barcelona Sants to El Prat Airport
Barcelona Sants also provides a fast connection to the local airport – Barcelona Airport El Prat. Unfortunately, you can't buy tickets for this train online and these need to be bought at Barcelona Sants or any metro station.
The R2 Nord (R2N) line runs from Sants to the airport. This is part of the Rodiales suburban rail service. This train will take you directly to Terminal 2. If you need to get to Terminal 1, there is a free shuttle bus service between the two terminals. It runs 24 hours a day, departing every 5-7 minutes.
Make sure you take R2 Nord service and not the R2 Sud. They're different lines and the latter does not call at El Prat Airport!
How long does it take to get from Barcelona Sants to the airport?
The train takes just 25 minutes and departs every 30 minutes. The first train departs Barcelona Sants at 05:13 and the last at 23:11. You can view a timetable for the service on the Airport's website. https://www.aeropuertobarcelona-elprat.com/ingl/accesos_aeropuerto_tren4010.htm
How much is the train from Barcelona Sants to El Prat Airport?
Single tickets cost €4.60*. You can't buy tickets online, so you will have to get one at Sants station or any metro station in the city.
*Price correct as of April 2020.
How do I get to Terminal 1 from the train?
You will need to take the free shuttle bus to Terminal 1 from Terminal 2, where the train service stops. These buses run 24/7 and depart approximately every 5 to 7 minutes with a total transfer time of 10 to 15 minutes.
Bus services to El Prat Airport
The Aerobús service is a convenient alternative to the train or a costly taxi transfer. It runs to both terminals, with each bus containing lots of space for luggage and free WiFi. Look out for the bright blue bus with 'AEROBÚS' painted on the side!
The bus departs from the city's main square, Plaça de Catalunya. The A1 service takes you to Terminal 1 and the A2 service to – yep, you guessed it – Terminal 2. You can buy tickets through our app or website – just enter Plaça de Catalunya' as your origin and 'El Prat' as your destination.
Station facilities
Visitors to Barcelona Sants have a wealth of facilities available to them at the station. These include:
Toilets
Catering outlets such as coffee shops and fast-food restaurants
Cash machines
Tourist information office
Lost property
Car hire
Luggage trolleys
Shops
Accessible platforms, toilets and lift
WiFi access
At present, Barcelona Sants doesn't have its own WiFi network for station passengers. You'll have to use the free WiFi in one of the two station restaurants – McDonald's or Ars. Bear in mind you'll be expected to buy something if you want to hop on to the network!
Restaurants and cafes in the station
The eateries in Sants station cater to travellers after a quick bite, so you won't find much beyond fast food joints and cafes. You'll find four main establishments in the station:
McDonald's
Located by the Media Distancia ticket desks, the station McDonald's is large and usually quite busy. It's open from 05:00 to 00:00 every day.
Caffe di Fiore
Italian-style café serving coffee, pastries, sandwiches and salads. Located at the back of the station.
Ars Café
The largest eatery in the station, Ars café comprises of a self-service section and a seated area offering table service. The latter is only open at lunch and sells full meals. The self-serve area sells snacks, sandwiches and pastries. Ars is located on the right-hand side as you approach the station – keep an eye out for the butterfly logo.
Café de l'Estació
There are two of these cafes in the station – a large one by the Media Distancia ticket office, and a smaller one close to McDonald's. There is table service at the larger of the two, with small pizzas and sandwiches available, while the other is for takeaway food and coffee.
Security checks for high-speed trains
If you're taking a high-speed or long-distance train, you will have to pass through a quick X-ray scan of your baggage before boarding. The checks are not as stringent as airport security – only your bag will be X-rayed – and it should only take a minute. The baggage checkpoint is right before the entrance to platforms 1-6, where the high-speed services depart from.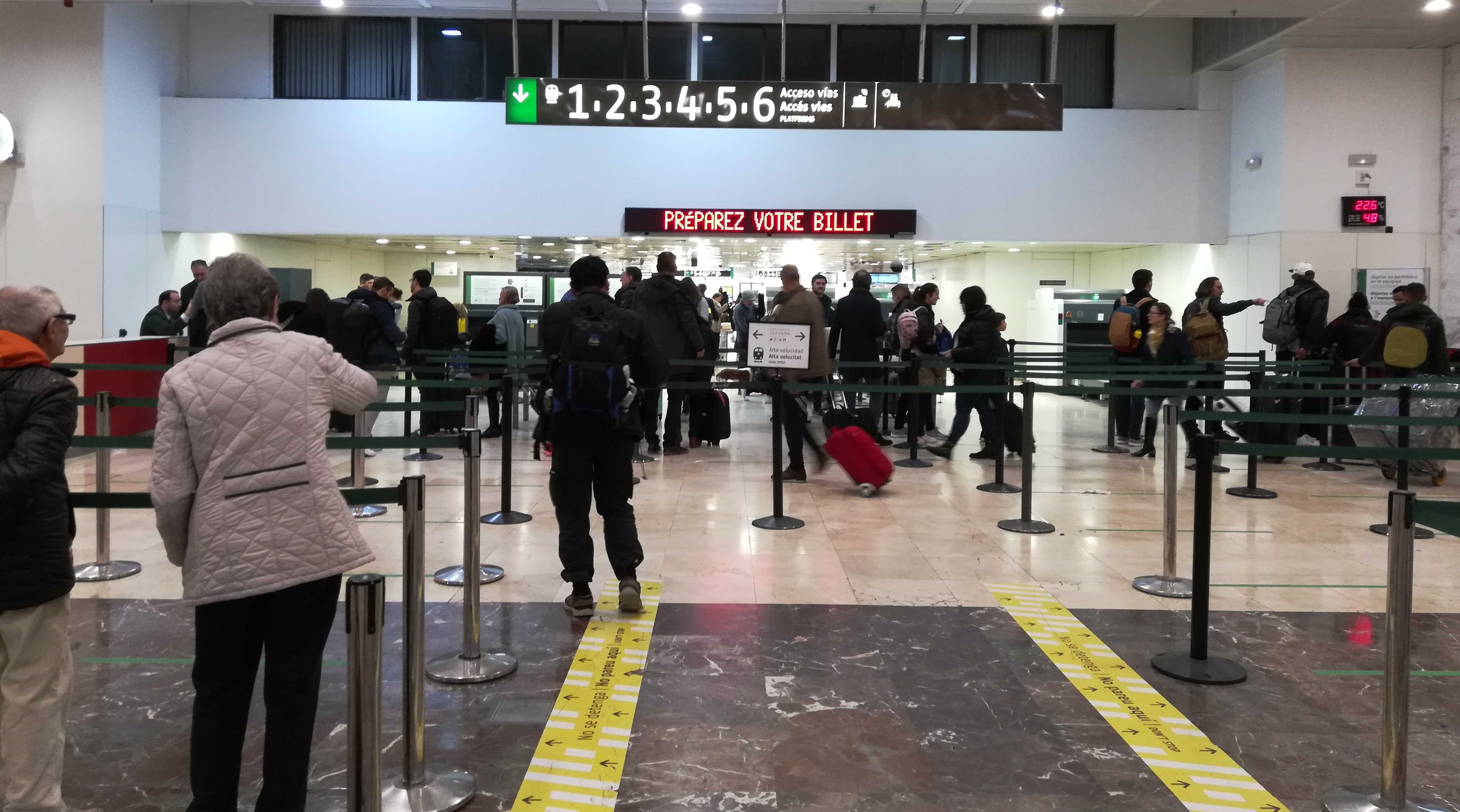 Top attractions nearby Barcelona Sants
Plaça de Catalunya
The city's central square, complete with numerous interesting fountains and statues. A visit to Barcelona wouldn't be complete without a stroll around Plaça de Catalunya.
How to get there: take the L3 metro line from Sants Estació towards Trinitat Nova, alighting at Catalunya. The journey should take around 15 minutes.
Camp Nou
Barcelona FC's famous stadium is very close to Sants station – just 1.5km as the crow flies. Visit for a stadium tour or see if you can bag a matchday ticket!
How to get there: Camp Nou is accessible on foot from the station, but if you don't fancy walking you can take the L3 line (stations Palau Reial and Les Corts) or L5 (Badal and Collblanc).
Sagrada Familia
The magnificent Sagrada Familia is one of Europe's most recognisable monuments. Gaudí's unfinished masterpiece attracts countless visitors every year – the otherworldly façade and soaring towers are a sight to behold.
How to get there: from Sants Estació, take the L5 line towards Valld'Hebron, alighting at Sagrada Familia station.
Park Güell
Another Gaudí masterpiece, the Park Güell is a public park nestled on Carmel Hill. The park is full of quirky architectural elements and offers great views of the city.
How to get there: take the L5 line towards Vall d'Hebron, changing at Diagonal station. Then take the L3 to Vallcarca. From there, it's a 10-minute walk to the park.