London to Leeds on the East Coast Main Line
Trains from London to Leeds depart from Kings Cross station and arrive into Leeds railway station – the city's main station. It is the terminus for the Leeds branch of the East Coast Main Line, which forks off the main branch at Doncaster. The fastest services reach Leeds in just 2h 10m.
You'll travel on an Azuma train. These are LNER's high-speed, modern trains capable of speeds of 125 mph on the East Coast Main Line. Free WiFi comes as standard and all seats have access to power sockets. The trains on the London-Leeds route are 10-coach trains – meaning you'll have plenty of space to kick back and enjoy the views from the train window.
If you want to travel in comfort from London, consider upgrading to First Class. You'll enjoy reclining seats, extra space, morning papers brought to your table and a complimentary menu. LNER are currently offering fewer options on their menu as catering is phased back into the service.
How to find cheap tickets from London to Leeds
The cheapest tickets from London to Leeds are Advance Singles. These are usually found well in advance of the day of travel, but on quiet services, they are available up to the night before travel. The next cheapest tickets are Super Off-Peak singles. The Super Off-Peak window for this route usually falls between 11:00 and 15:00, so if you can spare the time to travel in the middle of the day, you can make big savings. These discounted tickets can be available the day before travel or even on the day, so you don't always have to book weeks in advance to find the cheapest fares.
Railcards can also save you a third on trains to Leeds from London. You can buy Railcards directly through Trainline and store them in app – so you can do away with those easily-forgettable paper Railcards. Buy a Railcard in minutes online.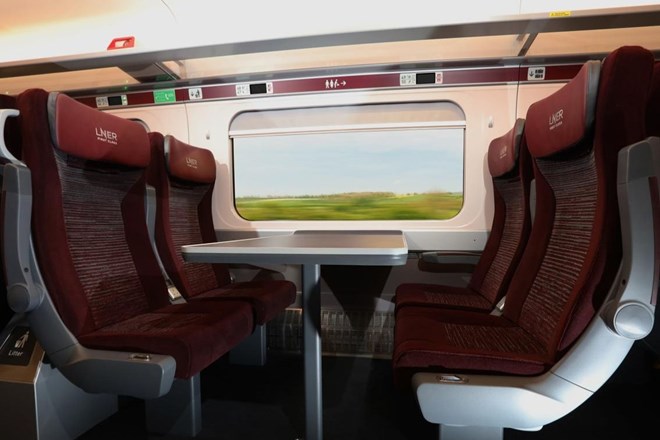 ---
Leeds is an important hub on the British rail network – it has the busiest station in the north of England! Trains to Leeds come from different parts of England and Scotland, including London, Newcastle, Stevenage and Edinburgh. Check out the most popular routes to Leeds we've put together for you in our table below, or start your search for a different station in our Journey Planner at the top of the page.
Popular train journeys to Leeds
| Route | Fastest journey | Train operator |
| --- | --- | --- |
| London to Leeds | 2h 12m | East Midlands Railway, LNER |
| Newcastle to Leeds | 1h 21m | CrossCountry, TransPennine Express, LNER |
| Edinburgh to Leeds | 2h 54m | CrossCountry, TransPennine Express, LNER |
| Liverpool to Leeds | 1h 24m | TransPennine Express |
| Manchester to Leeds | 44m | TransPennine Express |
| Birmingham to Edinburgh | 1h 56m | CrossCountry |
| Stevenage to Leeds | 1h 50m | LNER |
Visiting Leeds
Whether you're a die-hard football fan or not, feeling the buzz in the air during a match at Leeds United F.C. Stadium is an unforgettable experience. Alternatively, for a slightly more subdued evening, head to the popular Grade II-listed Grand Theatre and Opera House, an elegant Victorian venue with a capacity of 1,550. The theatre is also home to the Howard Assembly Room, which regularly hosts avant-garde art performances.
Trinity Leeds offers over 120 shops, restaurants and cafés in a sprawling million-square-foot space right in the heart of the city. For one-off retail therapy, don't miss the Grand Arcade, a Leeds landmark of independent shopping since Victorian times.
The multi-million pound Royal Armouries hosts the National Collection of Arms and Armour, with over 8,500 weapons and military objects across six themed galleries: War, Tournament, Oriental, Self-Defence, Hunting, and Peace. This free exhibition is especially popular with families.
For something a little different, Leeds also has a multitude of interactive attractions for groups of adults, such as the thrilling 'Locked In Games', the 'Northern Snooker Centre & Stateside American Bar' and 'Pole Position Indoor Karting'.
Planning a day trip from Leeds? Check out our dedicated guide to 8 of the best day trips from Leeds.
Frequently asked questions
What's the main train station in Leeds?
The main train station in Leeds is Leeds station, which is located on the edge of the city centre by the River Aire.
Which train companies run trains to Leeds?
There are a number of trains companies in the UK that operate trains to Leeds, including LNER, East Midlands Railway, CrossCountry and TransPennine Express.
How can I get cheap train tickets to Leeds?
It's easy to grab yourself cheap train tickets to Leeds. We'd recommend using a Railcard, buying your ticket in advance or travelling during Off-Peak hours if you can. Read our cheap train tickets guide to find out more.
Are trains running to Leeds?
Trains run frequently almost every day to Leeds, although there may be fewer services during the weekends and bank holidays. Check our live train times for up-to-date information on trains to Leeds.
Can I use my Railcard to save up to 1/3 on my trip to Leeds?
Yes, there are several types of Railcards you can use to save up to 1/3 on your trip to Leeds, these include:
Two-Together Railcard (Great for couples and friends who always travel together)
16-17 Saver (You can save up to 50% with this one)
16-25 Railcard (Ideal for students)
26-30 Railcard (Also known as the Millennial Railcard)
Senior Railcard (For those aged 60 and over)
Friends & Family Railcard (Great for families of up to 4 adults with up to 4 kids)
Disabled Railcard (If travelling with another adult they can save too)
Having a Railcard means you can use it whenever you want outside of Peak times for a whole year too.