London to York on the East Coast Main Line
Trains from London to York are operated by London North Eastern Railway, who run services on the East Coast Main Line (ECML). All services depart from London Kings Cross, calling at several major stations on the ECML – including Doncaster, Newcastle and Edinburgh.
The fastest services take just 4h 20m to reach York station – the city's main railway station. You'll travel on an Azuma train. These are LNER's high-speed, modern trains capable of speeds of 125 mph on the East Coast Main Line. Free WiFi comes as standard and all seats have access to power sockets.
If you want to travel in comfort from London, consider upgrading to First Class. When booking just a day or two ahead, upgrading to First Class can cost as little as £10 more than Standard Class tickets. You'll enjoy reclining seats, extra space, morning papers brought to your table and a complimentary menu. LNER are currently offering fewer options on their menu as catering is phased back in to the service.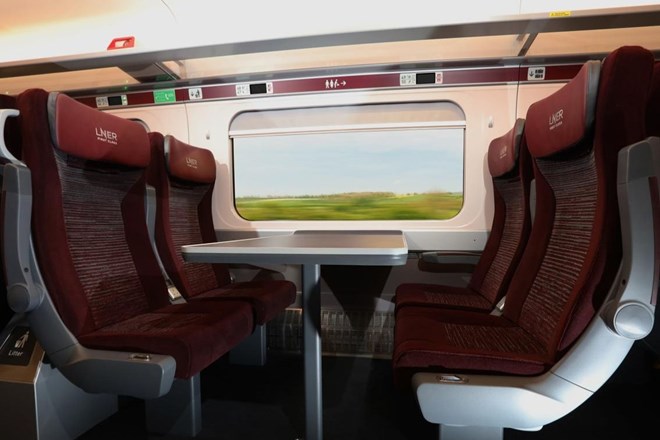 ---
How to find cheap tickets from London to York
The cheapest tickets from London to York are Advance Singles. These usually sell out ahead of time, but on quieter services, there are still Advance Single tickets available up to the night before departure. Super Off-Peak are the next cheapest ticket type. The Super Off-Peak window for this route usually falls between 11:00 and 15:00, so if you can spare the time to travel in the middle of the day, you can make big savings. These discounted tickets can be available the day before travel or even on the day, so you don't always have to book weeks in advance to find the cheapest fares.
Railcards can also save you a third on trains to York from London. You can buy digital Railcards online with us and store them in our app – so you can do away with those easily-forgettable paper Railcards.
Visiting York 
You know York is a historic city as soon as you step out of the station. A portion of the Roman city wall lies directly opposite the forecourt and leads northwest through the serene Memorial Gardens to the River Ouse. On the opposite bank are the Museum Gardens, home to the Yorkshire Museum and the ruins of St Mary's Abbey; and it's a short walk from there to the great York Minster, with its Gothic façade and famous Great East Window.
In the city centre, wander through The Shambles, a warren of narrow, atmospheric streets filled with independent shops and cafes, and see the history of York brought to life at the Jorvik Viking Centre and the York Castle Museum, which delves into the city's later golden age with hands-on exhibits and a recreated Victorian street.
When it's time to eat, you'll find a range of award-winning restaurants, charming cafes, and traditional pubs – and you can indulge your sweet tooth on the York Chocolate Trail, discovering the surprising role chocolate has played in the city's history. In fact, York is often called the "Chocolate City" has been home to two household names, Terry's and Rowntrees. 
Back at the station, don't miss the National Railway Museum, packed with famous engines like the Flying Scotsman and the Mallard, as well as railway posters and vintage photos.
Frequently asked questions
How can I get cheap train tickets to York?
It's easy to grab yourself cheap train tickets to York. We'd recommend using a Railcard, buying your ticket in advance or travelling during Off-Peak hours if you can. 
Are trains running to York?
Trains run frequently almost every day to York, although there may be less services during the weekends and bank holidays. Check our live train times for up-to-date information on trains to York.
How long does it take to get to York by train?
You can view train timetables and travel times to York in our Journey Planner. York is well connected to major cities around the UK by train, just enter your departure station and travel date into our Journey Planner to see how long it takes.
Can I use my Railcard to save up to 1/3 on my trip to York?
Yes, there are several types of Railcards you can use to save up to 1/3 on your trip to York, these include:
Two-Together Railcard (Great for couples and friends who always travel together)
16-17 Saver (You can save up to 50% with this one)
16-25 Railcard (Ideal for students)
26-30 Railcard (Also known as the Millennial Railcard)
Senior Railcard (For those aged 60 and over)
Friends & Family Railcard (Great for families of up to 4 adults with up to 4 kids)
Disabled Railcard (If travelling with another adult they can save too)
Having a Railcard means you can use it whenever you want outside of Peak times for a whole year too.