London to Edinburgh on the East Coast Main Line
Trains from London to Edinburgh are operated by London North Eastern Railway, who run services on the East Coast Main Line (ECML). All services depart from London Kings Cross, calling at several major stations on the ECML – including York, Doncaster and Newcastle.
The fastest services take just 4h 20m to reach Edinburgh Waverley – the city's main railway station. You'll travel on an Azuma train. These are LNER's high-speed, modern trains capable of speeds of 125 mph on the East Coast Main Line. Free WiFi comes as standard and all seats have access to power sockets.
If you want to travel in comfort from London, consider upgrading to First Class. When booking just a day or two ahead, upgrading to First Class can cost as little as £10 more than Standard Class tickets. You'll enjoy reclining seats, extra space, morning papers brought to your table and a complimentary menu. LNER are currently offering fewer options on their menu as catering is phased back into the service.
Since 25th October 2021, a brand-new train operator called Lumo has been running between London Kings Cross and Edinburgh via the East Coast Main Line. Learn more about Lumo trains.
How to find cheap tickets from London to Edinburgh
The cheapest tickets from London to Edinburgh are Advance Singles. These are usually found well in advance of the day of travel, but on quiet services, they are available up to the night before travel. The next cheapest tickets are Super Off-Peak singles. The Super Off-Peak window for this route usually falls between 11:00 and 15:00, so if you can spare the time to travel in the middle of the day, you can make big savings. These discounted tickets can be available the day before travel or even on the day, so you don't always have to book weeks in advance to find the cheapest fares.
Railcards can also save you a third on trains to Edinburgh from London. You can buy Railcards directly through Trainline and store them in app – so you can do away with those easily forgettable paper Railcards. Buy a Railcard in minutes online.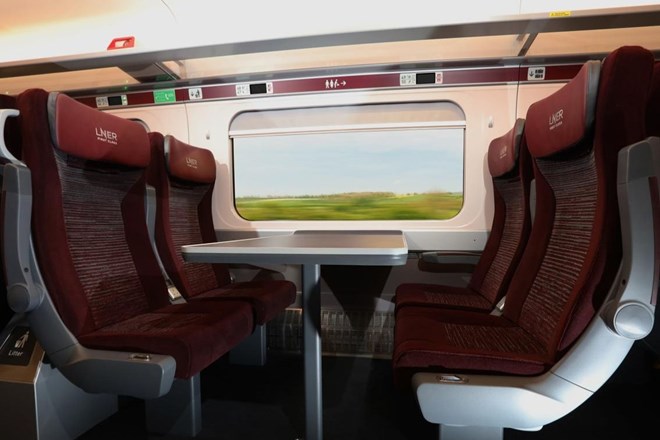 ---
Popular train journeys to Edinburgh
Trains to Edinburgh from England come up the East Coast mainline. Other services come from Glasgow, or from Inverness and Aberdeen in the north of Scotland, including:
London to Edinburgh
Newcastle to Edinburgh 
Glasgow to Edinburgh 
Aberdeen to Edinburgh 
Have a look at our table below with some of the most popular routes to Edinburgh, or you can search for other stations in our Journey Planner at the top of the page.
| Route | Fastest journey time | Train operator |
| --- | --- | --- |
| London to Edinburgh | 4h | LNER, Avanti West Coast |
| Glasgow to Edinburgh | 42m | CrossCountry, ScotRail, LNER |
| Aberdeen to Edinburgh | 2h 17m | CrossCountry, ScotRail, LNER |
| Inverness to Edinburgh | 3h 15m | ScotRail, LNER |
| Manchester to Edinburgh | 2h 56m | TransPennine Express |
| York to Edinburgh | 2h 22m | CrossCountry, TransPennine Express, LNER |
| Newcastle to Edinburgh | 1h 22m | CrossCountry, TransPennine Express, LNER |
London North East Railway is replacing most of the current fleet of trains serving the London to Edinburgh route with new high-speed Azuma trains. These trains are now whisking passengers from London King's Cross to Edinburgh Waverley in just four hours – making your journey north sleeker and faster than ever!
Traveller's top tip
When booking your train tickets to Edinburgh, reserve a seat on the right-hand side of the train on the way to Edinburgh. Between Newcastle through to Berwick-upon-Tweed, you'll enjoy fantastic views of the coastline.
Why not try First Class?
Did you know you can travel to Edinburgh in First Class without breaking the bank? That's right! You can knock the pounds off even the most expensive of train tickets when you book through us and make use of our top tips for saving money on your rail fares. From booking well in advance to using a Railcard, there are so many ways you can save on UK train tickets. Try searching for First Class tickets during Off-Peak hours in our Journey Planner right now! And don't forget, if you don't already have our app make sure to download it. You'll be able to buy mobile tickets while on the go and take a big deal of the stress out of travelling. Whether you want to travel like a rock star or treat that special someone to a First Class experience, we've got you covered.
To book First Class, simply search for your route as usual in our Journey Planner and look out for the First Class tickets (they'll appear to the right-hand side of the 'Standard' tickets). Heading to Edinburgh from London? Check out our guide to travelling First Class from London to Edinburgh. It's not just London you can travel in style to Edinburgh from, find out more about travelling First Class from Newcastle to Edinburgh too.
Learn more about First Class train tickets, including what awaits you on board.
Visiting Edinburgh
Edinburgh is a popular city with tourists all year round. The famous Edinburgh Castle is a magnificent monument to the past, dominating the city from its volcanic crag and offering stunning views of the metropolis, the surrounding countryside and out over the Firth of Forth. Attracting over one million visitors a year to explore its fascinating history, it's a good starting point for exploring Edinburgh.
A very popular visitor attraction is Edinburgh Zoo, situated to the west of the city not far from Edinburgh Airport. With around 80 acres of parkland to explore, visitors can see about 127 different species of animal and over 1,000 animals in total. The most popular attractions are Giant Pandas Tian Tian and Yang Guang, otherwise known as Sunshine and Sweetie.
The Royal Botanic Garden has an extensive collection of plants from all over the world set in beautiful gardens and is ideal for a peaceful stroll and a picnic while enjoying the riot of colours during the season.
Taking a stroll along the Royal Mile reveals a world of quaint shops, atmospheric pubs, and restaurants in which you can take a well-earned rest.
If it's your first time in Edinburgh or even Scotland and you're looking to taste some of the worlds most renowned Scotch whiskies, along the Royal Mile you'll find The Scotch Whisky Experience, one of the many 5-star attractions here.
Frequently asked questions
What's the main train station in Edinburgh?
The main train station in Edinburgh is Waverley station, located between Edinburgh New Town and Old Town in the city centre. Depending on where you're travelling from, you're likely to arrive into Waverley station or Haymarket – the other stations in the city.
Which train companies run trains to Edinburgh?
There are a number of trains companies in the UK that operate trains to Edinburgh, including ScotRail, LNER, Avanti West Coast, Caledonian Sleeper (sleeper train) and Transpennine Express.
How can I get cheap train tickets to Edinburgh?
It's easy to grab yourself cheap train tickets to Edinburgh. We'd recommend using a Railcard, buying your ticket in advance or travelling during Off-Peak hours if you can. Read our cheap train tickets guide to find out more.
Are trains running to Edinburgh?
Trains run frequently almost every day to Edinburgh, although there may be less services during the weekends and bank holidays. Check our live train times for up-to-date information on trains to Edinburgh.
Can I use my Railcard to save up to 1/3 on my trip to Edinburgh?
Yes, there are several types of Railcards you can use to save up to 1/3 on your trip to Edinburgh, these include:
Two-Together Railcard (Great for couples and friends who always travel together)
16-17 Saver (You can save up to 50% with this one)
16-25 Railcard (Ideal for students)
26-30 Railcard (Also known as the Millennial Railcard)
Senior Railcard (For those aged 60 and over)
Friends & Family Railcard (Great for families of up to 4 adults with up to 4 kids)
Disabled Railcard (If travelling with another adult they can save too)