Buying my train ticket 
Once I'd decided I wanted to visit Lyon on my holiday, it was time to book my train ticket. I booked on the Trainline app so I could compare different trains and times and pay for my ticket in pounds. What's more, getting an e-ticket meant one less thing to remember – my ticket was saved automatically in the app for when I needed it. 
Catching the train at Paris Gare de Lyon 
Paris has a number of large train stations, so if you're planning a trip in France, it's important to know which one you're headed to. Trains to Lyon depart from Paris Gare de Lyon, which is easily accessible using the metro (lines 1 and 14) or by hopping onto an RER train.  
When I arrived at Gare de Lyon, I found the right platform and showed my e-ticket (stored in the Trainline app) to the train crew at the ticket gates. After my ticket had been scanned, I headed to the train to find my reserved seat. All high-speed trains on this route include a seat reservation with your ticket, so there's no need to stand!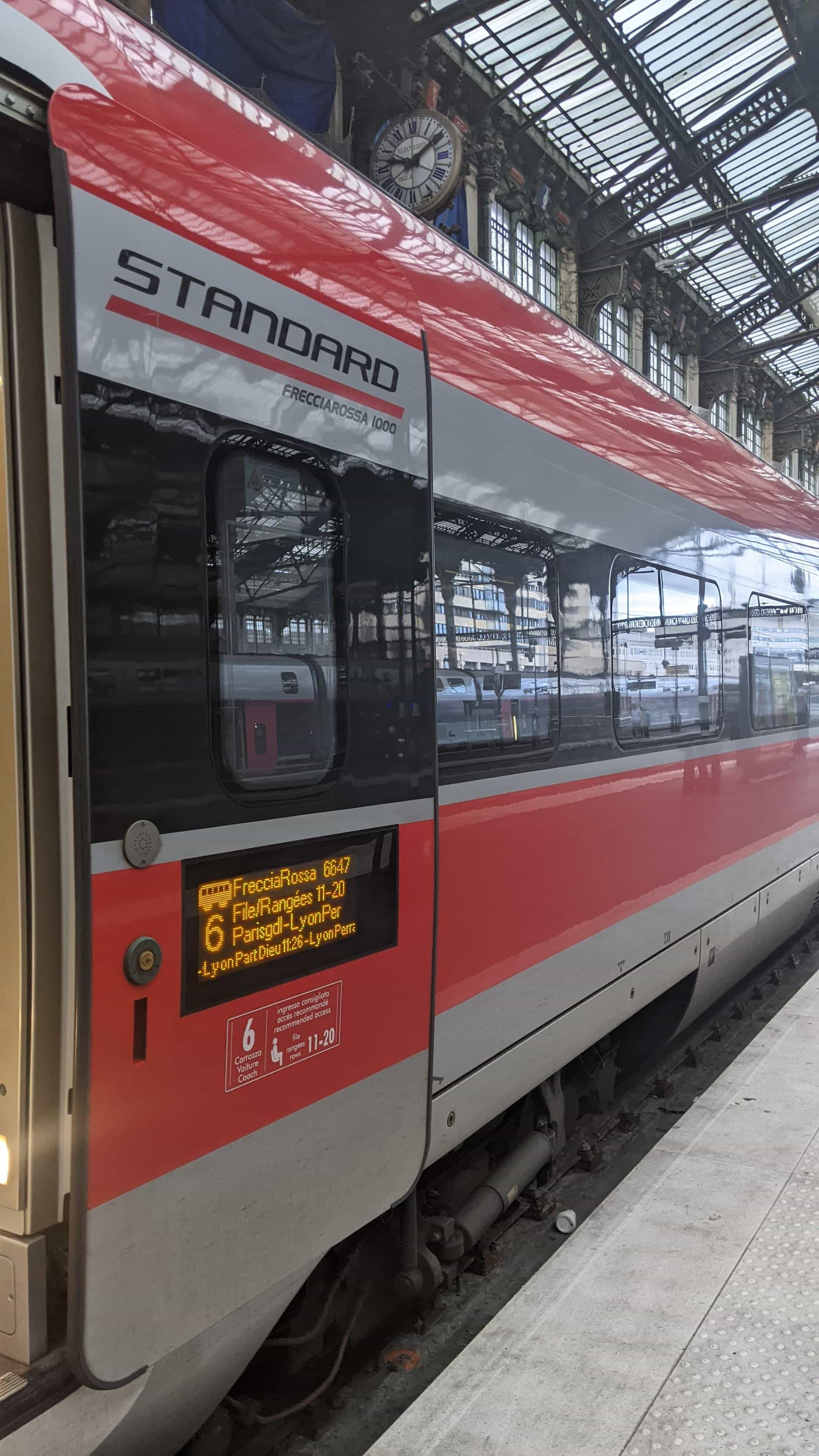 On board a Frecciarossa train  
There are three different train services on the route from Paris to Lyon: TGV INOUI, OUIGO and Frecciarossa. On this occasion, I took a Frecciarossa train. These trains have only been running on this route since December 2021, so they're new and have been built to a high standard. 
My boyfriend and I travelled in Standard Class, which had comfy seats with fold-down tables, plug sockets at each seat, air conditioning and a reliable free WiFi connection throughout the journey. As we booked together, the system reserved us seats next to each other, so we settled in to watch the French countryside roll by.  
The train was quite early, so I didn't manage to eat breakfast beforehand. Luckily, I was able to grab breakfast from the onboard café bar – I got a coffee, an orange juice and a pastry for €5!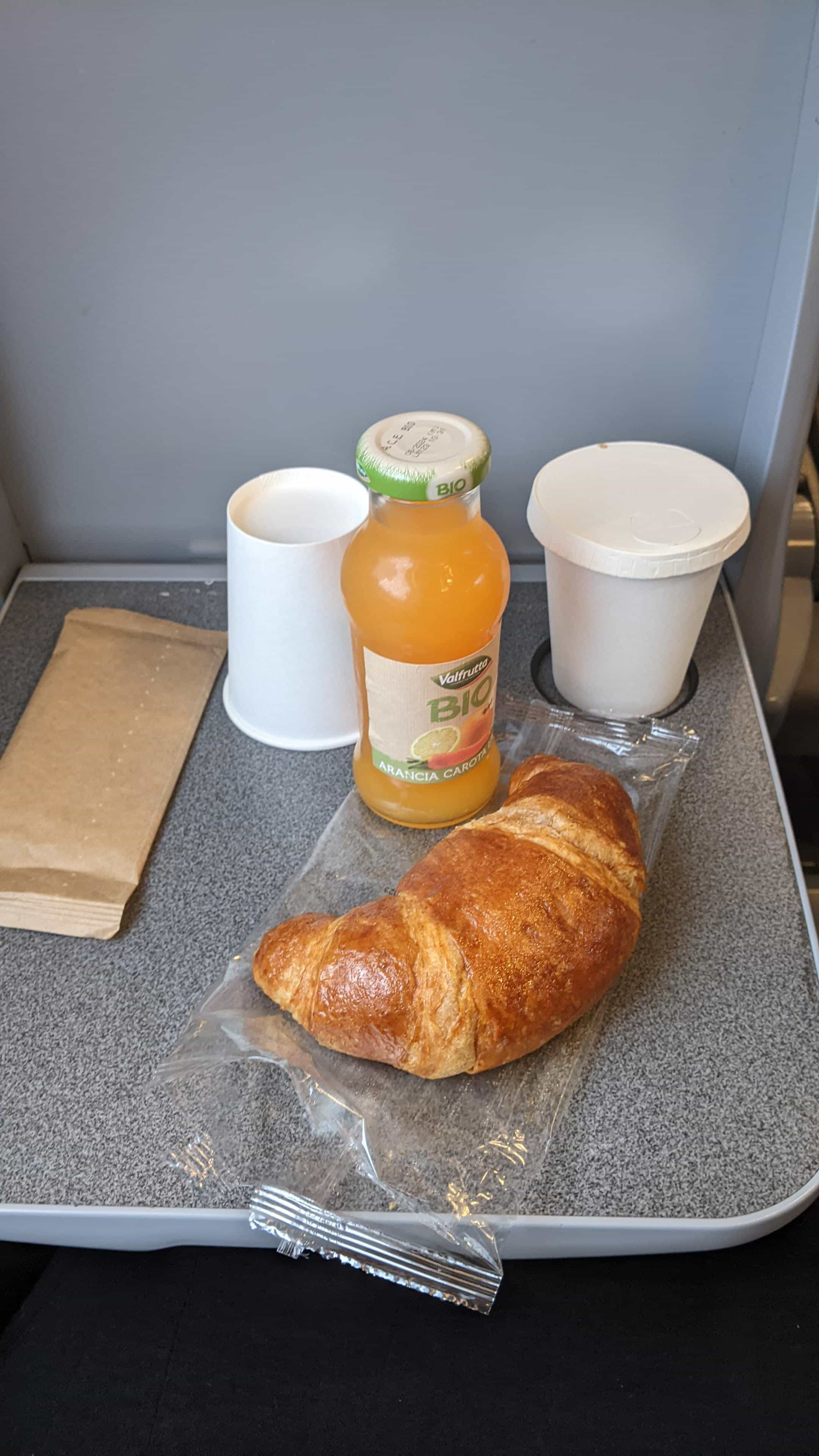 The journey from Paris to Lyon 
We left Gare de Lyon right on time at 9:30am, and soon the train was speeding toward Lyon. There are two main train stations in Lyon: Lyon Part-Dieu and Lyon Perrache. It's worth checking which one is closest to where you want to be and making sure your chosen train stops there.  
Trenitalia services stop at both, so we stayed on the train until Lyon Perrache station as we were staying nearby.  
Arriving at Lyon Perrache 
We made one stop at Lyon Part-Dieu station, where the train waited for a few minutes as passengers alighted, before the train pulled into Lyon Perrache, its final destination. We arrived exactly on time at 11:49am, having travelled 243 miles in just 2 hours and 19 minutes (while the journey to Lyon Part-Dieu is under 2 hours!). 
Overall, I'd really recommend the Frecciarossa train between Paris and Lyon. The train was clean and well-equipped with everything you might need for the journey ahead – as we travelled in the middle of July, I appreciated the air conditioning the most! It was simple to book with Trainline too, so the whole journey from booking a ticket to arriving in Lyon was stress-free.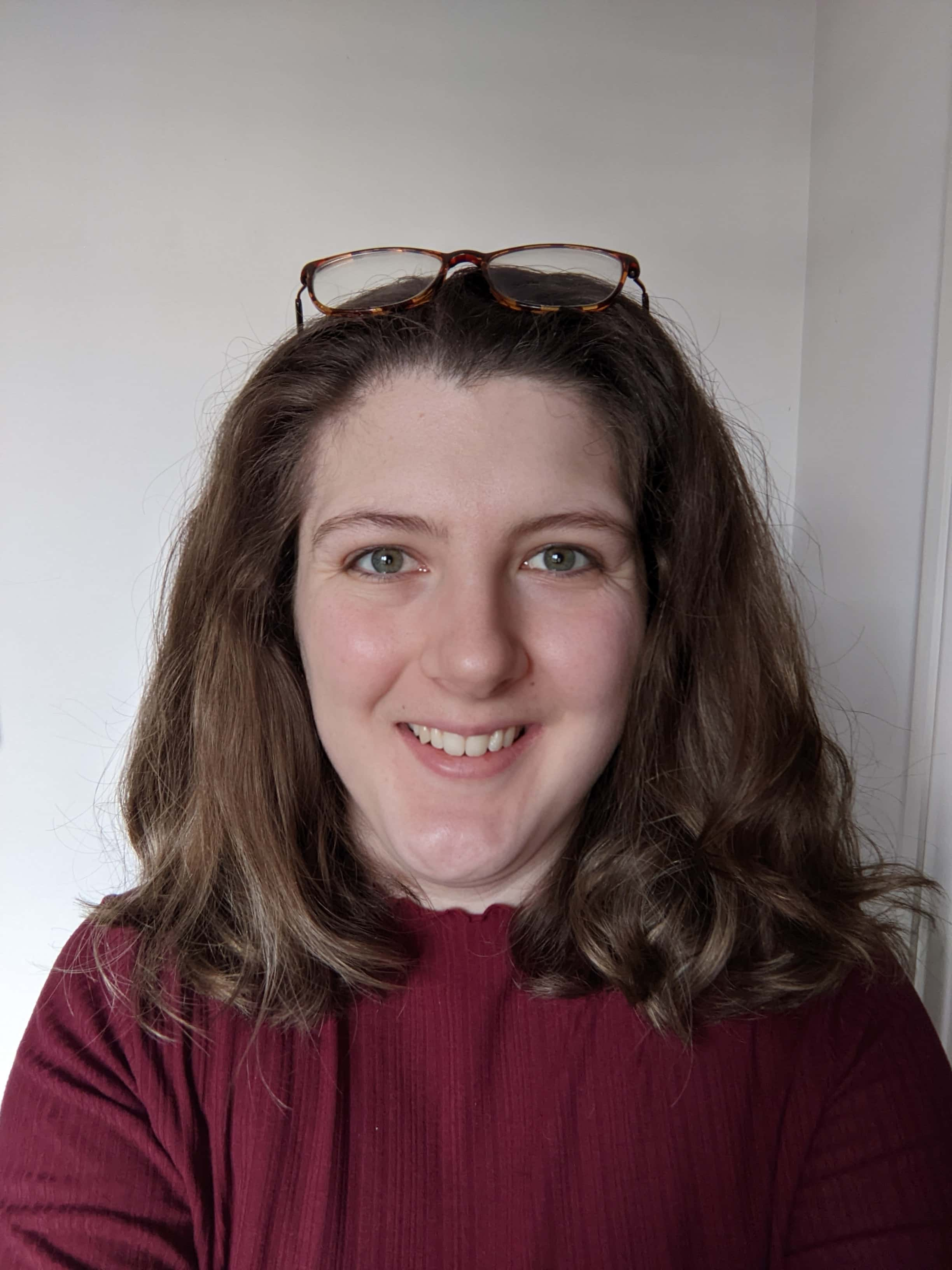 About Kristina
Kristina is one of our trusted, hand-picked travel writers. The information for this review was recorded first-hand, based on her own genuine experience of the journey.