Isle of Wight train stations (Island Line):
Please enter one of the stations below as your destination when searching for your ticket – E.g. "London to Ryde Pier Head"
Things to do on the Isle of Wight
There's plenty to see and do once you reach the island. If your outward journey concludes at the quaint harbour town of Yarmouth in the North West, it's well worth checking out Yarmouth Castle, which you'll get a great view of as your ferry pulls in to its terminal. From there, our top tip would be to head to the Western-most point of the island to visit the extraordinary Isle of Wight Needles. An iconic natural landmark, 'The Needles' are a set of three unique chalk formations emerging from the sea, given their name due to their slim and pointy appearance. From the nearby Alum Bay, you can get an excellent view of the Needles by hopping on a chairlift up from the beach to the top of the cliffs, a ride that might not be for the faint of heart!
If you plan to take in the whole of the island in one trip, you can then head east to Newport (there are plenty of bus services operating from Yarmouth to various parts of the island), where you can visit the medieval Carisbrooke Castle. You can also take the kids to Monkey Haven, a wildlife and safari park that offers the chance to get up close and personal with some very excitable critters. East of Newport on the coast lies the fantastic Shanklin Beach, a real bucket and spade hotspot for visitors to the island. Enjoy the sandy shores and the typical promenade of attractions accompanying them, from ice cream vans to chippy shops and mini-golf games.
How to get to the Isle of Wight
London to the Isle of Wight by train can be an incredibly scenic journey, especially if the weather is on your side. The popular London Waterloo to Yarmouth Ferry Terminal route takes you to Brockenhurst railway station first via a South Western Railway service. You'll need to make a quick change there before boarding another South Western service to complete your journey down to Lymington Pier railway station on the South English coast. From Lymington, a ferry operated by South Western Railway will take you on to Yarmouth.
How to get to the Isle of Wight by hovercraft
To get to the Isle of Wight by the world's only commercial hovercraft service, choose "via Southsea Hoverport" in our Journey Planner. Leave your train at Portsmouth & Southsea station, then hop on the regular shuttle bus to the Hoverport. Once checked in you'll fly across the Solent on a cushion of air - just ten minutes to Ryde Esplanade. There you can pick up an Island Line train or buses for onward travel across the island.
Alternative routes
With only one change, the route from London Waterloo to Ryde Pier Head is a great alternative, especially if you'd prefer to start your Isle of Wight journey on the East side of the island. The train first takes you to Portsmouth Harbour railway station, where you'll change for a South Western Railways-operated ferry on to Ryde. If travelling from London, it's worth noting that the journey to Ryde Pier Head is often the cheapest option, and relatively quick to boot. Please also bear in mind that Ryde Pier Head is an offshore station located at the end of Ryde Pier, so you can either make your way to dry land by foot or catch an Island Line train on to Ryde Esplanade station.
Another option is the London Waterloo to West Cowes route, which again is operated by South Western Railway. This route requires two changes, the first being at Southampton Central railway station. Once there you can hop on a bus or take a slow stroll through the town on foot towards Southampton Town Quay, where your connecting ferry service will take you onwards to West Cowes.
If you are starting your Isle of Wight journey from a location outside of London, please use our journey planner to check train times and ticket prices. You can also check for Isle of Wight train times on the Island Line.
How to get cheap Isle of Wight train tickets
Buying your train and ferry tickets in advance is the easiest and fastest way to get cheap fares. However, you can also ensure you get the cheapest train ticket for your journey by using a National Railcard for an extra 1/3 off your train ticket price. Another way to get cheaper train tickets could be to try searching for two Advance Single tickets rather than a Return. There may be journeys in which you can find cheaper train tickets this way, so make sure to check before buying a Return ticket.
Isle of Wight trains
The Isle of Wight has its own train network called the Island Line, which is run by South Western Railway and operates predominantly on the Eastern side of the island. It features just eight stations and takes passengers on a cheerfully short jaunt from Ryde Pier Head to Shanklin – a great way to explore the island stop by stop or to make your way straight to the beach! Fun fact: Some of the trains operating on this line are former London Underground trains, some of which date back as far as 1938 (these trains may be replaced in years to come, so see them while you can)! We also can't talk about the island without mentioning its steam train – a must for any avid train fans. The gorgeous Isle of Wight Steam Railway route takes passengers from Smallbrook Junction to Wootton, stopping at two stations along the way, and is not to be missed.
Isle of Wight train map (Island Line)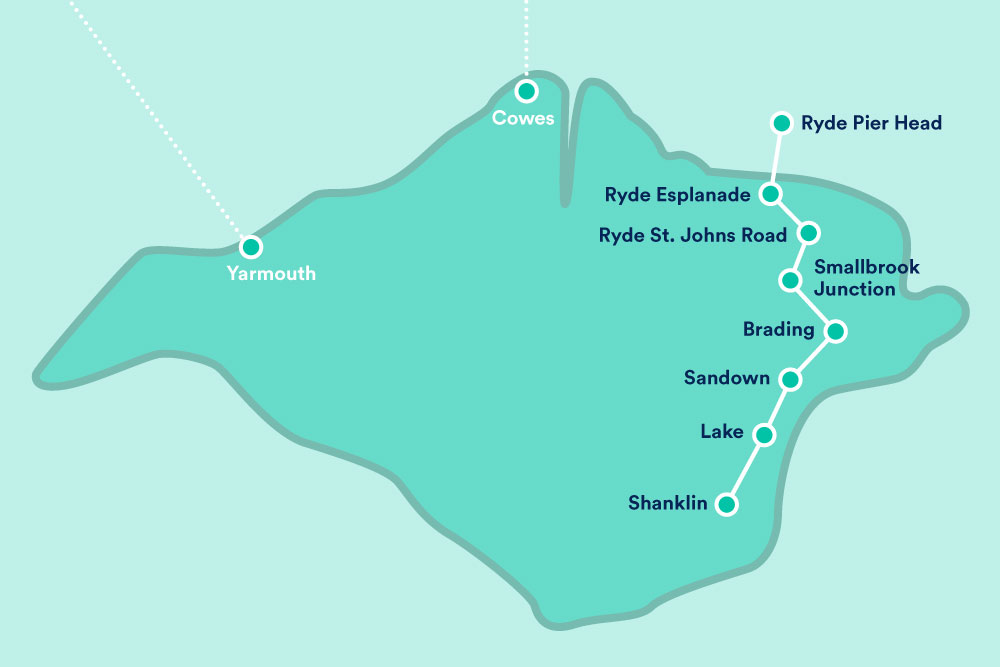 Heading to the Isle of Wight Festival?
Each year in June, around 90,000 music fans descend on Newport for a weekend of legendary and up-and-coming acts at the Isle of Wight Festival. Previous headliners have included The Killers, Kasabian and Depeche Mode.
This year, the Isle of Wight Festival takes place between Thursday 13th and Sunday 16th June, with Noel Gallagher's High Flying Birds, George Ezra and Biffy Clyro headlining the Main Stage.
It's easy to travel to and from the festival, with regular trains running to Southampton, Portsmouth, Lymington, and Southsea, where you can hop on a ferry (or even a hovercraft) over to the Isle of Wight. Once you're back on dry land, shuttle buses will be running between Yarmouth, West Cowes, East Cowes, and Ryde Esplanade and the festival site throughout the weekend.
Other festivals on the Isle of Wight
The music festival isn't the only event held on the island each year.

For those who like to stay active, the Isle of Wight Walking Festival is an excellent way to take in all the beautiful sights around the island. It features dozens of organised walks arranged over a two-week period, encompassing almost the entirety of the island (although not all in one go, of course!).

As exciting as it is intriguing, you may not have heard that thousands of people flock to the Isle of Wight Garlic Festival each year. Yep, garlic. Not only is it a vampire's nightmare, with some of the UK's finest garlic bulbs for sale, but you can also sample some quirky snacks and refreshments. Garlic beer to wash down your garlic ice cream, anyone?
Ready to book your train and ferry to the Isle of Wight? Click here to search times and tickets (Make sure to enter your preferred ferry terminal or Island Line station manually as your final destination).
Trainline does not have any affiliation with the Isle of Wight Festival, for more information on the Isle of Wight Festival please visit their website.