Visiting Scotland
Catching the train to Scotland puts epic castles, stunning architecture and some of the UK's best natural scenery right at your fingertips. Throw in the fantastic golf courses, whisky distilleries and cities full of culture, and you have a destination that offers an endless number of ways to pass the time. 
Getting to Scotland by train
If travelling from the South of England, the most common services for Scotland include trains ran by CrossCountry, Virgin Trains (West coast) and London North Eastern Railway (LNER). It's worth noting that LNER has taken over all existing Virgin Trains East Coast routes. The routes and train times haven't changed, and customers who purchased an Advance ticket or Season Ticket with Virgin Trains East Coast will still be able to travel on LNER trains with those tickets. Please note that it's often best to get to Scotland by train from London if you're in the south since the majority of high-speed services depart from there.
If you are starting your journey from anywhere below London, you'll usually have to catch a connecting train and then switch to one of the previously mentioned train operators. From the English capital, the journey is incredibly straightforward and quick, with LNER offering direct high-speed services from London King's Cross railway station. Virgin Trains also provide relatively fast services from London Euston station(please note that this is Virgin's West coast service which will remain in operation with Virgin Trains). Most trains can get you there within 4-5 hours, so it's an excellent alternative to flying.
From London, you essentially have a choice of two scenic train routes to Scotland. If you're travelling from Euston to Edinburgh Waverly with Virgin Trains, then you can look forward to some impressive sights as you pass through the Lake District on the latter part of your journey. The King's Cross to Edinburgh Waverly route ran by LNER, on the other hand, is slightly quicker on average and offers lovely views of York and the coastline after Newcastle.
Last but certainly not least, the Caledonian Sleeper can get you to Scotland overnight — Perfect for those who prefer to travel under cover of darkness! The train starts at Euston station and has services for Aberdeen, Edinburgh, Fort William, Glasgow and Inverness. Getting a sleeper train to Edinburgh is certainly an experience, and a hell of a way to kick off your journey. Visit our help page for more information, or start a search for sleeper tickets. Just be sure to choose London Euston as your departure station, and select 21:00 or later for Caledonian Sleeper services.
If you're starting your journey from somewhere else, make sure to use our handy journey planner to find train routes, times and tickets. Please bear in mind that we'll show you the cheapest fares available for your route, which may not necessarily be the fastest trains, so it's up to you to weigh up cost versus speed.
Things to do in Scotland
No trip to Scotland is complete without visiting Edinburgh Castle, so you may as well start with it! Majestically rising above the city from its base on Castle Rock, it is at least nine centuries old and has stood the test of time. From the top of the castle, you'll be able to see for miles around, with some gobsmacking views of Edinburgh's old town, the rest of the city and beyond. So make sure to have the camera ready for some fantastic shots (weather permitting). After that, make sure to take in the atmosphere at one of the city's many historic pubs.
Home to Scotland's best-known legend and perhaps its biggest claim to fame, Loch Ness should be on everyone's itinerary during a visit to the north. A popular route, why not take the train from London to Inverness and hop on a connecting bus from the city centre before boarding a Jacobite cruise along the loch? Aside from hunting for old Nessie, the surrounding Highlands offer so many glorious sights that are well-worth visiting in their own right. From beautiful waterfalls like the Falls of Foyers to the remains of once strong-standing fortresses such as Urquhart Castle, there's plenty to see for a successful trip (even if you don't spot the mythical lake beast)!
Close to Glasgow, the Kelvingrove Art Gallery and Museum is a welcome change of pace and a chance to take in some brilliant 20th-century art. There are famous pieces by artists like Charles Rennie Mackintosh and Van Gogh, and it couldn't be easier to get there from Glasgow Central station. Simply hop on the subway to Kelvinbridge station and walk from there. After that, be sure to check out Glasgow's Style Mile for some excellent shopping opportunities.
Scenic train routes in Scotland
Connecting Edinburgh with Dunfermline and the county of Fife, be sure to take a train trip across the majestic Forth Rail Bridge. A feat of British engineering, the bridge holds UNESCO World Heritage Site status and has been voted as the greatest man-made wonder ever built in Scotland. Simply board any ScotRail train in Edinburgh headed towards Dunfermline or Dundee (for example), then sit back, relax and enjoy some splendid views of the Firth of Forth estuary.
Another train route in Scotland that's worth taking is the spectacular Kyle Line. A breathtaking ride from Inverness to Kyle of Lochalsh, the service is run by ScotRail and gives passengers the chance to take in both wildlife and nature in equal measure. Keep an eye out for otters as you pass by North-Scottish beaches and seaside towns, or for eagles swooping around the lochs and highland hillsides dotted along the route.
Last but certainly not least, fans of a certain J.K. Rowling story should consider a trip along the West Highland Line... Sprawling from Glasgow to Mallaig, this railway route takes in gorgeous highland views and even crosses the iconic Glenfinnan Viaduct. (For those who don't know, the Glenfinnan Viaduct is the bridge that Harry Potter crosses in a steam train en route to Hogwarts) To make the trip even more special, you can take the same steam train in Scotland as Harry Potter himself! That's right — you can catch the train known as The Jacobite at Fort William, and enjoy a very nostalgic trip to Mallaig and back.
Check out our trains in Scotland page for more info on scenic train routes.
Scottish train companies
Abellio ScotRail is responsible for the majority of train journies for destinations within Scotland. For cross-border journeys into England and for the rest of the UK, you can expect to use services such as TransPennine Express, Virgin Trains, LNER, CrossCountry and the Caledonian Sleeper.
Train stations in Scotland
If you need to find stations in Scotland or you're just curious about possible routes, you can use our interactive station map. Simply scroll and zoom for Scottish train stations or search alphabetically in the listings below the map. It can be a great help when planning your day trips, and you might even discover a few new and exciting locations to visit while you're at it!
Trains to Scotland map
Our handy trains to Scotland map should help you to visualise your journeys even further.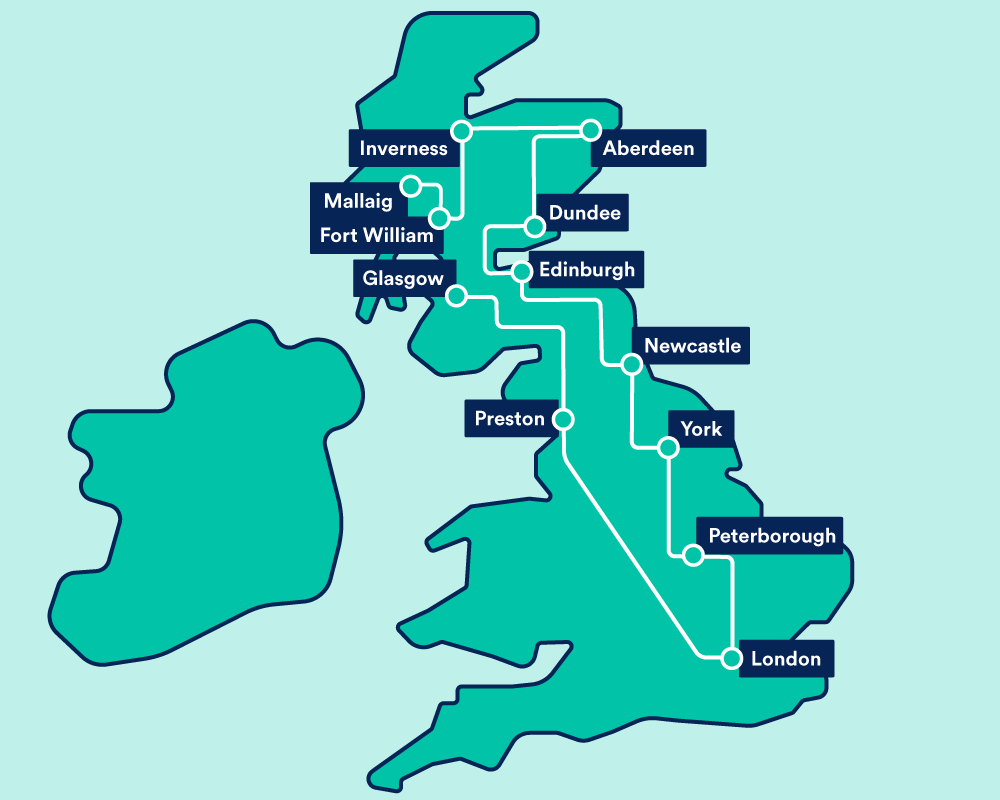 Which types of train tickets are available in Scotland?
For those travelling from other parts of the UK to Scotland, the ticket types available are largely the same as usual. If you're moving to Scotland however, there may be certain tickets and Railcards available for you to purchase. These are usually available through ScotRail, so make sure to do some research if you're moving.
When are Off-Peak train times in Scotland?
For travel with ScotRail, Off-Peak tickets are generally available after 09:15 on weekdays and all day during the weekends. Please note that there are restrictions on travel during evening peak periods and on specific routes, so it's always best to check your route and station before travelling.
How to get cheap train tickets to Scotland
Buying your train tickets to Scotland in advance is the easiest and fastest way to find cheap fares. To make your life a bit easier, sign up for our Advance ticket alerts and receive handy emails as soon as tickets become available for your favourite routes. Don't forget to apply your National Railcard to any tickets you buy, as you'll be able to save 1/3 of the fare. Please note that Railcard discounts can't be applied to Season Tickets.
Travelling en masse? Be sure to apply a GroupSave discount if your group is between three and nine people in number. Bear in mind that GroupSave savings only apply to certain train operating companies and can't be used with children, but if you're eligible, what are you waiting for?
Another tried and tested method of getting cheaper train tickets to Scotland is to buy Return train tickets instead of shelling out for two single journeys. The savings you make depend on the type of journey and how quickly you book but it's also worth comparing these two options.
Ready to book your train ticket to Scotland? Use our Journey Planner at the top of this page to search for your preferred route. Alternatively, if you'd like to take the coach to Scotland or use one to get around once you're there, you can now book those tickets with us. Simply start a search for train tickets, and, if there's a coach available, we'll suggest the best tickets for you.