Caledonian Sleeper trains
If you're after Caledonian Sleeper tickets, look no further. At Trainline, we'll show you where Caledonian Sleeper can take you and how to book the best value fares for your journey.
To find Caledonian Sleeper tickets, simply start a search on our Caledonian Sleeper booking page, and we'll show you the best available journey times and prices.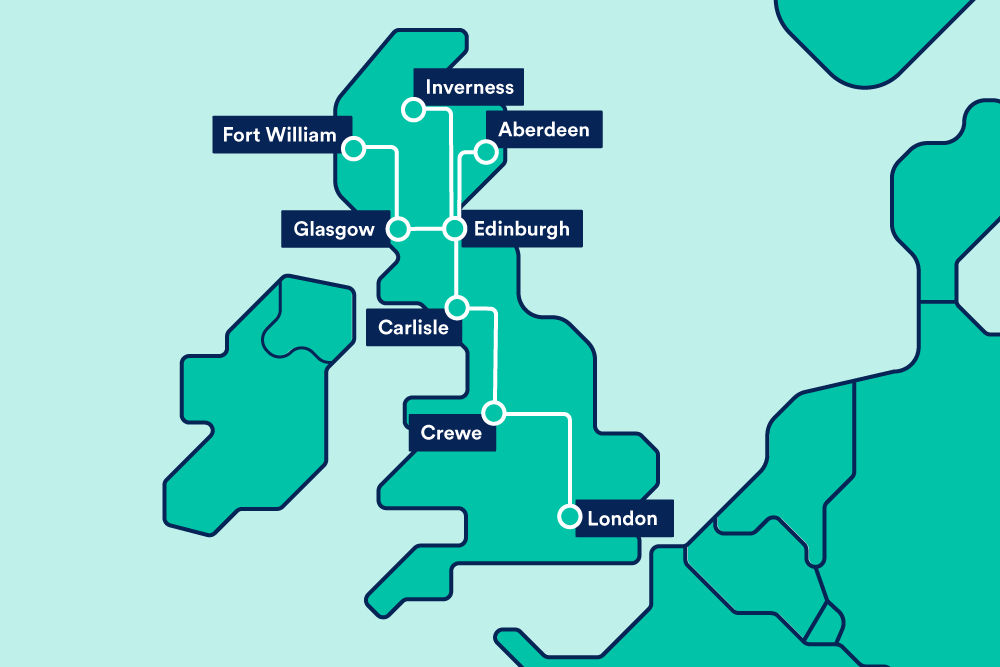 Caledonian Sleeper route map
Unsure about where to start your adventure? Use our Caledonian Sleeper map to plan out where you want to go. Enjoy speedy cross-country services six nights per week from the Capital, London to Scotland and vice versa. Caledonian Sleeper takes you further. From the Highlander Route, departing from Aberdeen, Inverness or Fort William, to the popular Lowlander Route which leaves from either Edinburgh or Glasgow, Caledonian Sleeper makes it smooth and hassle-free.
Trains to Inverness, Aberdeen and Fort William stop at Edinburgh, where the carriages will split into 3 separate services, where passengers stay on board before taking on to their destination. Alternatively, the Caledonian Sleeper route to Glasgow Central divides at Carlisle, with the front portion of the train heading to Glasgow, and then onwards to Motherwell.
To get your adventure underway, check out our Caledonian Sleeper booking page and find a seat and train time to match.
Travel with Pets
You can bring one small pet with you on your journey for a fee but only if you're travelling First Class. Assistance and guide dogs can travel for free.
Contact Information
Customer relations: 0330 0600 500
Twitter Customer Help: @CalSleeper
Cycle Policy
On every train, there is space for up to one bike per passenger, but this must be reserved in advance.
WiFi
There is free WiFi for all passengers.
First Class
All services offer First Class, which includes an individual sleeping berth.
Lost Property
If you would like more information regarding Caledonian Sleeper lost property, onboard facilities or train times, then please call Caledonian Sleeper on +(44) 330 060 0500.
Caledonian Sleeper First (1st) Class
Travelling in First Class with the Caledonian Sleeper is a great way of reclining and enjoying the passing scenery as you head to your destination. You can find First Class options on special trains leaving at night and all First Class tickets come with a sleeping berth (room) for comfort and privacy.
So, what do you get when you upgrade to First Class? First of all, a First Class ticket grants you access to the First Class lounges at Aberdeen, Edinburgh Waverley, Glasgow Central, Inverness and London Euston. Caledonian Sleeper offer complimentary breakfasts, sleeping packs and an in-room washbasin and towel. The room itself is spacious and has everything you need, from coat hangers to storage units, so all you need to think about is what lies ahead on your trip.
Find out more about travelling First Class in the UK.