London to Newcastle on the East Coast Main Line
Trains from London to Newcastle are operated by London North Eastern Railway, who run services on the East Coast Main Line (ECML). All services depart from London Kings Cross, calling at several major stations on the ECML – including Doncaster and Edinburgh.
The fastest services take just 2h 53m to reach Newcastle station – the city's main railway station. You'll travel on an Azuma train. These are LNER's high-speed, modern trains capable of speeds of 125 mph on the East Coast Main Line. Free WiFi comes as standard and all seats have access to power sockets.
If you want to travel in comfort from London, consider upgrading to First Class. When booking just a day or two ahead, upgrading to First Class can cost as little as £10 more than Standard Class tickets. You'll enjoy reclining seats, extra space, morning papers brought to your table and a complimentary menu. LNER are currently offering fewer options on their menu as catering is phased back into the service.
Since 25th October 2021, a brand-new train operator called Lumo has been running between London Kings Cross and Edinburgh via the East Coast Main Line. Learn more about Lumo trains.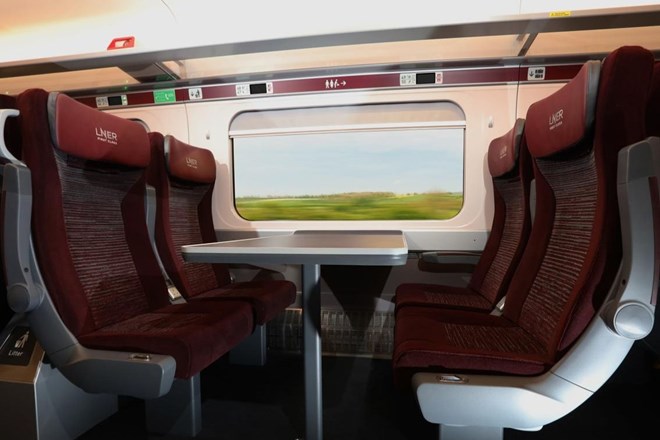 ---
Visiting Newcastle
Newcastle has a metro system allowing widespread access to all areas of the city. Visitors can also take a cruise on the river and get a different perspective of both Newcastle and, on the southern side, Gateshead.
The Discovery Museum has in its entrance hall, the Turbinia, one hundred feet long and the first steam turbine-powered ship in the world, built by a local engineer. The Newcastle Story exhibition is a walk through the fascinating history of the city and uses animated characters to bring the tales alive.
The interactive Life Science Centre uses the latest in entertainment technology to explain the scientific secrets of life. Imaginative games and 3D motion-simulator rides both entertain and educate. In winter an enormous open-air ice rink opens to the public from November to February.
Art lovers can browse through the Laing Art Gallery, the premier art collection in the North East. The permanent collection exhibits classics of British art, including work by Burne-Jones, Holman Hunt, Ben Nicholson and Gillian Ayres, as well as international representation from Gauguin and Bomberg.
Sculptor Anthony Gormley's monumental Angel of the North can be seen to the south of the city, and from some trains, and has parks and green around it making an excellent picnic area for families.
Frequently asked questions
What's the main train station in Newcastle?
The main train station in Newcastle is Newcastle station, which is located just south of the city centre.
Which train companies run trains to Newcastle?
There are a number of trains companies in the UK that operate trains to Newcastle, including LNER, CrossCountry and TransPennine Express.
How can I get cheap train tickets to Newcastle?
It's easy to grab yourself cheap train tickets to Newcastle. We'd recommend using a Railcard, buying your ticket in advance or travelling during Off-Peak hours if you can. Read our cheap train tickets guide to find out more.
Are trains running to Newcastle?
Trains run frequently almost every day to Newcastle, although there may be fewer services during the weekends and bank holidays. Check our live train times for up-to-date information on trains to Newcastle.
Can I use my Railcard to save up to 1/3 on my trip to Newcastle?
Yes, there are several types of Railcards you can use to save up to 1/3 on your trip to Newcastle, these include:
Two-Together Railcard (Great for couples and friends who always travel together)
16-17 Saver (You can save up to 50% with this one)
16-25 Railcard (Ideal for students)
26-30 Railcard (Also known as the Millennial Railcard)
Senior Railcard (For those aged 60 and over)
Friends & Family Railcard (Great for families of up to 4 adults with up to 4 kids)
Disabled Railcard (If travelling with another adult they can save too)
Having a Railcard means you can use it whenever you want outside of Peak times for a whole year too.