London to Liverpool on the West Coast Main Line
Trains from London to Liverpool depart from Euston station and arrive into Lime Street station, the city's main railway terminus. Liverpool is connected to London via the West Coast Main Line, which is operated Avanti West Coast. You'll still travel on a Class 390 Pendolino train. Pendolinos are Avanti's flagship electrified train; the fleet is in the process of being refurbished.
The fastest services reach Liverpool in just 2h 01m. Standard Class carriages are comfortable, with seats arranged four-a-breast. There is luggage storage at the ends of carriages and above seats. First Class is extra-spacious, with plug sockets at every seat and an at-seat meal service.
How to find cheap tickets from London to Liverpool
The cheapest tickets from London to Liverpool are Advance Singles. These will usually be flagged as 'cheapest' in your search results page. The next cheapest tickets are Off-Peak Singles; these allow you to catch any Off-Peak train, rather than the one specified ticket. The Off-Peak window for weekday services falls outside of commuter hours – in general, after 10:00 on weekdays. While the cheapest tickets are available a few weeks ahead of the date of travel, you can still find good deals the night before you intend on travelling if you're willing to catch a midday train.
Railcards can also save you a third on trains to Liverpool from London all year round. You can buy a digital railcard online with us, which lives in your Trainline app – so you can do away with those easily-forgettable paper Railcards.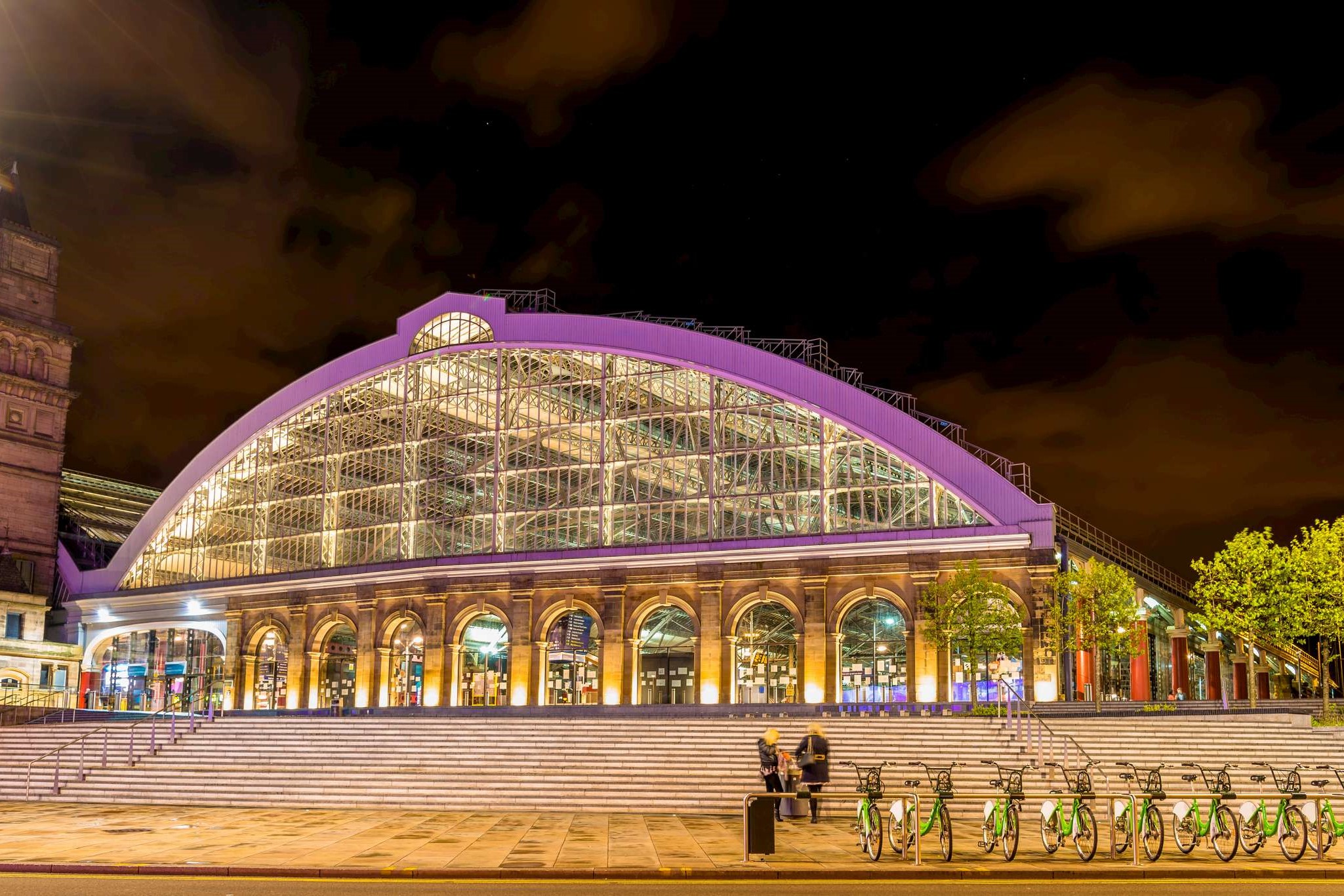 ---
Visiting Liverpool
Liverpool's power and influence came from its docks, and they are still major attractions today. Take a trip on one of the famous Mersey Ferries, or visit Albert Dock – one of the most advanced in the world when it opened. Today you'll find the old industrial buildings transformed into shops, restaurants and cultural institutions, including the Tate Liverpool art gallery, The Beatles Story and the Merseyside Maritime Museum. Beside the dock is Pier Head, home to the famous Three Graces: the Royal Liver, Cunard and Port of Liverpool buildings.
As you'd expect from the city that the Guinness World Records calls the 'World Capital City of Pop', there is music to be heard around every corner. You can still catch a gig at the famous Cavern Club, where the Beatles cut their teeth, and pay a visit to Lennon and McCartney's childhood homes. The Ropewalks district is the place for late-night bars and clubs, including the legendary Cream club night at Nation.
Shoppers can indulge themselves too – Liverpool ONE has the high-street names, while the Cavern Walk and Metquarter centres host upmarket and designer brands. And football fans will jump at the opportunity to tour Anfield and Goodison Park, the homes of the city's rival teams.
Planning a day trip from Leicester? Check out our dedicated guide to 7 of the best day trips from Liverpool.
---
Frequently asked questions
What's the main train station in Liverpool?
The main train station in Liverpool is Lime Street, located north-east of the city centre. Depending on where you're travelling from, you're likely to arrive into Lime Street or Central, James Street or Moorfields – the other stations in the city.
Which train companies run trains to Liverpool?
There are a number of trains companies in the UK that operate trains to Liverpool, including TransPennine Express, East Midlands Railway and Avanti West Coast.
How can I get cheap train tickets to Liverpool?
It's easy to grab yourself cheap train tickets to Liverpool. We'd recommend using a Railcard, buying your ticket in advance or travelling during Off-Peak hours if you can. Read our cheap train tickets guide to find out more.
Are trains running to Liverpool?
Trains run frequently almost every day to Liverpool, although there may be less services during the weekends and bank holidays. Check our live train times for up-to-date information on trains to Liverpool.
Can I use my Railcard to save up to 1/3 on my trip to Liverpool?
Yes, there are several types of Railcards you can use to save up to 1/3 on your trip to Liverpool, these include:
Two-Together Railcard (Great for couples and friends who always travel together)
16-17 Saver (You can save up to 50% with this one)
16-25 Railcard (Ideal for students)
26-30 Railcard (Also known as the Millennial Railcard)
Senior Railcard (For those aged 60 and over)
Friends & Family Railcard (Great for families of up to 4 adults with up to 4 kids)
Disabled Railcard (If travelling with another adult they can save too)
Having a Railcard means you can use it whenever you want outside of Peak times for a whole year too.