Madrid train stations
The Spanish capital city of Madrid lies right in the centre of Spain and, like any major hub, has excellent train links to the rest of the country. Madrid has the most exciting international art galleries, the most wide-open and beautiful parks, the most dignified of Renaissance and Baroque architecture, as well as a legendary nightlife.
There are two main railway stations in Madrid. The biggest is Madrid Atocha in the south. This is a hub for high-speed services from all over the country, commuter trains, and regional services from the south. The second main station is Madrid Chamartín in the north of the city. Chamartín train station mainly serves the north of the country and is also the terminus for international services to Portugal. Both stations have links to the Metro system.
Madrid-Atocha train station
Madrid-Atocha is the largest of the Madrid train stations and one of the city's architectural landmarks. Opened in 1851 and rebuilt in 1892, the wrought-iron façade is a stunning example of railway architecture. The old trainshed has been converted into a hub for restaurants, cafes and most strikingly, a botanical garden. High-speed services depart from a modern extension to the trainshed, known officially as Madrid Puerta de Atocha.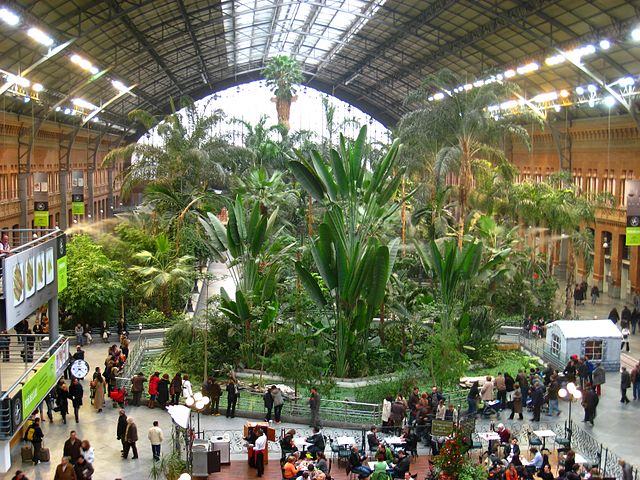 Source: Wikimedia / Daderot / Public domain
Madrid Atocha is made up of two distinct sections. The first is Puerta de Atocha – accessible via the escalators in the old trainshed. All high-speed services depart from Puerta de Atocha, platforms 1-15. Atocha is arguably the most important station in the high-speed AVE network and serves as a terminus for AVE services to Seville, Malaga, Valencia, Barcelona and even Marseille.
The second section is Atocha-Cercanías. Consisting of 10 platforms, Atocha-Cercanías is used by Media Distancia, Intercity and Altaria trains to destinations all over Spain, including Murcia in the south-east, Badajoz on the Portuguese border, and Jaén in south-central Spain. It's also used by Cercanías trains – Madrid's suburban commuter rail service.
There are bus stations and taxi ranks right outside the station, and the metro station is inside.
Security checks in Madrid Atocha
There is an X-ray baggage check at the entrance to Puerta de Atocha. These security checks are common at major high-speed stations and don't take too long. Security guards will pass your luggage through an X-ray machine; they won't scan your person. This should only take a minute or two but make sure you factor this into your travel plans. In other words, don't get to the station with seconds to spare!
Once you get through security, you'll be in the departures area, complete with shops, a café and seating.
Address
Glorieta del Emperador Carlos V, s/n, 28045 – Madrid
Madrid-Chamartín train station
The second of the two Madrid train stations is Madrid-Chamartín. It's a huge, modern, red-brick edifice, built in the 1970s, with vaulted arches soaring over the main hall and a total of 21 platforms.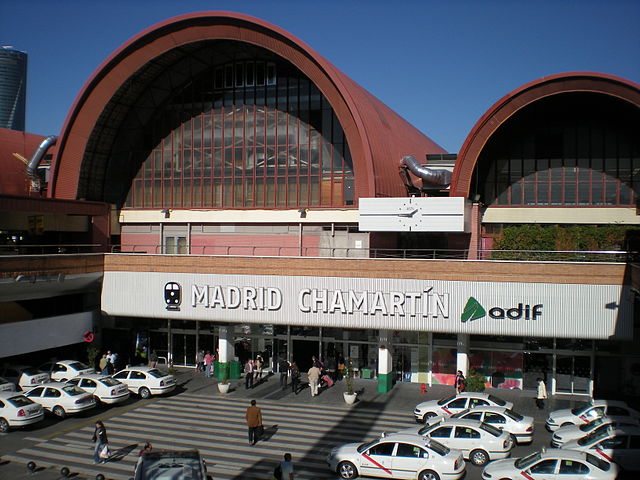 Chamartín is served predominantly by Alvia trains running northbound to Santander, Gijon and A Coruña. These trains are capable of travelling at 250km/h  (155mph) and are usually cheaper than the AVE trains. The only AVE service operating out of Chamartín is the Madrid-León service via Valladolid.
Renfe's famed Trenhotel service also departs from Chamartín station. Trenhotel is the luxury sleeper train which runs to Galicia in the northwest and Lisbon, in Portugal. Chamartín in the terminus for three Trenhotel routes - Atlántico (to Ferrol), Rías Gallegas (to A Coruña) and Lusitania (to Lisbon).
City buses and taxis go from outside the station, which has its own metro stop, linking to the rest of the city's underground network.
Address
C / Agustín de Foxa, s/n, 28036 – Madrid
Trains to Madrid Airport
Trains to the airport depart from Atocha and Chamartín stations and arrive at floor -1 of Terminal 4. This route is served by the Cercanías commuter rail service – you'll want to catch the C-1 line. The journey takes 25 minutes from Atocha and 11 minutes from Chamartín. If you need to get to Terminals 1, 2 or 3, there's a free 24-hour shuttle bus from Terminal 4.
Tickets for the Cercanías are not available online so you'll have to buy them at the station.
Frequency – every 15-20 minutes
Cost – €2.60 for a single ticket
Time to the airport – 11-25 minutes
Where to buy tickets – at the station