A journey across Wales,
with fine dining aboard
Report by Tim Dunn
It should have been obvious, really. We should have realised sooner that with our train's departure – heralded by the age-old guard's whistle and the clunk of a semaphore signal at the platform end – this was to be a journey unlike any other.
My two companions and I slid into our seats on the 08:11, and as we slipped away from the chattering platforms of Shrewsbury station we were momentarily distracted by a long brick building standing sentry.
This is Shrewsbury Severn Junction Signal Box, and it is the largest mechanical signal box left in the world, dontchaknow. We rounded the junction and picked up the pace. We were bound for Cardiff.
We three had chosen to pay extra for seats in the Business Class carriage: not a cheap option, but an extraordinarily good value one. This is part of the service known as locally as "Gerald of Wales" ("Y Gerallt Gymro") launched a few years ago by the train operating company, Arriva Trains Wales. Gerallt's namesake was a 12th Century clergyman and historian who roamed far and wide: the Arriva Trains Wales service does just that.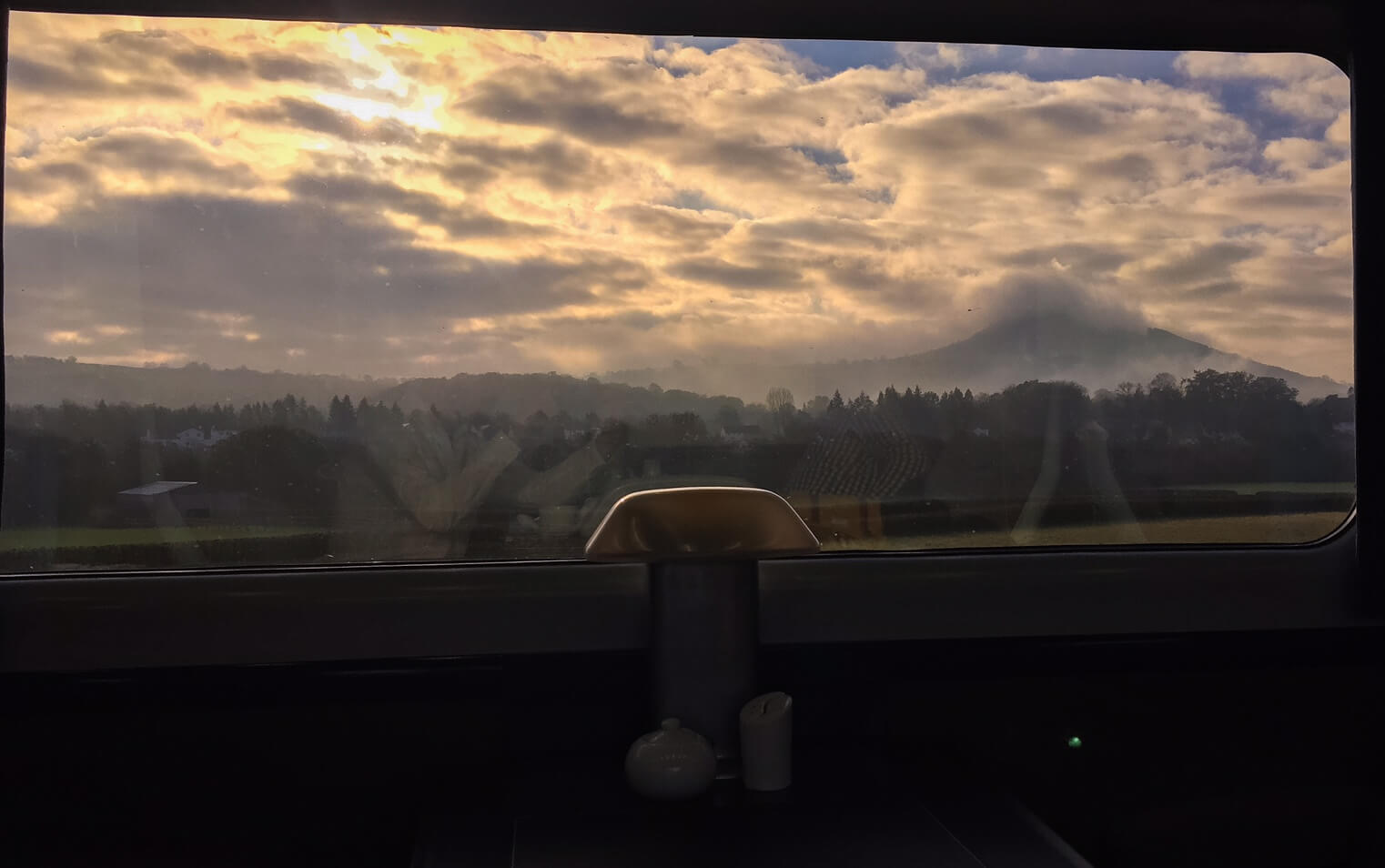 The Shropshire Hills from the early morning train
This service, with Business Class and Standard Class carriages, starts at Holyhead every weekday at 05:11, winds across North Wales to Chester at 07:15, via Shrewsbury at 08:11 and then down through the hills to Hereford and into Cardiff Central at 09:56. The identical return northbound journey from Cardiff departs every weekday at 17:16. Now that's a long journey.
But that's also a return journey perfectly timed for two meals – and that is exactly what makes the Arriva Trains Wales Business Class service really very special indeed.
For within two minutes of us joining the train, the delightfully smiley Cheryl had popped over to say hello and to take our breakfast order. We sped along to the smell of sizzling bacon and coffee.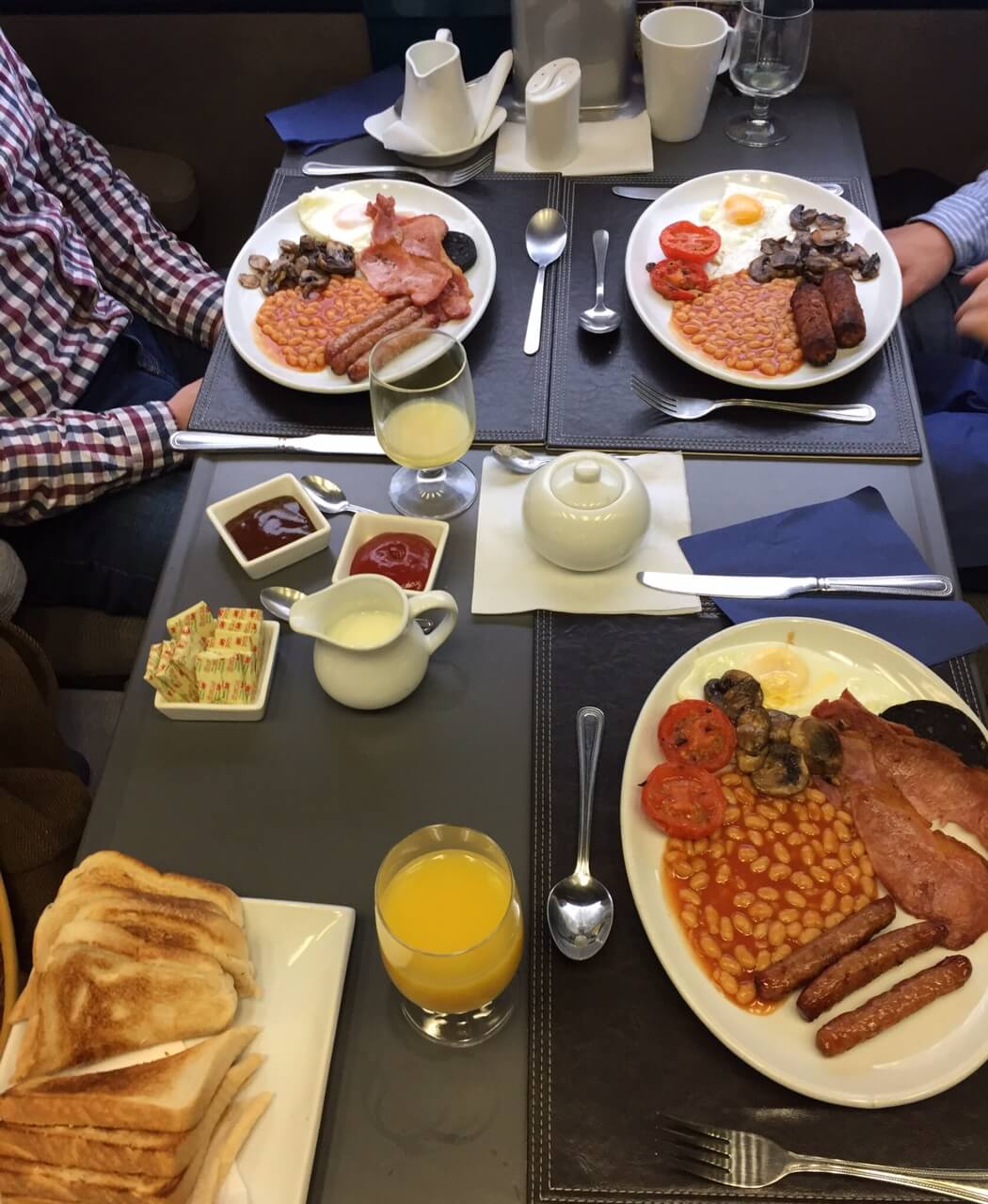 The astonishingly good full breakfast for three
The best cooked breakfast I've ever had on a train – anywhere – arrived as the sun rose over the Shropshire Hills. Dawn rays flickered through woods and tripped across fields as we zoomed south along the borderlands of Wales and England.
By now I was fully awake, and whilst my travel companions slouched in their massive seats, full of Full English (or was it Full Welsh) I wandered off to have a chat with Cheryl the on-train hostess and Tony, the chef.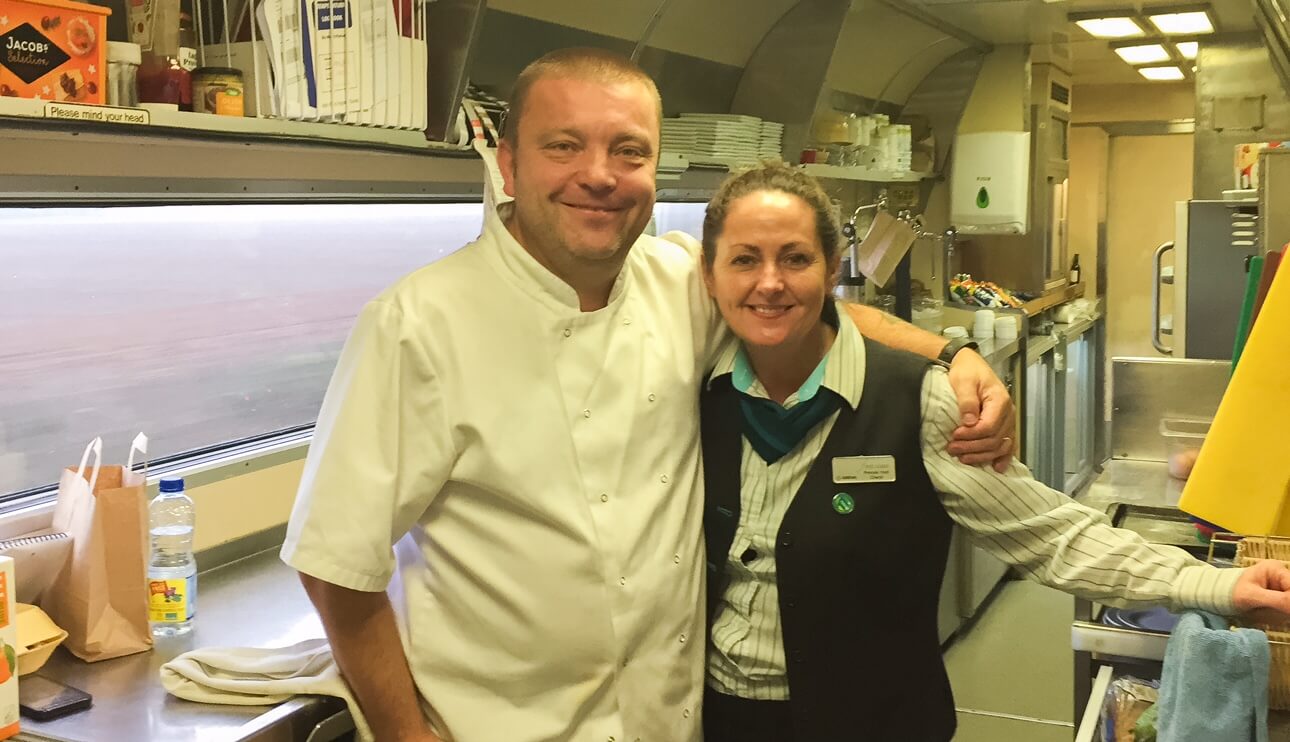 Tony the chef and Cheryl the on-train host
We arrived in Cardiff Central at 09:56, right on time, with Cheryl and Tony quite literally waving us and our fellow passengers off the train. Perhaps the team needed time to prep the evening meal for the northbound service, or perhaps they were just glad to have a well-earned break from my incessant questioning.
We were wisely instructed to lunch lightly in Cardiff to allow room for the evening meal, and were welcomed back on board for the 17:16 by the same, now-familiar, crew.
That Friday afternoon service was busy: reservations are really recommended for Business Class. Tony gave us a demo of his cooking in the galley kitchen with the door open wide into the main carriage, whilst the 20 or so diners had their orders shuttled in and out by Juneann, another one of the Arriva Trains Wales crew.
I feel at this point I should give a particular nod of respect to the team for choosing to offer – and their ability to serve without incident – soup as a starter, at 75mph.
Main course ("Menu 2" that week) was a choice of locally-reared rack of lamb and veg, sausage casserole with smashing black pudding potato mash, or a perfectly crafted asparagus and Caerphilly cheese tartlet. Followed by a cheese course or pudding. We were stuffed, and all of the food was included in the Business Class ticket price.
Dinner choices included Leek & Potato Soup and Rack of Welsh Lamb
This was a happy train. The Business Class seats filled up, and speeding through Herefordshire and up through Shropshire the entire train essentially became a pub with wheels. The sunlight faded into darkness and I spent some time sitting in Standard Class, where passengers were munching, drinking and chatting.
This train of a couple of hundred exhausted people – all on our ways home to the Midlands, North Wales, or even on to Ireland by ferry from Holyhead, that Friday night – was a joyful place to be.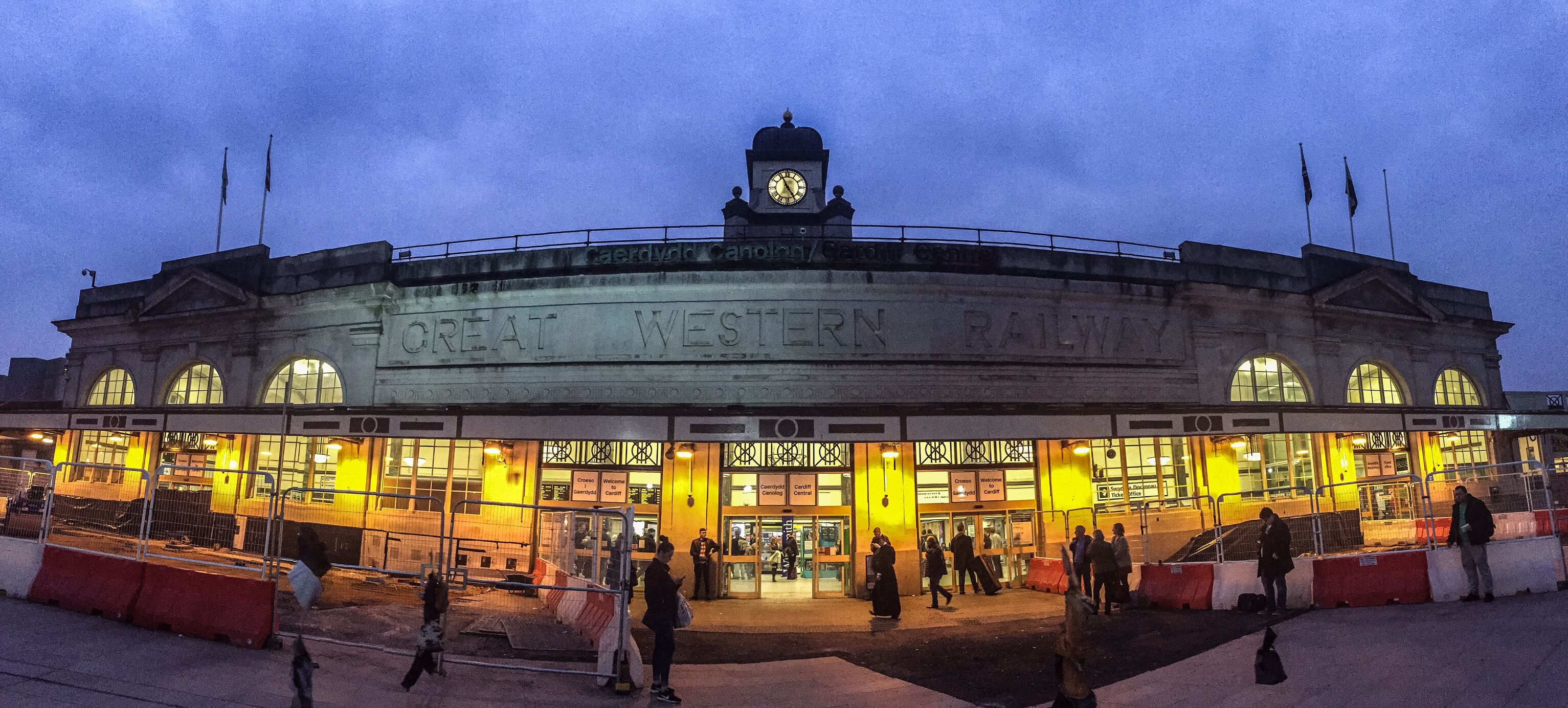 The imposing façade of Cardiff Central, just before the evening train departed
Now there are other timetabled mainline trains that serve First Class food at your seat, of course, but they're rarely freshly-cooked fine dining. They're efficient and they're effective and they're just what you need after a long day away from home: East Midland Trains, Virgin Trains, and Virgin Trains East Coast offer hugely enjoyable catering like this.
There are even a few high-speed trains with excellent Pullman fine dining on Great Western Railway (and they're all bookable on Trainline). But for entrepreneurialism, for character and for food service that you'll never forget, this member of the Trainline team recommends that you branch out and take a trip on Arriva Trains Wales Business Class.
To book your trip on Gerald, search on Trainline for trains calling at these times on weekdays:
Station 

Departure Time
 (Mondays to Fridays only) 

Holyhead

0533

Bangor

0601

Llandudno Junction

0619

Chester

0715

Wrexham General

0732

Shrewsbury

0810

Hereford

0856

Newport

0940

Cardiff Central

0958
Cardiff Central to Holyhead (South to North Wales)
Station 

Departure Time
 (Mondays to Fridays only) 

Cardiff Central

1716

Newport

1731

Cwmbran

1742

Pontypool & New Inn

1749

Abergavenny

1800

Hereford

1825

Shrewsbury

1909

Wrexham General

1943

Chester

2006

Flint

2018

Rhyl

2035

Colwyn Bay

2047

Llandudno Junction

2054

Bangor

2111

Holyhead

2145