Mobile ticket 
After completing your booking, this ticket gets sent directly to your Trainline app and will stay there even after you've completed your journey. 
eticket 
An eticket is sent to you via email. You can download this ticket to your Trainline app, scan the barcode directly from the PDF email attachment or print the PDF and bring this directly to the gates. 
Less time at the station
Stay at home a little longer because you don't have to queue to buy or collect tickets.
Bye bye multiple tickets
Why walk around with a wad of tickets in your wallet? Your phone is all you need. 
Never lose your ticket
Because you always know exactly where your phone is.
Better value for money
More fares available on your app than at the ticket machine.
Book for others 
Easily book and send tickets to friends and family.
Environmentally friendly
The trees will thank you for not using those paper tickets anymore.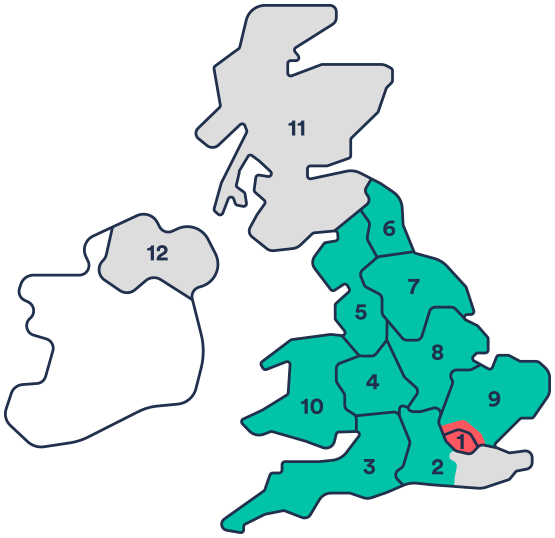 Where in the UK can I use tickets on my phone?*
All routes

Limited availability

Coming soon
Regions
Greater London

South East

South West

West Midlands

North West

North East

Yorkshire and the Humber

East Midlands

East of England

Wales

Scotland

Northern Ireland
*Mobile tickets require an Android or iOS smartphone with the free Trainline app to display ticket while travelling. Available on selected routes. Etickets are currently available for Virgin West Coast and Greater Anglia Advance tickets only.
How to get tickets on your phone
Mobile ticket
Download the Trainline app - you can get it on iOS and Android. Make sure you've got the latest version. 

Choose the 'mobile ticket' option when booking on the app or Trainline website. If booking on the web, you'll receive a confirmation email after purchase. Simply open it on your phone to download your tickets to the app. 

Voila! Your mobile ticket will now appear under 'My Tickets' in the app. 
To use:
First, activate it before heading to the platform - just give it a tap and it'll change colour. Exciting.

Scan the ticket barcode using the glass panels at the ticket gates, or show it to train or station staff. 
Travelling for Business? Did you know you can switch between a leisure and business within the trainline app. Simply register for a free business account. Our handy business portal enables you to keep track of all trips, expenses and tickets in one handy place. Sign up here
eticket
When booking, select 'eticket' as your delivery option.

Once purchased we will immediately email your tickets as PDF attachments (we will send one email per journey booked).

If you are buying a ticket for someone else, then you can forward the ticket to them by email.
To use:
Download the tickets to the Trainline app, or scan the barcode directly from the email on your phone.

For added reassurance, you can print the PDF and use a hard copy.
Apologies for shouting, but: OMG PAPER-FREE TRAIN TRAVEL! It's finally here. Thank you @thetrainline for your mobile tickets #ux #thefutch
Love @thetrainline app, mobile tickets are so good! Can just walk straight through without queues and hassle 😍
Gotta say, used @thetrainline's mobile app and electronic tickets for 1st time. Brilliant!
 
@Jamesamatthews 
Trainline always champions technology to make journeys simpler and that includes mobile tickets and etickets. We're at the forefront of digital ticketing and have been since we worked with Virgin Trains West Coast in 2014 to successfully complete the first mobile tickets pilot.
Our commitment is ongoing as we add new routes and support meeting the government's target of 100% paper-free ticketing by the end of 2018.