June 2020 is Pride Month, a celebration of LGBTQ+ people across the world. It's a time of increased visibility, a chance to support diverse communities and an opportunity to start new discussions – which is why for many of us it's a huge disappointment that this year, we can't physically celebrate Pride with others. 
However, whilst we might not now be travelling to Pride celebrations across Europe, one thing that hasn't changed for 2020 is the proliferation of 'Trainbows' – trains with Pride-themed rainbows on! Created by many train companies to show their support for LGBTQ+ staff, passengers and the communities that they serve, in the past few years Trainbows have become a familiar sight across the UK rail network.
Whilst there are a few Pride flag variants, ranging from the "standard" six rainbow stripes to more recent "progress" variant that highlights marginalised communities, most of the designs seem to be sticking to six coloured stripes. For practical reasons, in 2020 the rail industry is holding virtual Pride events for its staff instead – but it's pleasing to see there are still a good number of the Pride-themed trains out and about.
So, if you're keen to see a rainbow flash past in the landscape, here's our roundup of the rail network's brightest Trainbows – and where you can find them.
Great Western Railway
Those folks at GWR have had one of their high-speed Intercity Express Trains decorated with a bright rainbow flash at each end for two years now. It's due to be named 'Alan Turing' later in the year. Turing, born in London, was responsible for the breaking of German ciphers in World War Two. You'll likely see it running between London Paddington, South Wales and the West Country.
LNER
London North Eastern Railway added a Pride logo to one of its classic red electric trains a couple of years back – and their Trainbow has been a familiar sight up and down the East Coast Main Line from King's Cross ever since.
Thameslink
One of the most recent additions to the UK's list of Trainbow trains was this smart Class 700 electric commuter train. Staff member Mags Luckhurst designed the colour scheme, and you'll see this one all over the Thameslink network, from Brighton to London, Luton and Cambridge too.
Southern
Southern Railway has had up to twelve of these rainbow-logo trains operating on its routes since 2018. The group that owns Southern Railway also owns Thameslink, so they have focused their Pride-colourings on the newer Thameslink train (see above) - but there's still at least one of those 12 older rainbow-logo Southern trains travelling around Southern tracks today. 
(Image: ©Southern Railway)
Scotrail
This fab rainbow version of the Scotrail logo was often to be seen on Scotland's busiest railway, between Glasgow and Edinburgh, in 2019. Scotrail's Trainbow is off the rails for 2020, but we're keen to see it back in 2021! Fingers crossed...
(Image: © Scotrail)
Southeastern Railway
Southeastern Railway launched their high-speed Javelin Trainbow for Pride at St Pancras International in 2018. It's one of Britain's fastest trains, operating at up to 140mph through Kent. And that fact makes it Britain's fastest Trainbow too. Whoosh.
South Western Railway
SWR, which runs to London Waterloo from Devon, Somerset, Dorset and Hampshire, unveiled its brand new Trainbow in June 2020 – a striking design and one we're looking forward to seeing speed through the countryside soon.
(Image: © South Western Railway)
SNCF
It turns out that it's not just the British train operators who are keen to fly the six-striped rainbow flag! The French national railway operator, SNCF, launched their own TGV trainbow in 2019.
(Image: © SNCF)
It might not be a train, but…
…it's a "buggy-bow", according to the station manager! Not content with seeing trainbow trains on their tracks, those terrific Network Rail folk at one of Britain's busiest railway stations, London Euston, decided they wanted their own station trainbow too. So they wrapped up one of their electric mobility assistance vehicles in rainbow-coloured vinyls - ready to give those who need it a bit of help around the station. In fact, quite a few of us at Trainline who don't even need a bit of help quite fancy a ride on it (hint, hint, Euston team).
(Image: © Network Rail Euston station team)
Meanwhile at Trainline Towers…
We might not operate Britain's trains, but that doesn't mean we don't love a good trainbow of our own. Back in 2019 our London office model train (of course we've got an office model train) got its own special Pride stickers too – and causes a stir every time it zooms around the Kitchen: 
And as we're not in the office for June 2020, we've got custom Pride Slack emojis, Zoom backgrounds and desktops too - all using our in-house brand colours. It's been great seeing so many colleagues use them from home - and it's this kind of thing that helps makes me proud to work for Trainline.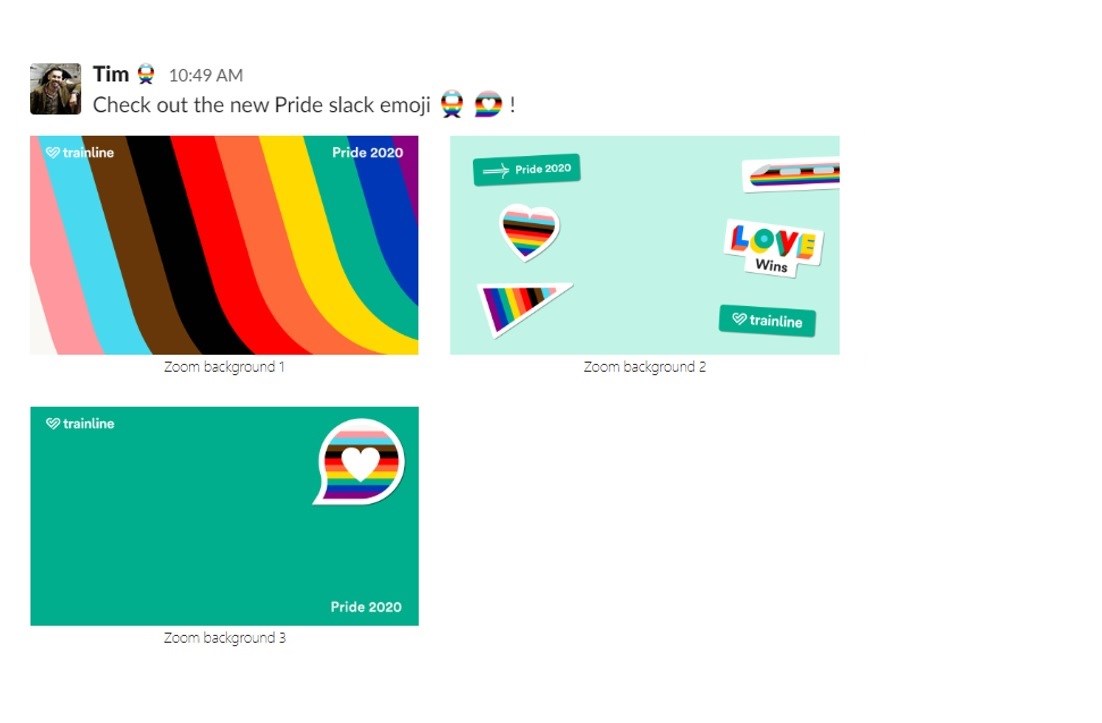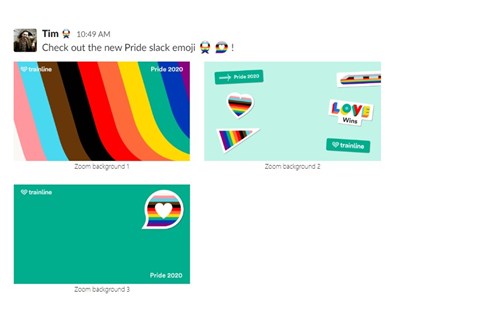 Spotted another Pride Trainbow?
Tell us about it on Twitter or drop me, Trainline's Travel Editor, a note at tim.dunn@thetrainline.com