It's not very often a restaurant or bar makes it into a list of destination musts. Harry's Bar is one of the unique few, earning its reputation through almost a century serving the people of Venice.
Harry's Bar has hosted kings and queens, writers, painters, Hollywood stars and sporting legends in its time. And it's still going! The bar maintains the welcoming, fuss-free atmosphere that ensured its popularity throughout its long history.
The Italian Ministry of Cultural Heritage declared Harry's Bar a National Landmark in 2001 – an award that no other public place in Italy has. Did we mention it's the home of Bellinis and Carpaccio? You're in for a treat.
What's in this guide?
How to get to Harry's Bar
Before your first sip of Bellini, you'll need to get there. The legendary bar couldn't be more convenient, close to Venetian landmarks like Giardini Park, the Doge's Palace and Saint Mark's Square.
Get there on foot if you're in the area – it's a perfect way to soak up the sights and sounds of the city. You could also take a B ferry to the San Marco ferry terminal or a water bus to San Marco Vallaresso.
Why is Harry's Bar in Venice famous?
Harry's Bar is more than just a restaurant. It's part of the soul of Venice, with almost a century of history behind it. Not to mention being the birthplace of two specialities loved around the world today: Bellini cocktails (a combination of prosecco and peach pulp or purée) and Carpaccio (raw beef fillet cut into thin slices).
It's also been frequented by many famous people over the years. Harry's Bar was one of Ernest Hemmingway's favourite spots in Venice! More iconic customers include Charlie Chaplin, Alfred Hitchcock, Jimmy Stewart, Orson Wells, Peggy Guggenheim, George Clooney and Woody Allen.
What to order at Harry's Bar
When you visit Harry's Bar, you'll be able to choose from some of the most traditional Italian dishes prepared authentically. Some standout dishes include the Venetian-style liver and onions and cod cooked in various ways. Of course, you can't go to Harry's Bar without sampling the signature drink and dish which originated here: the Bellini and Carpaccio.
Bellinis at Harry's Bar
If you go to Harry's Bar for just one drink, best make it a Bellini. The cocktail is a global favourite today, found on menus in all four corners of the world. It all started here, the brainchild of Harry's Bar owner Giuseppe Cipriani.
A traditional Bellini is made with white peach pulp and prosecco. It originated in 1948. The name is a tribute to Giovanni Bellini, the 15th-century Venetian painter celebrated in an exhibit the same year. Some people suggest a particular pink colour used by the artist reminded Cipriani of his signature drink.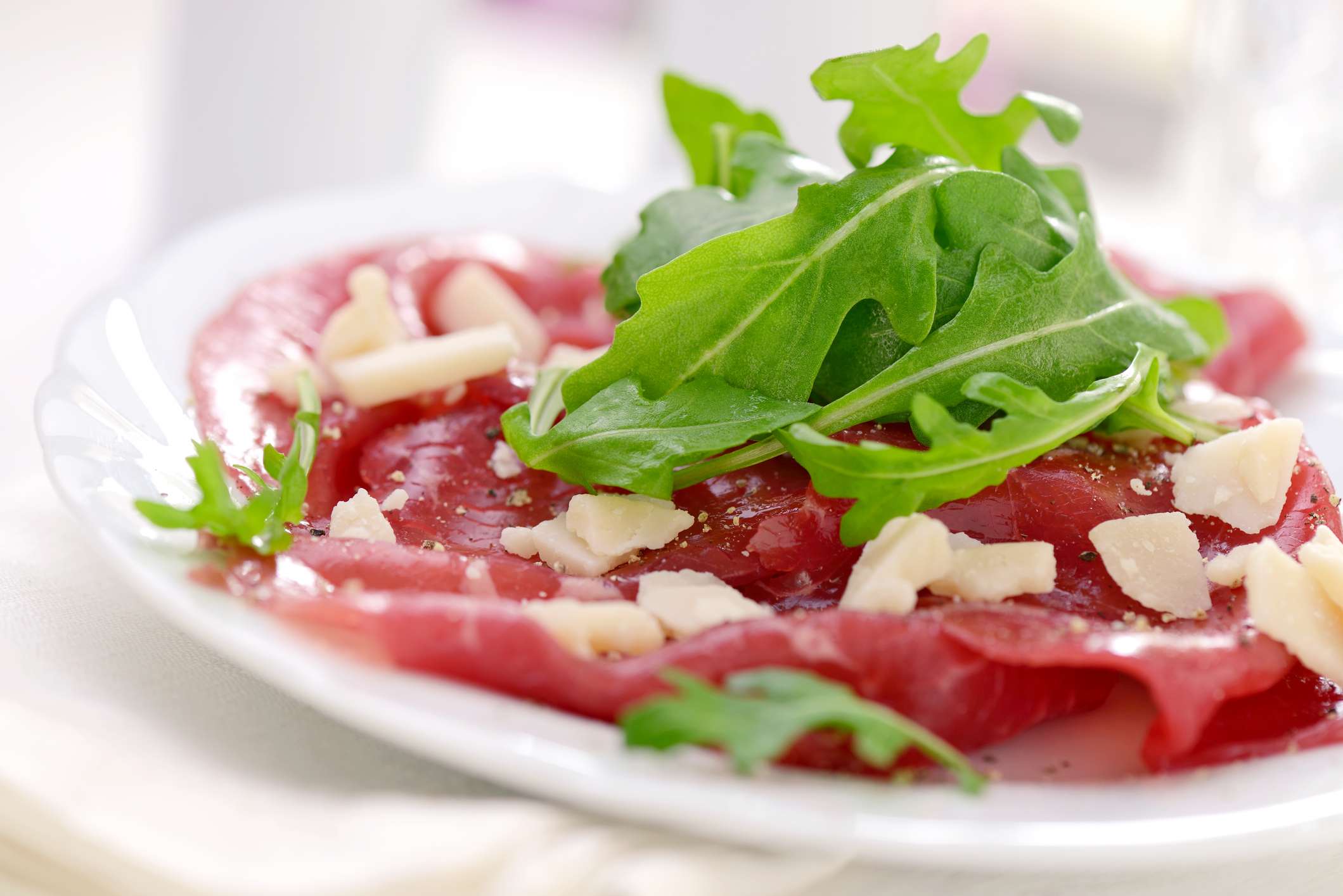 Carpaccio
There's no better accompaniment to your sweet and refreshing Bellini than a plate of Carpaccio, another global favourite that originated at Harry's Bar.
Cipriani thought up the dish when a customer's doctor-recommended diet meant they couldn't eat cooked meat. He decided to cut the raw beef fillet into thin slices for her to enjoy, seasoned with a dressing made from mayonnaise, Worcestershire sauce, lemon, milk, salt and pepper.
The painter Vittore Carpaccio was in Venice at the time, so (like his Bellini), Cipriani took the name of his dish from the artist.
Dry Martini
Although many people visit Harry's Bar to try the signature Bellini, there's another famous cocktail on the menu: the Dry Martini. This is thanks to legendary American writer Ernest Hemmingway. Hemmingway drank them at the bar, often ordering the more alcoholic variation, the Montgomery Martini, made with a 15:1 ration of Gin and Extra Dry Martini.
Harry's Bar history and facts
The story of Harry's Bar started in 1928 when Giuseppe Cipriani was employed as a barman at a small hotel bar in Venice. A wealthy young American, Harry Pickering, was a regular at the bar. When Pickering stopped coming to the bar, Cipriani stopped him in the hotel to ask why. It was because Pickering's relatives had found out about his drinking and cut off his finances.
Cipriani lent Pickering 10,000 lire (about £500 today), a considerable sum for the bartender to give, so he could continue enjoying the city.
Two years later, Pickering returned to Venice. He visited Cipriani at work, ordered a drink and gave the bartender 50,000 lire in return for his kind favour years earlier. The sum was enough for Cipriani to open his own bar, called Harry's Bar, after his American friend.
Cipriani's vision
When Harry's Bar opened in 1931, Cipriani's idea was to create a neutral space where visitors from all over the world could come to relax, socialise and enjoy good food.
Since its opening, Harry's Bar has maintained its discreet atmosphere, which is part of why it's been popular among wealthy and famous guests throughout the decades. There are no clear windows onto the street, so there's no chance of being overlooked by passing pedestrians. The small size of Harry's Bar also meant Cipriani could build relationships with his regular guests.
A host of famous guests
Why have famous guests been drawn to Harry's Bar throughout history? It's all thanks to the laidback, familiar atmosphere and friendly discretion of the staff. Many great talents, including Truman Capote, Georges Braque, Orson Welles and Woody Allen, have sought refuge at Harry's.
Ernest Hemmingway, American writer-legend, also became a regular at Harry's Bar in the winter of 1949. His visits helped influence the novel Across the River and Into the Trees. Hemmingway supposedly preferred a specific corner table, where he could enjoy a Dry Martini and watch the diverse customers around him.
Harry's Bar opening times and average prices
Planning to join the throngs of legends that have visited Harry's Bar since 1931? It's open from 10:30 to 23:00 daily, so you can head over for lunch or dinner no matter what your Venice plans involve.
As you might expect from Venice's most famous, old-school restaurant, drinks and dishes at Harry's Bar come at a price. Most salads, soups and antipasti cost between €25 and €35, while main courses are around €40 to €50 each. Cipriani's famous Bellini costs €22 – worth the price to sample the classic cocktail in its authentic home!
Travelling by train to Venice?
If you're planning to visit Venice, why not travel by train? Travelling to Venice by train is easy due to the high-speed rail connections operated by Trenitalia and Italo. You can travel to Venice from some of the most popular locations in Italy, including Peschiera del Garda to Venice (1h 16m), Verona Porta Nuova to Venice (1h) and Trieste Centrale to Venice (1h 37m).
Need more information about travelling to Venice by train? Check out our dedicated page to trains to Venice.