How to get cheap train tickets home for Christmas '18
Most of the train companies have released their Christmas and New Year timetables, which means the cheapest fares are now available to get you ho-ho-home for Christmas.
The catch is the closer to Christmas we get the fewer cheap tickets will remain – bah humbug. So, it's pretty simple, if you'd rather be spending your Christmas bonus on mince pies and mulled wine, follow our seven tips to make winter savings below.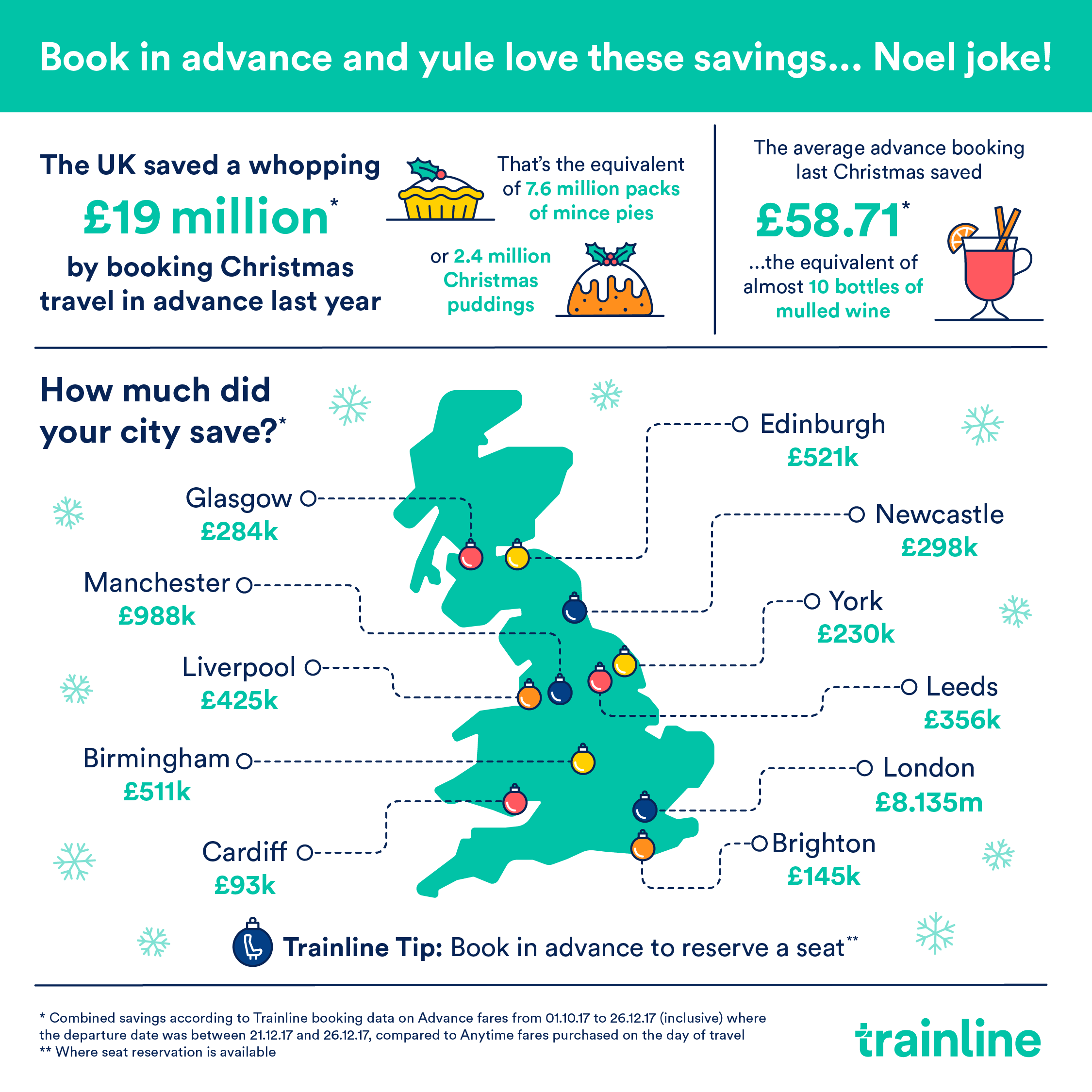 Seven tips to make winter savings:
1. No Driving home for Christmas needed – Use our app's Price Prediction tool to help predict the best time to book your train travel. The handy feature predicts how long you're likely to have left to buy tickets at the cheapest available price, so you can make the biggest savings. Which is a great way to stop yourself procrastinating on your Christmas travel plans. 
2. Voice your excitement - Our Voice app for Google Assistant, makes hands-free access to travel info as easy as (mince)pie. So, if you have your hands full after a mammoth shopping trip or simply don't want to remove your gloves in the chilly weather, you can still access real-time train travel information. Simply ask the Google Assistant to "Talk to Trainline" or go straight to the information you need by saying, for example, "Ok Google, ask Trainline how my journey home is looking".
3. Sitting pretty -  With everyone laden up with gifts travelling over the holiday period, extra space is at a premium. The BusyBot feature in the Trainline app reveals the quietest parts of the train so you can head for the empty seats and have the best chance of travelling in comfort. But remember: the best way to bag a seat reservation is to book an Advance ticket – the sooner you book, the less likely you'll need to sprint to find a seat.
4. Festivities with friends - If you're travelling with family or friends, check out GroupSave with Trainline, where groups of 3-8 passengers who travel together on Off-Peak tickets may be eligible for a 34% discount. Invest in a National Railcard to reap the benefits of discounted train travel.
5. (W)international travel - If you fancy escaping the UK and travelling further afield to enjoy the winter season in mainland Europe, Trainline lets you book travel to over 40 European countries. So, whether it's a family trip to a stunning Christmas market or a ski trip with friends, you can be sure of finding great prices for your travel.
6. Christmas day trips - Have to travel on Christmas Day itself? There are no trains running, but Trainline also now sells coach tickets, so you needn't be stuck without any travel options on the day.
And if you've decided to stay put for Christmas but have an eye to travel in the new year…
7. Book in advance - Visit Ticket Alert at Trainline.com to input your desired journey and be notified by email as soon as Advance tickets are released, so you can make the biggest savings and be sure to get a reserved seat. Advance ticket release dates vary by operator, a full list can be found here.