Saturday 21st December 2019
LEEDS TO LONDON KING'S CROSS - this is it - the final one.
Today's train times
You can find all the train times for today's leg of the InterCity 125 Farewell Tour on Realtime Trains
09:50 Our Prize Draw is now open!
WIN one of three prizes - all of them have travelled on the historic last LNER InterCity 125 railtour for all legs – from 18-21st December 2019!
The prizes are:
1. Hornby OO Gauge InterCity 125 from c.1978-1984 (boxed and used). This was run on the model railway set up aboard.
2. A copy of the reprint of the British Rail Corporate Identity Manual, of the same run used by the teams at LNER, Wabtec and Heritage Painting at Craigentinny Depot to repaint the train correctly, signed by Wallace Henning who created it. 
3. An original "I can travel at 125mph" Intercity 125 pin badge produced for the original train launch.
Thursday 19th December 2019
Inverness to Edinburgh– via Perth and Stirling
13:38 - Today's train times
You can find all the train times for today's leg of the InterCity 125 Farewell Tour on Realtime Trains
12:00 
Good afternoon! Today we are on the Highland Chieftain LNER Inter-City 125 Farewell Tour. We're heading up over the highest part of Network Rail's system - then down through Perth and Stirling into Edinburgh. Less blogging from me today as I'm going through the train interviewing folks for #125HSTmemories.

We'll be soon launching a FREE PRIZE DRAW! To win one of:
1. A Hornby InterCity 125 HST from about 1981 that has been with us on all legs of the tour – and will be playing a special part in proceedings over the next couple of days
2. A copy of the GREAT "British Rail Corporate Identity Manual" as reprinted in all its glory by Wallace Henning
3. An original "I CAN TRAVEL AT 125mph" Inter-City 125 pin badge that was created for the launch of BR East Coast 125 services all those years ago.

Details of how to enter, coming tonight. Meanwhile… here's a view from just now.
Travel by train!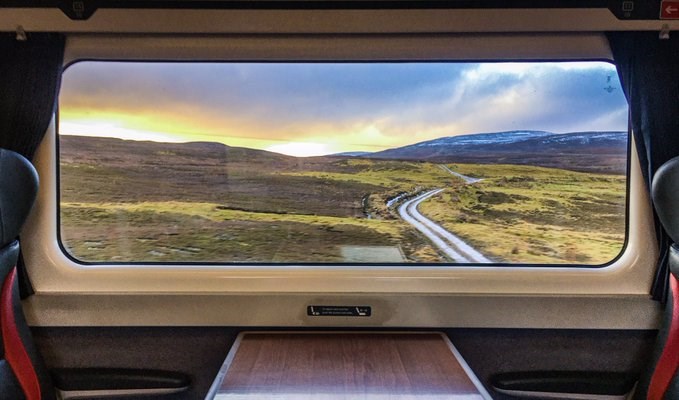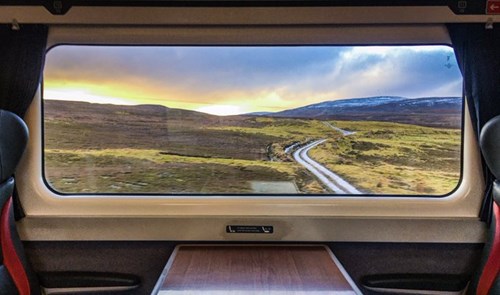 12:00 - Live video from Inverness
A quick update from the platforms - and a special video from aboard the new Caledonian Sleeper, showing its rather swanky new Lounge Car too. View it in your browser here!
----------------------------------
Wednesday 18th December 2019
Edinburgh to Inverness – via Aberdeen and unusually, the special "over the top" route via Elgin
15:31 - City Guide to Inverness - and Trains in Scotland info too
If you're travelling with us today, you might find the Trainline Guide to Inverness useful tonight!
Or, of course, if you're inspired to visit Scotland - maybe you'd like full info on our Trains in Scotland pages.
14:26: Across The Top
Well, here we go. A brief stop off in Aberdeen for some photos - and now we're off to Inverness via Elgin! The Inter-City 125 HST train didn't normally do this in service, so it's a little bit of a special trip.
13:20: Montrose
Another window shot from me looking inland as we pass Montrose Basin. Unfortunately we weren't able to get the GoPro in the cab over the Forth and Tay bridges for logistical reasons - but we're aiming to get it sorted for Aberdeen - as we head on to Inverness "Over the top".
13:05: Arbroath stop-off
It's our first proper stop at a station en route – we didn't get time to stop off at Dundee (such is the nature of chartered railtours!) – so a chance to hop off with a passenger who's a friend of mine, John Kerr. Arbroath is John's home: he runs Kerr's Miniature Railway which trundles alongside the main line. John's father ran it before him, and his grandfather before him. John's father, Matthew Kerr, has a memorial plaque on the station, so we nipped over to see it and have a bit of a reminisce. 
Update! Here's a photo of a 125 HST passing Kerr's Miniature Railway back in BR days.
12:58. Travel By Train - over the Tay Bridge
Just grabbed this snap as we went over the Tay Bridge - which is Britain's longest rail bridge! Astonishingly beautiful views from both sides up and down the Firth of Tay.
10:54. The whole train on video
Thought you might like to see this Periscope (a live Twitter video) of the train as it pulled into the station.

10:38. We're off!
Following the 09:46 departure we've now settled down and taken our seats. Here's a quick view of the front of the train at Edinburgh Waverley - just before we started. There's an absolute scrum of rail enthusiasts, staff and intrigued bystanders. And of course, the obligatory bagpiper.
This incredible. For the first time since the early 1980s, a complete InterCity 125 in original British Rail livery is taking passengers on the main line. This is entirely down to the sterling – and generous – efforts of dozens of LNER staff and associates who have gone above and beyond to create a very special goodbye to a train synonymous with their routes. As I post this we've just headed over the Forth Rail Bridge.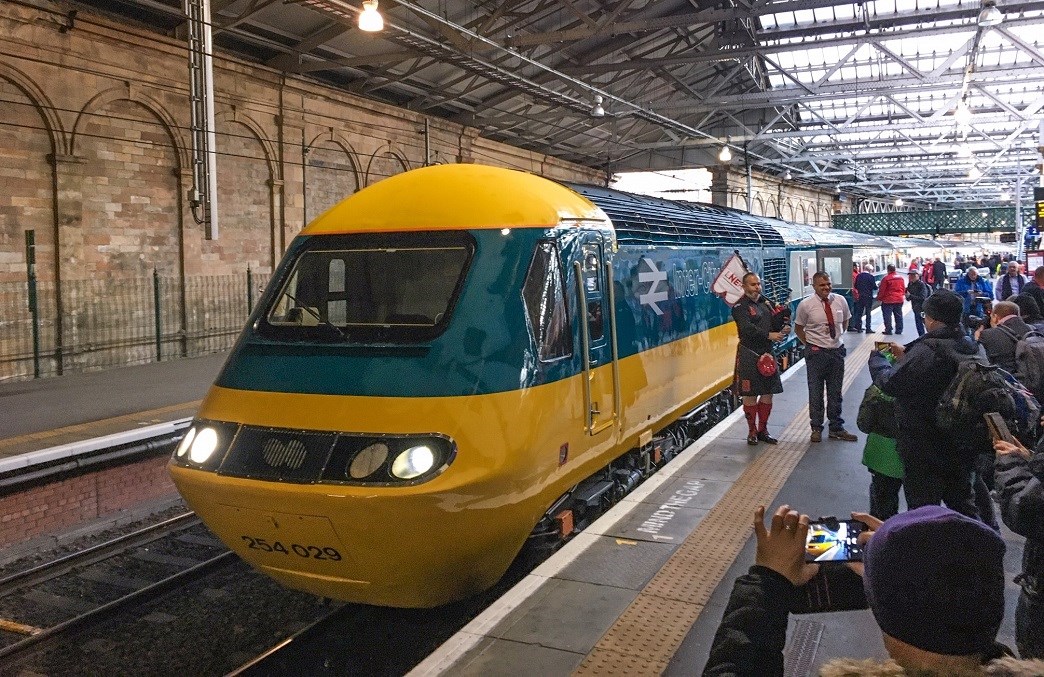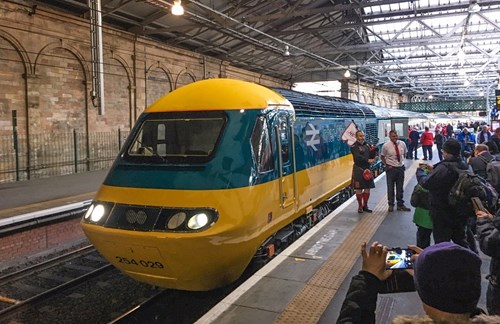 Full train timings for this chartered train service can be found here. 
Thursday 19th December - Saturday 21st December 2019
Inverness to Edinburgh via the highest point on Network Rail and Perth
Edinburgh to Leeds via Newcastle and York
Leeds to London via Doncaster and Peterborough
Expect lots of pictures and stories from aboard and on the platforms - and a few surprises along the way!