Barcelona is a city that's undoubtedly associated with art! If you're keen to break up your Gaudí tour with some other beautiful works, you can't go too far wrong at the Picasso Museum.
The world-renowned painter and father of the Cubism movement may have been born in Malaga, but he learnt his trade in Barcelona and returned to the city many times throughout his life. A trip to this magnificent museum is an excellent place to learn his story and admire some of his most extraordinary works.
Getting to the Picasso Museum
This treasure trove of Picasso creations is located in the heart of El Born, one of the many charming neighbourhoods that make up Barcelona's Old City. It's easily reached on foot from the Gothic Quarter and La Rambla. However, you may want to hop on public transport if you're venturing there from anywhere further afield.
Barcelona's public transport system is vast and efficient, including trains, buses, trams and metro. The majority are run by the same company (TMB), allowing you to use the same tickets on their different services. You can purchase tickets online, on the TMB app or at any metro station.
The easiest way to reach the Picasso Museum from the rest of the city is by metro. The closest station is Jaume I, served by line 4 (yellow). Once you get out of the station, cross the road and head northeast along Carrer de la Princesa. Take the first major right turn on Carrer de Montcada, and you'll then spot the museum on your left.
The Barcelona metro runs between the following times:
Monday to Thursday: 05:00 to midnight
Friday: 05:00 to 02:00
Saturday: 05:00 to midnight
Sunday: Nonstop
What to see at the Picasso Museum
Several Picasso Museums are scattered throughout Europe, including one in Paris and another in Malaga. Nevertheless, the museum in Barcelona has one of the largest collections of the artist's early works.
Most paintings, sketches and sculptures in the museum were previously owned by Picasso, his friends and family, who donated them in the 1960s. There's so much to see in the Picasso Museum's many halls! Here are just a few highlights:
The Permanent Collection
The Picasso Museum's permanent collection comprises around 4,000 pieces, including a considerable number that belonged to Picasso himself before his death in 1973. Almost all of these were completed before 1917, making them excellent examples of Picasso's earlier works.
The permanent collection is split into three major categories: painting and drawings, ceramics and engravings. At least 40 of the ceramics were donated to the museum by Picasso's wife, Jacqueline, in 1982. You'll also spot a series of more than 40 paintings titled Las Meninas. These were donated by Picasso and are his modern reinterpretation of the prestigious Las Meninas (The Ladies in Waiting) created by Diego Velázquez in 1656.
The entire museum is set out chronologically, so you can see the development of Picasso's artistic styles across the years.
The Temporary Collections
As well as permanent collections of Picasso's many early masterpieces, you'll also have the chance to view some more unusual exhibitions. Most are influenced by the life and works of the artists, with recent and current exhibits including:
Picasso by Duncan: The Complicit Look
This exhibition runs to March 22nd 2022. It explores the friendship between Pablo Picasso and photojournalist David Douglas Duncan through a series of 60 incredible photographs of the artist at work.
Lola Ruiz Picasso: this temporary exhibit ends on February 27th 2022, and it's dedicated to Lola Ruiz Picasso, Pablo Picasso's sister. They had a very close relationship. She featured in many of his paintings over the years, particularly before Picasso's Blue Period began in 1901.
Check the official Picasso Museum website before you get there to see what's coming up at the museum during your trip to Barcelona.
Online collections
Can't quite squeeze in a trip to the Picasso Museum during your Barcelona city break? Or maybe you want to re-experience it once you're back at home? Almost all of the permanent collection has been documented and uploaded to the museum website, allowing you to view Picasso's genius from your own home.
Picasso Museum history and facts
While the Picasso Museum may have only been around for about 60 years, there are still lots of fascinating facts for you to soak up about its history!
Barcelona's Picasso Museum is housed inside five Gothic palaces
The location chosen for the Picasso Museum on Carrer de Montcada is actually made up of five gorgeous Gothic-era palaces built between the 13th and 15th centuries.
Initially, the museum was housed inside one building – Palacio de Berenguer d'Aguilar – but the museum acquired the surrounding buildings as the collection grew.
Carrer de Montcada was the home of wealthy merchant families during the 15th and 16th centuries. It was even gifted artistic, historical recognition in 1947. The opening of the Picasso Museum less than 20 years later only added to its creative credentials.
Picasso's friend Jaume Sabartés played a considerable role in the start of the museum
While Picasso was responsible for donating many of the museum's items, his friend Jaume Sabartés – a Catalan poet, artist and writer – oversaw the project from start to finish.
Just Like Picasso, Sabartés also attended the Llotja art academy in Barcelona. He wanted somewhere in the city for everyone to enjoy the paintings and sculptures created by his life-long friend. So he found a location, dealt with local legislation and organised the palace's refurbishment into a museum.
Sabartés also offered up his private collection (most of which had been gifted to him by Picasso) to the museum. After Sabartés died in 1968, Picasso honoured his friend by adding more of his works to the museum, including the impressive Las Meninas series of paintings and drawings.
The museum initially opened under a different name
Thought the Picasso Museum was always called that? Think again! During the 1960s, when the idea for the museum first came about, Spain was still under the dictatorship of General Franco, who Picasso vocally opposed.
To avoid any delays or issues, the museum initially opened as 'The Sabartés Collection' on March 9th 1963. It's now referred to as the Picasso Museum. However, a new exhibition space called the 'Sabartés Room' was opened in 2008.
Restaurants, bars and shops at the Picasso Museum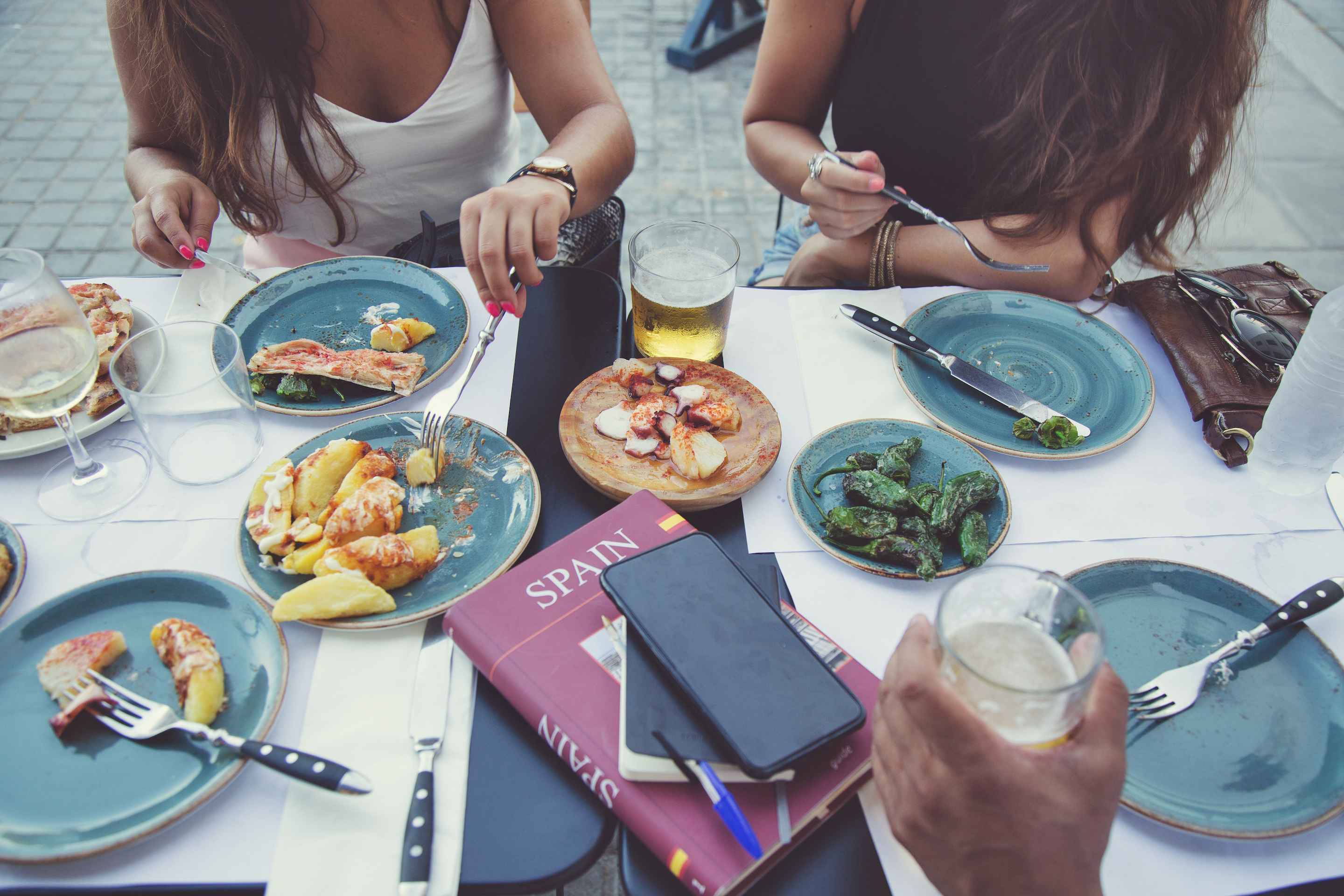 In addition to gazing at some truly incredible pieces of art from one of the world's most significant contemporary painters and sculptors, why not check out the other facilities in and around the Picasso Museum?
Picasso Museum Bookstore and Shop
Every good museum has an excellent museum shop to match! The Picasso Museum is no exception, and you'll find its gift shop located near the entrance. Whether you want to learn more about Picasso or simply educate yourself in the broader art world, you'll discover lots of glossy books on the shop's shelves.
Titles range from academic essays on Picasso's most famous works to kids' books that teach them about the world-renowned artist in a fun, easy-to-understand way.
You'll additionally spot all sorts of objects for sale, from t-shirts and stationery to postcards and posters featuring some of the paintings showcased in the museum.
Nearby restaurants and bars
While there are no dining options within the museum itself, you'll only be steps away from some of the best restaurants, cafés and bars in El Born. Why not enjoy a slap-up lunch, a refreshing glass of sangria or some coffee and cake at one of these nearby spots:
Ristorante Gravin
Vegetalia Born
7 Portes
Cremat 11
Tapeo
Opening times and ticket prices
Keen to incorporate a trip to the Picasso Museum into your Barcelona itinerary? You'll find this incredible art museum is open between Tuesday and Sunday, from 10:00 to 17:00.
You'll also be able to awe at Picasso's works for free at the following times:
Thursdays: 16:00 to 19:00
The first Sunday of every month
During the museum 2022 open days on the February 12th, May 18th and September 24th
Ticket prices
Picasso Museum Barcelona tickets can be bought online in advance or at the ticket office when you arrive. As the museum has a limited number of tickets for sale each day, we recommend buying online to avoid missing out.
Tickets for the Picasso Museum currently cost:
General admission: €12
Kids (under 18): free
18 to 25-year-olds: €7
Over 65s: €7
If you're hoping to visit the museum free of charge, note that these tickets usually become available to reserve online four days in advance.
Taking the train to Barcelona?
A well-connected country by rail, Spain is home to modern high-speed and regional services that make travelling between major destinations easy. Barcelona Sants is the main station in the city, served by Renfe's high-speed AVE and Avlo trains, and OUIGO Spain services running to and from Madrid.
Spain's rail network is blessed with fantastic high-speed and regional services that make it easy to travel to Barcelona by train. The main station in the city is Barcelona Sants, served by several speedy services including Renfe's AVE and Avlo trains, and OUIGO Spain trains running from Madrid. Travel from Seville to Barcelona in 5 hours and 32 minutes, Madrid to Barcelona in 2 hours and 30 minutes and Valencia to Barcelona in 2 hours and 40 minutes.
It's also easy to travel to Barcelona by train from other countries in Europe. Renfe-SNCF trains can take you from France to Spain, including Paris to Barcelona in 6 hours and 40 minutes. Ready to plan your trip? Book your train tickets to Barcelona with us today.