Getting to Park Güell
You'll find Park Güell tucked away in the Gràcia district of Barcelona. Due to its distance from the city centre, you'll need to get to grips with the public transport system to visit.
Run by TMB, Barcelona's transport services include buses, trams and a metro system. If you're staying in the city centre, in neighbourhoods like the Gothic Quarter, El Born or Eixample, the fastest way to reach Park Güell will be by metro.
The closest stations to the park are Lesseps and Vallcarca. Both are on line 3 (green), and journeys take approximately nine minutes from Liceu station on La Rambla. Once you arrive at your chosen station, it's then a 10-minute uphill walk to the park entrance. Alternatively, take line 4 (yellow) from Jaume I to Trinat Nova and hop on the 116 bus to the park entrance.
The Barcelona metro system runs at the following times:
Monday to Thursday: 05:00 to midnight
Friday: 05:00 to 02:00
Saturday: 05:00 to midnight
Sunday: Nonstop
You can purchase tickets online, via the TMB app or at a station. Options range from single tickets for €2.40 to ten-journey travel cards for €11.35. Tickets are valid on any TMB bus, tram or metro.
What to see at Park Güell
Park Güell is far more than just a space to hang out and admire the greenery. The park was initially envisioned as a residential area for some of the city's wealthiest families. While that never quite came to fruition, it's still used as parkland and has been open to the public for over 40 years.
We promise it's well worth the fee to visit. Park Güell is arguably one of the most ambitious and exquisite creations of Gaudí's. Its enchanting design incorporates numerous different buildings and elements, including:
The entrance and porter's lodges
Located on Carrer d'Olet, this is the main entrance to the park. It provides a pretty spectacular introduction to the space, giving you a fantastic view of two other significant features: the Hypostyle Room and the Dragon Stairway.
The lodges at the entrance were once used by the park's porters, and they both feature gorgeous mosaic roof tiles.
The Hypostyle Room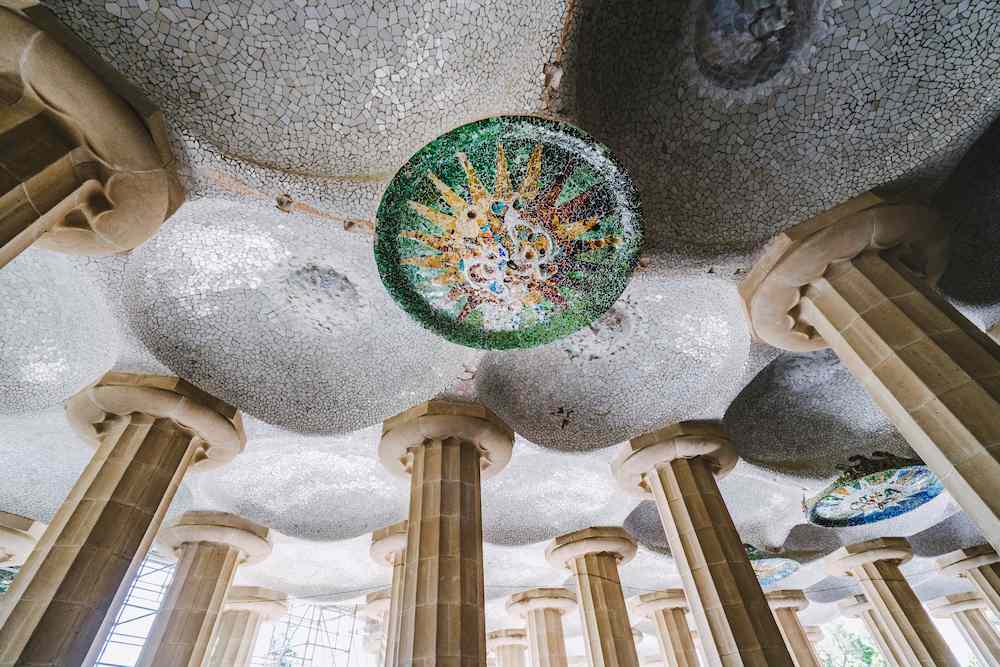 This is an open space with a roof held up by 86 classical columns, initially intended to be a market where the park's residents could buy local produce and goods. One of its most innovative features is a conduit that collects water from The Greek Theatre above and runs it down to a storage tank located underground.
The Greek Theatre
This is the crowning glory of Park Güell that lies right at its heart. It's a large square cut into the rock and sits directly on top of the Hypostyle Room. On Gaudí's original plans for the park, it's named The Greek Theatre and was designed to be an open-air performance space. It was recently renamed Plaça de la Natura (Nature Square). The main features of this beautiful attraction are its wavy benches and stunning tile-work.
The Austria Gardens
This leafy part of Park Güell was plotted out as a space to build fancy houses for Barcelona's most affluent residents. The building works were never completed, so the zone was turned into a plant nursery.
Wondering why it's called the 'Austria' Gardens? In 1977, the park received a donation of trees from the country, most of which still stand in the gardens.
The Dragon Stairway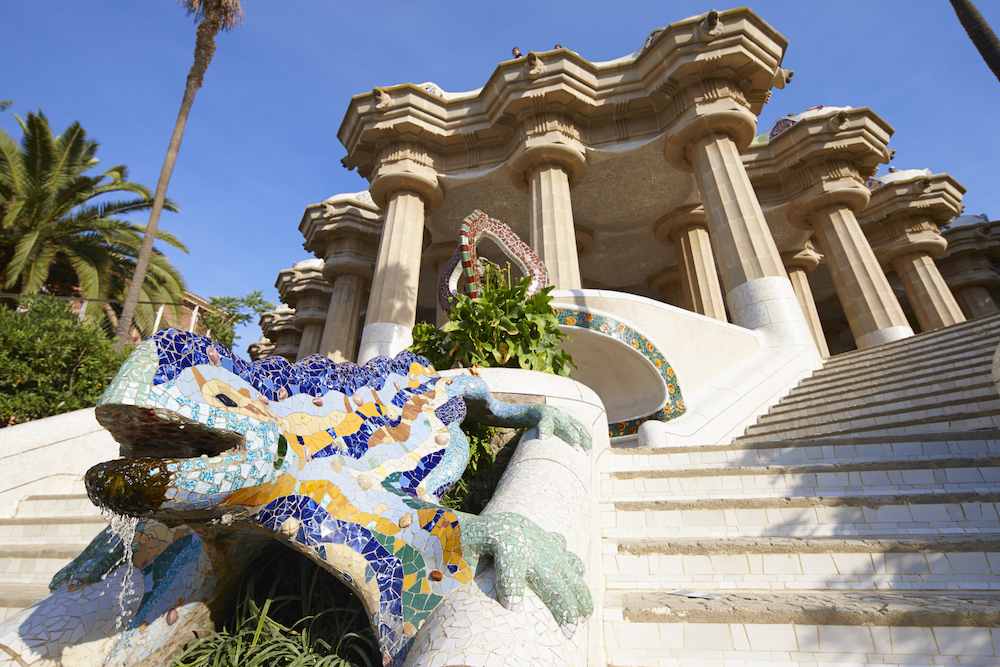 This is easily one of the most photographed parts of Park Güell. The magnificent staircase is fantastic in its design. It features two sweeping flights of stairs leading up to the Hypostyle Room. The entire structure is littered with mythical and local symbols, from the Catalonian emblem to a 2.4-metre mosaic dragon.
Roads, paths and viaducts
Thanks to the fact Park Güell was initially planned for housing, you'll be amazed to see many essential amenities already installed across the park. This includes viaducts designed to take carriages to the highest. The attraction is also crisscrossed with wide pathways. Plus, there's a large central road sweeping from the main entrance around The Greek Theatre.
Park Güell history and facts
Park Güell has been a feature on Barcelona's skyline for over 100 years! The magnificent park is set in the Le Salut neighbourhood of Gràcia, and it's fast become one of the most visited attractions in the city.
There are numerous sites associated with Antoni Gaudí, but few are as ambitious as Park Güell. The architect lived in the park for the final years of his life. Now, that building hosts the Gaudí House Museum. Here's a short history of how Park Güell came to be.
Conception
Park Güell was first thought up by Eusebi Güell, a local entrepreneur and the first Count of Güell. He was inspired by the English garden city movement, which saw new urban neighbourhoods built surrounded by green spaces.
Keen to create a leafy new housing development in Barcelona, he bought a piece of land in Gràcia. It already had two properties, including the grand Larrard House that later became Güell's home.
Planning and design
In 1900, Eusebi Güell approached Antoni Gaudí to design the park. Gaudí and Güell had previously worked together. The latter was a long-term fan of the architect's unique style and flair for modernism. Plans were drawn up for various elements across the park. Interestingly, this doesn't include the 60 planned homes. These were designed by Francesc Berenguer, a friend and colleague of Gaudí, and only two were ever actually completed.
Construction of Park Güell
Construction of Park Güell took place between 1900 and 1914. Firstly, the park was divided into different levels, and the entrance and lodges were built.
In 1906, the first house was completed and used as a show home. The same year, Gaudí moved in with his father and niece. By 1907, the square above the Hypostyle Room was used for events, though the detailing wasn't finished until 1914.
From private housing to public park
Difficulties with selling the housing plots, a lack of transport links to the city and the park's unusual design meant it failed to take off. Construction was stopped in 1914, and Güell used the park as a private garden, occasionally renting it out for public events.
In 1918, Eusebi Güell died. His family sold the park to Barcelona City Council in 1922, and it was opened as a public park in 1926. Larrard House, Güell's former home, was turned into a local primary school that's still in use today. Gaudí's family home went on to become the Gaudí House Museum in 1963.
Fast-forward to 1984, when Park Güell was honoured with UNESCO World Heritage status. Today? It's one of the most visited attractions in Barcelona, with an estimated nine million people strolling through its lovely entrance each and every year!
Restaurants, bars and shops at Park Güell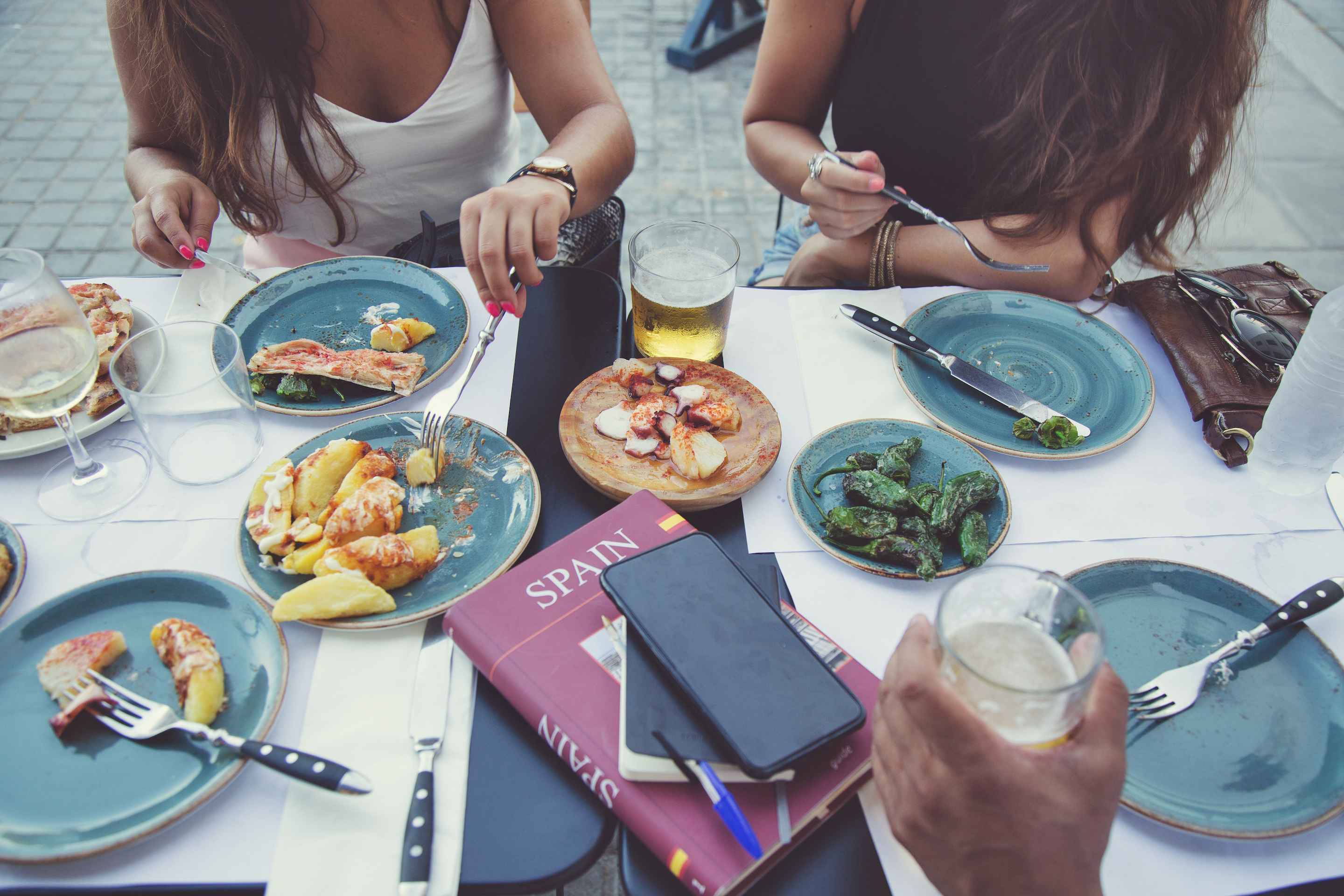 As well as its winding pathways, beautiful botanicals and incredible architecture, you'll find a range of other facilities in Park Güell.
Restaurant Afiparc
This is the only restaurant inside Park Güell's grounds and a good pitstop for a quick bite and a refreshing drink. The menu is pretty basic, featuring mainly sandwiches, salads, snacks and ice creams. There's also a selection of hot, cold and alcoholic drinks available.
You'll find Restaurant Afiparc near the entrance, opposite the lefthand porter's lodge. There are also numerous places to eat outside the park, including nearby venues like Restaurant Larrard 55 and Restaurant La Salut; both serve tasty Spanish cuisine.
Picnic areas
If you'd prefer to bring your own food and drink, look for one of several designated picnic areas scattered throughout the park. Take a look at the map as you enter to discover where precisely these zones are located.
Children's playpark
If you're visiting the park with kids, there's a well-equipped playground a short walk east of the main entrance. Little ones can have fun swinging, sliding and climbing.
Gaudí House Museum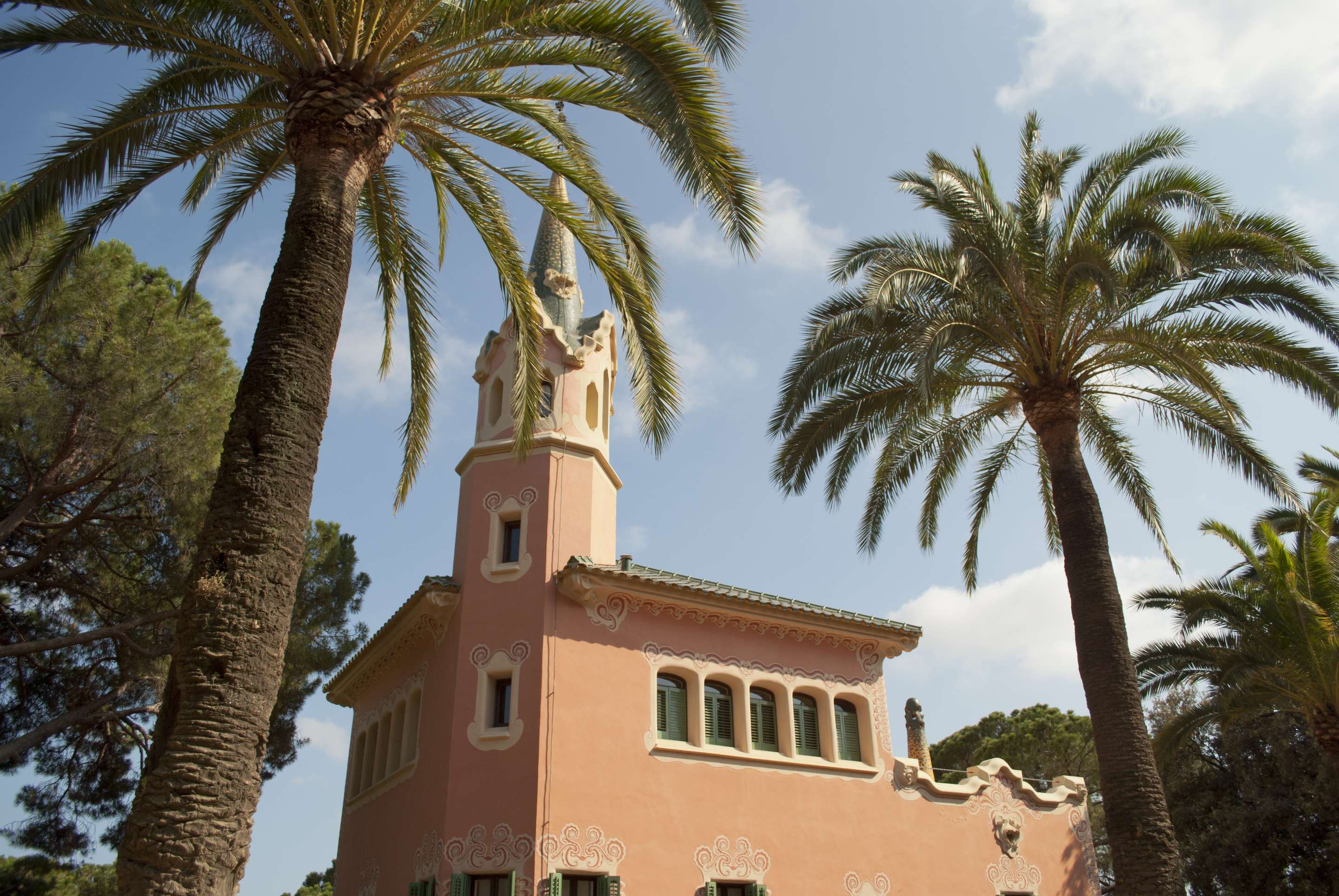 An attraction in itself, the Gaudi House Museum was the final home of Antoni Gaudí. He lived there for nearly 20 years until 1925, a year before his death. Originally designed as a show home for the planned housing development in Parc Güell, it's now a fascinating museum dedicated to Gaudi's life and most famous creations. Read more in our guide to visiting the Guadi House Museum.
Park Güell opening times and prices
Keen to take a stroll around this fantastic city park and view its many Gaudí masterpieces? Park Güell is open to visitors seven days between 09:30 and 17:30. Local residents of the surrounding neighbourhoods can enter the park without a ticket at any time, so don't be surprised if you see people inside the park after hours.
Ticket prices
Speaking of tickets, let's take a look at how much it costs to get into Park Güell. Due to its ever-growing popularity, Barcelona City Council decided to start restricting how many people could enter Park Güell in 2013. They introduced a ticketing system for the park's central section.
You can still visit the seven hectares of forest at the very top of Park Güell for free, ideal if you just fancy a walk or want to soak up views of the city.
Want to plan a visit for your next trip to Barcelona? Here are Parc Güell ticket prices.
| | |
| --- | --- |
|   | Tickets |
| Adults | €10 |
| Children (7 to 12) | €7 |
| Children (under 7) | Free |
| Over 65s | €7 |
| Disabled visitors | Free |
| Disabled visitors' companions | €7 |
Prices correct January 2022
Taking the train to Barcelona?
Spain's rail network is blessed with fantastic high-speed and regional services that make it easy to travel to Barcelona by train. The main station in the city is Barcelona Sants, served by several speedy services including Renfe's AVE and Avlo trains, and OUIGO Spain trains running from Madrid. Travel from Madrid to Barcelona in 2 hours and 30 minutes, Valencia to Barcelona in 2 hours and 40 minutes and Seville to Barcelona in 5 hours and 32 minutes.
Thinking about travelling to Barcelona from another country? Its easy to do by train! Renfe-SNCF trains can take you from France to Spain in no time, including Paris to Barcelona in 6 hours and 40 minutes. So what are you waiting for? Book your train tickets to Barcelona with us today.