Getting to Montjuïc
Montjuïc is situated southwest of Barcelona's most central neighbourhoods, including the Gothic Quarter and El Raval. It's a bit of a trek to reach on foot, so you'll want to make good use of the city's public transport system instead.
Run by TMB, Barcelona's transport consists of trams, metros and buses. The fastest way to reach Montjuïc is to hop on a line 3 (green) metro train from Liceu, just off La Rambla. Get off at Poble Sec station or Plaça d'Espanya. You'll then be on the edge of Poble Sec – one of Montjuïc's best-known neighbourhoods – and only a short walk from the Museu Nacional d'Art de Catalunya.
Hoping to visit Castell de Montjuïc? It's on the other side of the hill. To get there, take the same metro line from Liceu to Paral-lel and then walk the rest of the way, about 30 minutes, or use the cable car. Alternatively, the number 55 bus takes you all the way up into Parc de Montjuïc from Plaça d'Espanya.
If you're going the underground route, Barcelona's metro runs between these times:
Monday to Thursday: 05:00 until midnight
Friday: 05:00 to 02:00
Saturday: Nonstop
Sunday: Midnight to midnight
Tickets for TMB transport are combined, so you don't need to buy separate ones to use on the bus or metro. Choose a single journey ticket for €2.40 or buy a ten journey travel card for €11.35.
What to do in Montjuïc
Montjuïc is brimming with attractions! What's more, there's something to suit art lovers, history buffs and nature fans. As well as the landmarks and museums located at the summit of the hill, the foot of Montjuïc hides some tempting eateries, particularly in the up-and-coming area of Poble Sec.
You'll want to set aside at least half a day to do the area justice. Here are five of our favourite things to do in Barcelona's Montjuïc:
Castell de Montjuïc
Museu Nacional d'Art de Catalunya
Font Màgica de Montjuïc
Poble Espanyol (Spanish Village)
Olympic Stadium
Castell de Montjuïc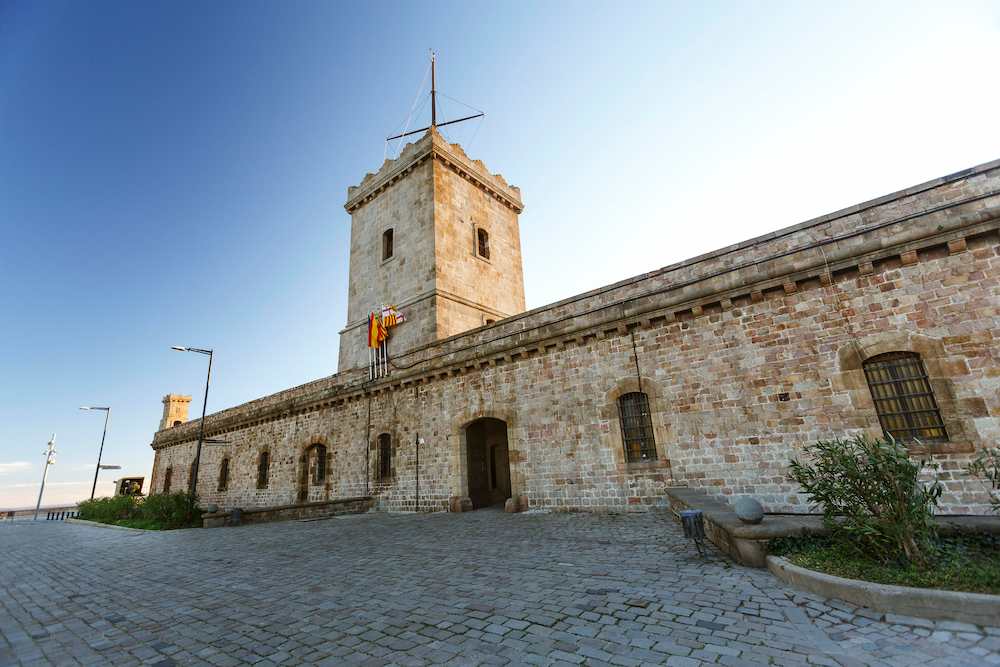 Montjuïc Castle is situated on the eastern side of Montjuïc with uninterrupted vistas across the sea. It's been a fixture of the hillside for nearly 400 years and was initially built as a defence fortress for the military.
Castell de Montjuïc has seen some things during its lifetime, from sieges to battles and the brutalities of the Spanish Civil War. Some of the most notable footnotes in its history include being captured by Napoleon's army during the Napoleonic Wars.
Throughout the last three centuries, Montjuïc Castle served as a prison and a place to torture enemies of Spain (including nationalists during the Civil War). Today, this unique museum is a brilliant place to discover the darker side of Barcelona's history. You can even enter dungeons and climb up into the watchtowers to soak up ocean views.
Museu Nacional d'Art de Catalunya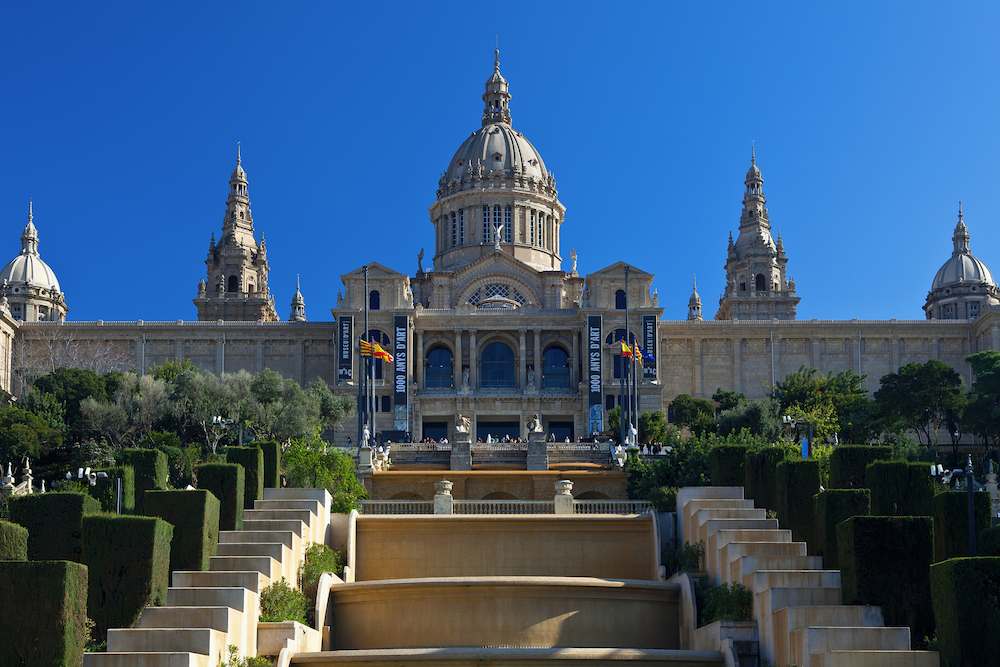 Prefer something a little more light-hearted? The National Art Museum of Catalonia (Palau De La Música Catalana) is on the opposite side of Montjuïc, showcasing over 1,000 years of incredible artwork. Most have been created by Catalan or Spanish artists, but you'll also find El Greco, Rubens and Titian works.
The first thing to note is the museum's setting. It's housed inside the Palau Nacional, an elegant Italianate building dating to the 1920s. It became a museum in 1934 and is easily one of the best locations in the world to view Catalan art.
The Museu Nacional d'Art de Catalunya is split into several sections exploring different periods. These range from a large display of medieval iconography to collections by prolific Baroque, Romanesque and Gothic artists.
Don't forget to check out the Modern Art Collection! Among its many displays are paintings, drawings and sculptures created by Salvador Dalí, Roman Casas and Antoni Gaudí.
Font Màgica de Montjuïc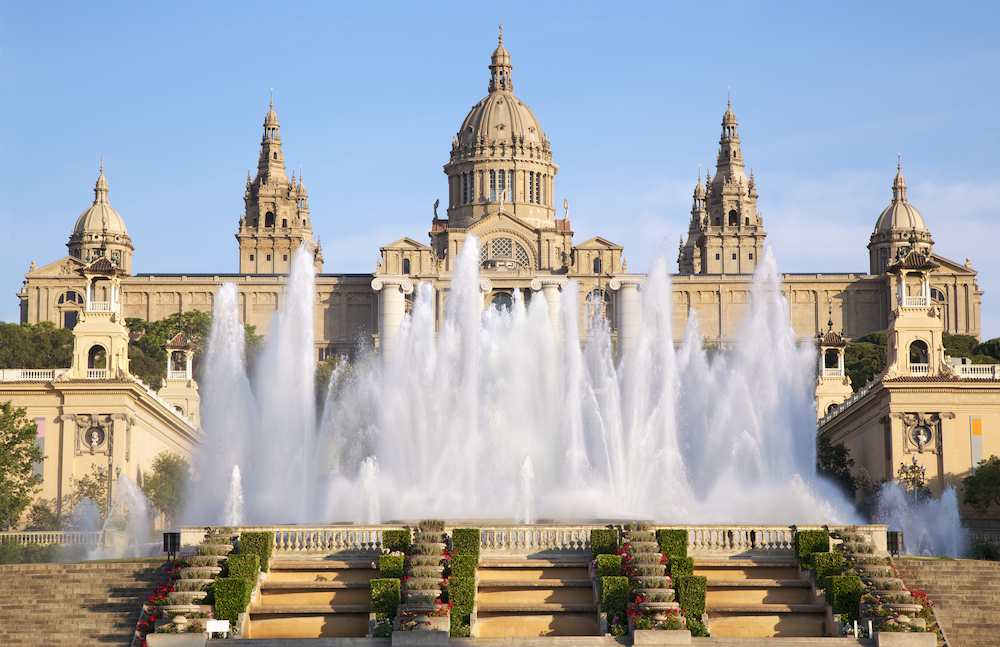 This enchanting water feature sits on the doorstep of the Museu Nacional d'Art de Catalunya. It was created for the 1929 International Exposition and was a true feat of engineering at the time.
The Font Màgica de Montjuïc is famed for having over 3,000 jets spraying around 700 gallons of water a second, with the highest stream reaching over 150 feet. The fountain was out of action for several years but was restored in 1992 for the Barcelona Olympic Games.
The best time to visit the fountain is in the evening when the light shows happen. These see the fountain spraying water to music and choreographed lighting. It's a brilliant thing to do in Barcelona during the summer months.
Poble Espanyol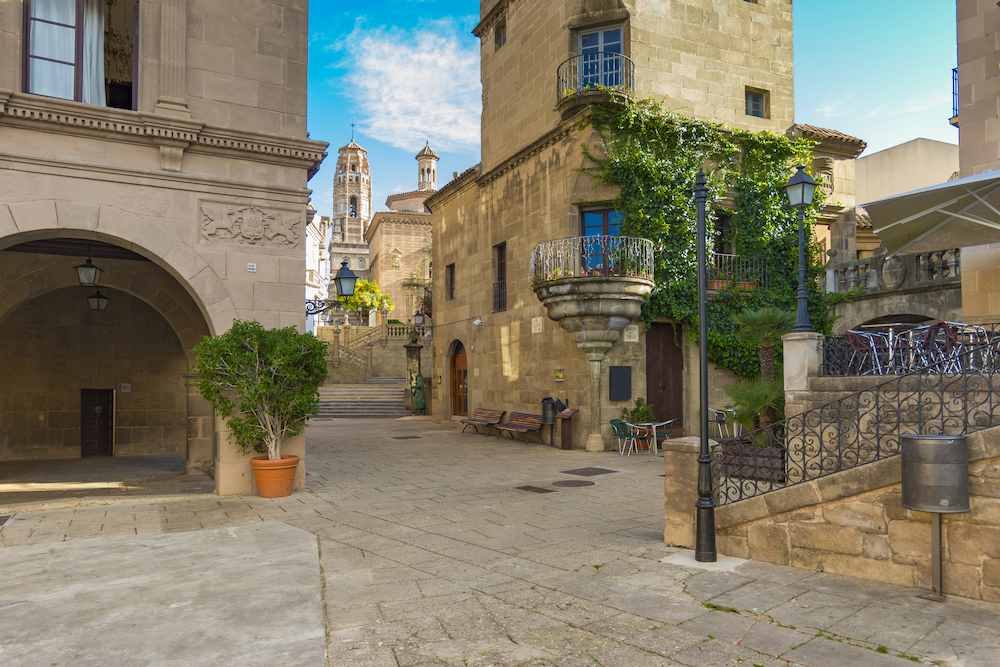 Poble Espanyol (Spanish Village) sits west of the Palau Nacional, a charming destination for a day out in Barcelona.
The open-air museum was first opened in 1929 for the Barcelona International Exposition. Its purpose was to highlight different building styles seen across Spanish villages. While it was scheduled for demolition shortly after the event, the city decided to keep it and turn it into a museum for Spanish culture.
Today, the photogenic Spanish Village offers far more than just pretty architecture. It's also become one of the most popular places to visit in Barcelona thanks to its various shopping, dining, arts and culture spots. Buy traditional artisan products or visit charming cafés, where you can try authentic bites from regions like Basque and the Balearic Islands!
Fancy an evening out in Poble Espanyol? Thanks to the mock village's bars, nightclubs, and flamenco theatres, that's entirely possible. Popular La Terrazza is set in the courtyard of a beautiful mansion and hosts open-air dance parties in the summer months.
Continue your art education by popping into the Fran Daurel Foundation. The modern art gallery is a real hidden gem and features vibrant works by Picasso and Dalí.
Olympic Stadium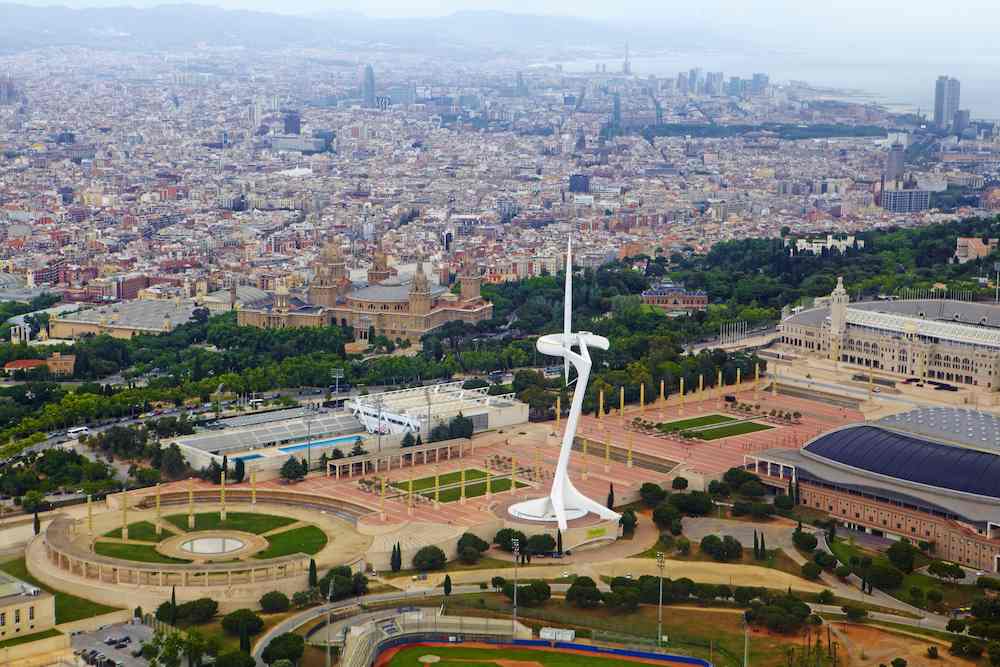 Barcelona hosted the Olympics in 1992, but the complex of sports facilities known as Anella Olimpica or the Olympic Ring pre-dates that by quite a few decades. It was yet another site built for the 1929 International Exposition. It's also played host to numerous events since then, including the 1955 Mediterranean Games and the Spanish national football cup final in 1957.
The complex was renovated in the late 1980s to prepare for the 1992 Summer Olympics. Since then, it's been the home of several Barcelona sports teams, most notably RCD Espanyol.
Barcelona's Olympic Stadium has recently been renamed the Lluís Companys stadium. Companys was the president of Catalonia during the Spanish Civil War and was imprisoned and later executed at Castell de Montjuïc. He's buried in Montjuïc Cemetery, not far from the stadium.
The entire Olympic Ring complex is beautifully landscaped and features various columns, fountains and walkways to explore. You should also turn your eyes towards the sky to look at the enormous needle-like tower. Think it's for decoration? In fact, the Montjuïc Communications Tower was designed by renowned Spanish architect and engineer Santiago Calatrava in 1989.
Montjuïc history and building facts
Montjuïc has a long history stretching all the way back to pre-historic times. Let's take a look at this much-loved district's past.
As a lookout
None of the Montjuïc sights of today existed before the 17th century. That's not to say the hill wasn't inhabited. Its lofty location and vantage out to sea made it an excellent lookout point. In fact, early records show the first settlements of Barcelona were likely built around Montjuïc due to its strategic location. What's more, a chunk of the hillside was a quarry during the city's Roman period.
Castell de Montjuïc
Montjuïc Castle was the first structure built on the hill, supposedly during the 1640s. It was an essential military structure for the city, then part of an independent Catalonia, especially during the Siege of Barcelona in 1705. Unfortunately, it was captured by invading forces, and Catalonia then became part of Spain in 1714.
As a prison
Over the next 300 years, Montjuïc was mainly known for hosting a prison in its castle and being a central military station. It oversaw several other invasions, including the French Army during the Napoleonic Wars.
A darker side of the hill's history shows that many anarchists and enemies of the government were tortured here, particularly in the late 19th century and the years leading up to the Spanish Civil War.
A Jewish settlement
Montjuïc means Jewish Mountain in English. It gained this title thanks to the Jewish Cemetery founded on its southern side in 1883. Following Barcelona's industrialisation and rapidly increasing population, there was a need for a new cemetery, particularly for the city's Jewish community.
The International Exposition
The 1929 International Exposition is why so many of Montjuïc's most iconic buildings exist today. 20 European countries took part in the World Fair, the second hosted in Barcelona, exhibiting objects, artworks and artefacts to show off their culture and achievements. Many buildings were supposed to be demolished after the event but were kept intact.
The Spanish Civil War
The Spanish Civil War occurred less than 100 years ago, but it's perhaps the most crucial footnote in Montjuïc's history. During the war, the castle was occupied by General Franco's forces, who imprisoned, tortured and executed hundreds of enemies within its walls. The most notable was Lluís Companys, the exiled president of Catalonia. The Olympic Stadium is now named after him.
Modern Montjuïc
Today, Montjuïc is one of Barcelona's most attractive and visited parts. You might find it hard to believe it was once the site of such brutality when walking around its peaceful neighbourhoods and elegant landmarks!
Montjuïc opening times and prices
While Montjuïc itself is always open, its attractions have specific opening hours. These differ between each one and are as follows:
Castell de Montjuïc
March to October: Daily 10:00 to 20:00
November to February: Daily from 10:00 to 18:00
Museu Nacional d'Art de Catalunya
May to September: Tuesday to Saturday 10:00 to 20:00, Sundays 10:00 to 15:00
October to April: Tuesday to Saturday 10:00 to 18:00, Sundays 10:00 to 15:00
Font Màgica de Montjuïc
The fountain is always open for viewing. Times for the evening light and music shows vary depending on the season and day of the week. Check the official website for updates.
Poble Espanyol
Monday to Thursday: 10:00 to 20:00
Friday to Sunday: 10:00 to 00:00
Olympic Stadium
Tuesday to Saturday: 10:00 to 18:00
Sundays and public holidays: 10:00 to 14:30
Ticket prices
Tickets vary for each attraction. Many are free, including Font Màgica de Montjuïc and some parts of the Olympic Stadium.
Taking the train to Barcelona?
Barcelona is one of the most well-connected cities in Spain by rail, so why wouldn't you want to travel there by train? There are plenty of high-speed and regional options available, depending on where you're travelling from. Renfe's AVE and Avlo trains, and OUIGO Spain services all arrive into the main station in the city, Barcelona Sants. Travel from Madrid to Barcelona in 2 hours and 30 minutes, Tarragona to Barcelona in 1 hour and Salou to Barcelona in 1 hour and 12 minutes.
If you're travelling to Barcelona from another country, Renfe-SNCF trains travel direct from Paris to Barcelona in 6 hours and 40 minutes, or Marseille to Barcelona in 5 hours and 31 minutes. So what are you waiting for? Book your train tickets to Barcelona with us today.
Thinking about travelling to Barcelona from another country? Its easy to do by train! Renfe-SNCF trains can take you from France to Spain in no time, including Paris to Barcelona in 6 hours and 40 minutes. So what are you waiting for? Book your train to Barcelona with us today.