Start your trip to the Tuscan capital in one of its oldest and best-known public squares, Piazza della Signoria. Here you can explore the city's rich history and culture in one location, thanks to the wealth of palaces, sculptures and plaques dotted around the square.
Find out more about Piazza della Signoria in our guide, including:
Getting around
Travelling by train is the quickest way to get to most of Florence's attractions and landmarks, including Piazza della Signoria. From the city's central station, Santa Maria Novella, walk 15 minutes into the historic centre where you'll find Piazza della Signoria.
It's easy to plan a day out in Florence, with regular services arriving into Santa Maria Novella from across Tuscany. Bologna is less than 40 minutes away by train, whilst the fastest services from Pisa and Arezzo take around 1 hour.
You can also travel to Florence by train from many destinations across Italy, including Rome, Milan and Venice. So why not extend your trip for a few days and make the short train journey to Florence, where more history, culture, food and beautiful scenery awaits you?
What to see at Piazza della Signoria
Walking around Piazza della Signoria, you'll notice sculptures by famous Italian artists, the Neptune Fountain and some lesser-known Renaissance palaces. Palazzo Vecchio and the Gucci Museum are located in Piazza della Signoria, whilst the Uffizi Gallery is adjacent to the famous square.
Don't miss out on these artworks, landmarks and attractions if you're planning to visit Piazza della Signora during your trip.
Statues in Piazza della Signoria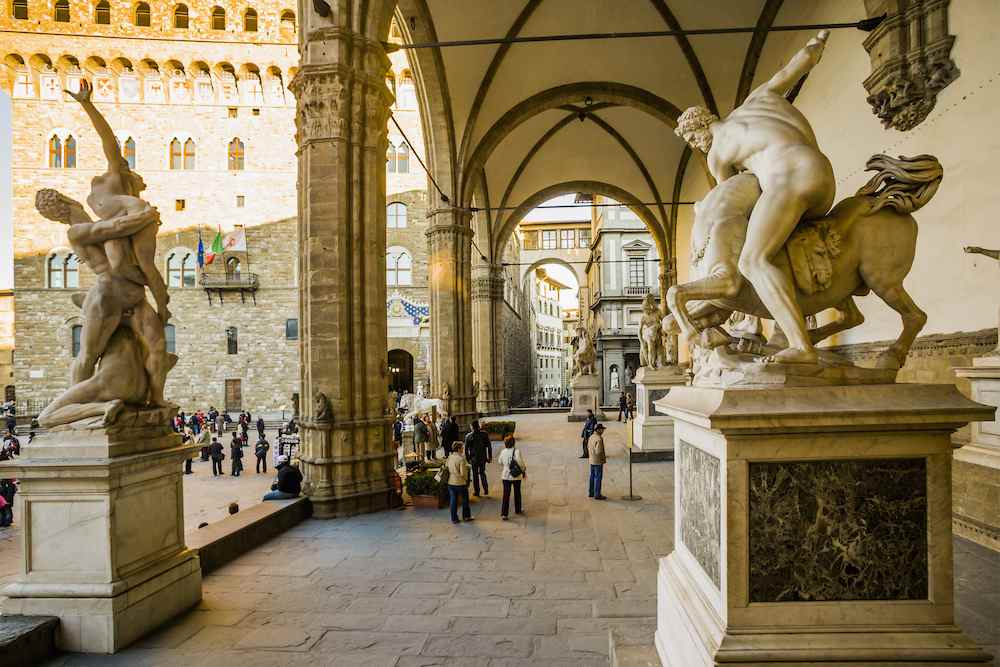 Perhaps the most famous statue in Piazza della Signoria is the replica of Michelangelo's David, outside the Palazzo Vecchio. The original statue of David is housed in the Accademia Gallery.
Another well-known Renaissance sculpture sits outside the Palazzo Vecchio: Donatello's bronze sculpture, Judith and Holofernes. He also made the Marzocco lion in front of the palace. Like Michelangelo's David, both statues have been replaced with copies.
The outdoor sculpture court known as the Loggia dei Lanzi is located on the left of the Palazzo Vecchio, behind the Uffizi Gallery. Here you can see antique sculptures, including the Medici lions, alongside Renaissance works by Giambologna and Cellini.
Palazzo Vecchio
This medieval palace was home to the government, or signoria, during the Florentine Republic. Part of the building is still the town hall, but Palazzo Vecchio is best-known for its museum, detailing Florence's civic and political history.
Built by Arnolfo di Cambio in 1299, the imposing exterior of Palazzo Vecchio dominates the Piazza della Signoria. Inside, the palace contains some incredible examples of medieval and Renaissance art and architecture, so be sure to pay a visit whilst you're exploring Piazza della Signoria.
Check out our guide to visiting Palazzo Vecchio for more information on this must-see attraction.
Neptune Fountain
The Neptune Fountain is one of the most striking architectural features of Piazza della Signoria, thanks to its impressive size and prominent position in the square, right outside Palazzo Vecchio.
Built by Bartolomeo Ammannati between 1560 and 1574, this impressive fountain was sculpted from marble, bronze and mischio, a coloured marble-like material. Cosimo I de'Medici commissioned the fountain in 1559 to celebrate the marriage of his son, Francesco I de'Medici, to Joanna of Austria.
It depicts figures from Greek mythology such as Neptune, Tritons, Satyrs and Fauns. Neptune resembles Cosimo I, alluding to the Duke's power in the Mediterranean.
Medieval palaces
As well as the imposing Palazzo Vecchio, Piazza della Signoria is home to several smaller medieval and Renaissance palaces.
At the corner of Piazza della Signoria, where the square meets Via Calimaruzza, is Palazzo dell'Arte dei Mercatanti (Palace of the Art of the Merchants). The 13th- century building was once home to the guilds of arts and crafts in Florence, known as the Calimala. You can still spot their coat of arms, despite numerous changes to the original building.
You'll also find Palazzo Uguccioni in Piazza della Signoria, constructed in 1550 for Giovanni Uguccioni. The designer of this stunning Renaissance palace is widely debated, with suggestions including Raphael, Michelangelo, Andrea Palladio, Bartolomeo Ammannati and Raffaello da Montelupo. There is a bust of Francesco I de'Medici above the entrance, possibly made by Giambologna.
Gucci Garden
Discover the history of one of Florence's most famous fashion houses at the Gucci Garden in Piazza della Signoria. Opened in 2011, the museum displays iconic pieces designed by the brand alongside collaborations with artists and celebrities. There is also a Michelin-starred restaurant, Gucci Osteria, where you can enjoy fine dining in a unique setting.
Gucci Garden is housed in the Tribuna della Mercanzia (Court of Merchandise), finished in 1359. The court was established to settle disputes between merchants and members of the Florentine guilds. Artworks by Sandro Botticelli, Piero Pollaio and Taddeo Gaddi once decorated the entrance, now on display in the Uffizi.
Piazza della Signoria history and facts
Piazza della Signoria is named after the government, or signoria, that once inhabited  Palazzo Vecchio (previously called Palazzo della Signoria). Although Piazza della Signoria is best-known as the primary location of the city's political and civic affairs during the Republic of Florence, the square dates back much further.
When the Piazza della Signoria was re-paved in the 1980s, archaeologists found a former Neolithic site. What began as a straightforward restoration led to some fascinating discoveries, including evidence that this was once a central square in Roman Florentia, with baths and a theatre. Remains of an ancient church from the 5th century were also found.
Notable events
Piazza della Signoria began to take on its current form in 1268 when the religious wars across northern and central Italy led the victorious Guelphs to destroy Ghibellines' houses. Palazzo Vecchio was built shortly after, in 1299, and the square was fully paved in 1385.
In 1497 Girolamo Savonarola and his followers held the Bonfire of the Vanities in Piazza della Signoria. The Dominican friar believed in Christian reform and the destruction of secular art and culture, burning books, poetry, gaming tables and extravagant clothing. He was excommunicated by Pope Alexander VI and later hanged for heresy in Piazza della Signoria in 1498.
Location
If you're wandering around Florence's historic centre, you're bound to stumble upon Piazza della Signoria. Located near many of the city's most notable attractions, the sprawling square is a 1-minute walk from the Uffizi Gallery and 3 minutes from Ponte Vecchio. Piazza del Duomo and the famous Cathedral of Santa Maria del Fiore are 6 minutes away on foot.
Restaurants, bars and shops at Piazza della Signoria
When it's time to take a break from sightseeing, there are plenty of cafés, restaurants and bars near Piazza della Signoria to grab a bite to eat and enjoy a drink or two. Planning on shopping during your trip? Piazza della Signoria is near some of the best shopping streets in Florence.
Best restaurants near Piazza della Signoria
Stop for lunch or dinner at one of these restaurants near Piazza della Signoria, where you can enjoy a sandwich on fresh schiacciata (Tuscan focaccia bread), tuck into a delicious Italian pizza or sample traditional Tuscan cuisine:
Vinaino
La Nichietta in Calimaruzza
Dal Vinao
Il Cernacchino
Osteria Vecchio Vicolo
Auditore Ristorante Braceria
Frescobaldi
Gustavino
Trattoria Gabriello
Our guide to the best restaurants in Florence offers a culinary tour of the city by area, making it easy to plan your trip. Whether you'd prefer a romantic dinner for two or you're looking for family-friendly options, we've got you covered.
Best bars near Piazza della Signoria
What better way to finish a busy day of sightseeing than relaxing with a drink? These are the best places to head for an aperitivo near Piazza della Signoria:
Budellino
Angel Roofbar
Piccolo Vinaio
La Petite
Brown Sugar
Frescobaldi
Gustavino
Explore more of the best bars in Florence in our dedicated nightlife guide. Choose from traditional wine bars, experimental cocktail lounges, cosy pubs, rooftop terraces and more.
Best shops near Piazza della Signoria
You'll be spoiled for choice when it comes to shopping near Piazza della Signoria. Try these streets for popular high-street shops, departments stores and designer boutiques, all just a stone's throw away from the square:
Via Por Santa Maria
Via Calimala
Via dei Calzaiuoli
Via Roma
Planning a shopping spree in Florence? Our guide to shopping in Florence has you covered, featuring the best places to buy designer goods, where to find unique pieces and which markets are best for a bargain.
Travelling to Florence by train?
If you're planning a trip to Florence, it's easy to get there by train, due to high-speed rail connections operated by Trenitalia and Italo. Take the train to Florence from some of the most popular destinations in Italy, including Rome to Florence in just 1 hour and 17 minutes, Bologna to Florence  in just 37 minutes, and Venice to Florence in just 1 hour and 59 minutes.
Want to find out more about travelling to Florence by train? Check out our guide to trains to Florence.
Once you've ticked Piazza della Signoria off your itinerary, why not check out some more of Florence's attractions or discover more things to do in the city?