Our guide to the best restaurants in Florence will help you plan the perfect meal. Discover the food scene in the city's different neighbourhoods, including notable restaurants and how to get there.
What's in this guide?  
Florentine cuisine
Many of Florence's restaurants serve typical Tuscan cuisine, cooking with fresh, locally sourced produce from the region. The fare is often simple but incredibly delicious, featuring staple ingredients such as fagioli (beans), bread, pasta and earthy flavours of truffle, chestnut and mushrooms. Cinghiale (wild boar) and coniglio (rabbit) often feature in pasta sauces, adding rich, hearty flavour to the dish.
Florence also has its own specialities, like lampredotto (offal), served street-food style as a sandwich or added to stews. Bistecca alla Fiorentina (Florentine steak) is a large, T-bone steak cooked one way: rare. For an indulgent snack, try coccoli. These deep-fried dough balls are served with prosciutto (cured ham) and stracchino cheese.
Look out for these signature dishes when dining out at Florence's restaurants to experience authentic Tuscan cuisine. Or if that doesn't sound like your thing, there are plenty of restaurants serving dishes from across Italy and further afield, like pizza, burgers and sushi.
Top 10 restaurants in Florence
Wondering where to begin your culinary journey? These are 10 of the best restaurants in Florence, in no particular order:
La Giostra
Cibreo
Parione
Degusteria Italiana agli Ufizzi
Ristorante Santa Elizabetta
Ribeo
Bambi
Osteria Antica Casa Torre
Buca Lapi
Trattoria Marione
1. La Giostra
This famous restaurant in Sant'Ambrogio is frequented by celebrities and owned by an Austrian prince, but it's not pretentious. It's an upscale version of the traditional trattoria, with vaulted ceilings, white table cloths and photograph-filled walls. This high-end restaurant is the perfect place to enjoy a romantic dinner by candlelight, serving Tuscan and Italian cuisine.
2. Cibreo
Cibreo is a traditional Tuscan restaurant in Sant'Ambrogio, with a small menu focused on high-quality local produce. Owned by chef Fabio Picchi who opened here in 1979, head to Cibreo for an authentic experience of Florentine cuisine. Or try one of its sister establishments, Cibreo Trattoria or Cibreo Caffè, and get an equally delicious meal for a much lower price.
3. Parione
Situated in Santa Maria Novella, this restaurant serves Tuscan and Italian cuisine in a relaxed atmosphere at the heart of Florence's central shopping district. Whether you're dining with family and friends or planning a romantic meal, this is a great mid-range restaurant in the city centre.
4. Degusteria Italiana agli Uffizi
For a modern take on Tuscan and Florentine cuisine, head to Degusteria Italiana agli Uffizi. This exclusive restaurant near the Uffizi Gallery in the Santa Maria Novella area offers different tasting menus based on some of the region's best produce, including truffle and game, paired with high-quality wines from across Italy. If you're celebrating a special occasion, this is the place to go.
5. Ristorante Santa Elizabetta
Experience fine dining in the heart of Florence at this two Michelin star restaurant with a focus on seasonal produce and experimental cooking. Go at lunchtime for the three-course à la carte menu, or choose from five, seven and nine-course tasting experiences for lunch or dinner. Housed in the Byzantine-era Pagliazzi Tower of the Brunelleschi Hotel, near Piazza del Duomo, this intimate restaurant combines Florence's best-known attributes: culture, creativity and cuisine.
6. Ribeo
This small, family-run restaurant and wine bar in San Marco serves authentic Tuscan cuisine. Their outdoor terrace is open all year round, where you can enjoy some peace and quiet after a busy day sightseeing in Florence. If you want a delicious meal with expertly paired wine at a great price, go to Ribeo.
7. Bambi
This street food stall at the Mercato Centrale in San Lorenzo serves the Florentine delicacies of trippa (tripe) and lampredotto (offal) in their famous sandwiches. Run by a family of butchers for three generations, Bambi is a favourite of locals and tourists alike. Head here for a cheap and tasty lunch.
8. Osteria Antica Casa Torre
Enjoy Italian cuisine and Florentine specialities like bistecca alla Fiorentina at this cosy and traditional restaurant in Sant'Ambrogio. Whether you're stopping for a quick bite to eat at lunchtime or planning a romantic dinner for two, Osteria Antica Casa Torre offers well-priced food and wine in a relaxed atmosphere.
9. Buca Lapi
Buca Lapi has been serving Tuscan cuisine in Santa Maria Novella since 1880. Today, much of its original charm remains from vaulted ceilings decorated with vintage posters to crisp white tablecloths and ambient lighting. If you're dining with a group or as a couple, this cosy, mid-range restaurant is a great choice.
10. Trattoria Marione
This laid-back, traditional trattoria serves simple yet delicious food from Tuscany at reasonable prices. Located near Florence's main attractions in the Santa Maria Novella district, try Trattoria Marione for a casual lunch or dinner.
Opening Times
Many restaurants in Florence open for lunch between 12:00 and 14:00, then close for a riposo mid-afternoon, before re-opening for dinner around 18:00 and 19:00. If you have a particular restaurant in mind, find out their exact opening times online and book in advance where possible to guarantee a table.
Santa Maria Novella
Santa Maria Novella is one of the largest districts in Florence, with plenty of choice when it's time to eat. If you need a break from sightseeing or shopping, stop by one of these restaurants in Santa Maria Novella for lunch, dinner or an aperitivo.
For local cuisine at reasonable prices, head to:
Trattoria 13 Gobbi
Trattoria Marione
Trattoria da Giorgio
Trattoria Il Contadino
Trattoria dell'Oca
When you're craving an authentic Italian pizza made with fresh ingredients, try:
Osteria 100 Poveri
La Dantesca
Industria
Pizzeria Insieme
Pizzeria Bello Mio
Celebrating a special occasion? Book lunch or dinner at one of these restaurants:
Sabatini
Buca Lapi
Parione
Osteria La Pescatoria
Le Tre Posate
Osteria Pastella
Degusteria Italiana agli Uffizi
Enjoy a light snack or aperitivo here:
Mariano
Nerocarbone
I'Tuscanino
Or sample some international cuisines at:
Hoseki
Banki Ramen
Ravioli Wang
Izakaya Florence
Haveli Indian Restaurant
Getting there
Dining out in Santa Maria Novella? The city's central train station is between 5 and 15 minutes' walk from all of these restaurants.
San Lorenzo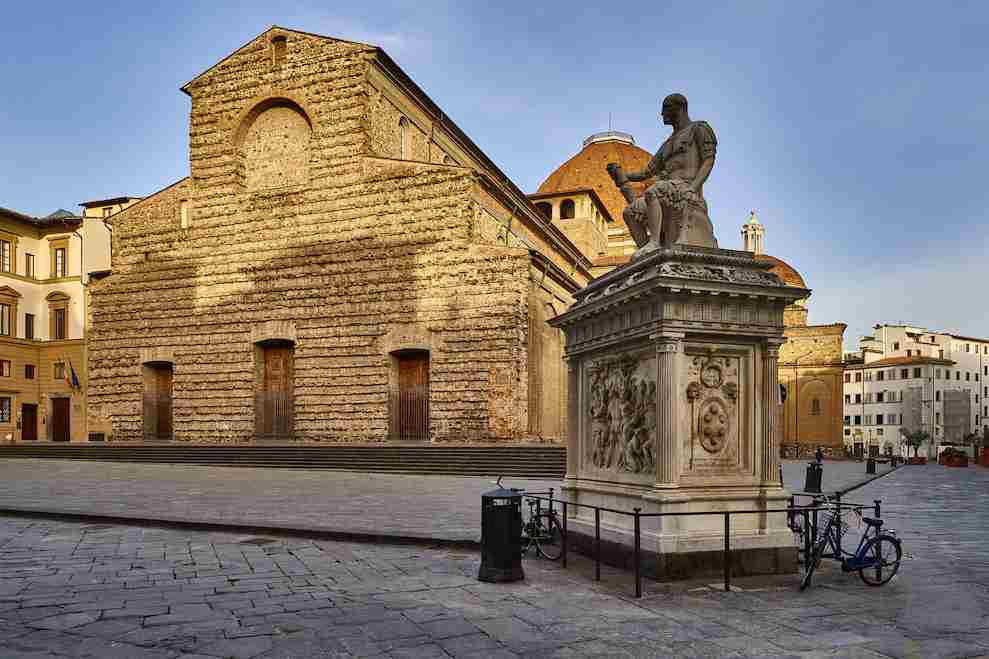 If you're visiting the Basilica of San Lorenzo or spending an afternoon shopping at the Mercato Centrale, you'll find plenty of places nearby to stop for a coffee, lunch or dinner.
Enjoy authentic Tuscan cuisine in a traditional setting at:
Trattoria Mario
Trattoria Sergio Gozzi
Matto Matto
Le Capelle Medicee
La Piazzetta di Lorenzo
For a modern twist on much-loved Italian dishes, try:
Osteria Il Basilico
Ristorante Brandolino
Il Decco Bistro
Fancy a pizza? Head to one of these restaurants:
Fermento
Simbiosi
Pizzeria I Camaldoli
Pizzeria Livio
Before a busy day sightseeing, get breakfast or a coffee at one of these cafés:
Le Ménagère
Coffee & Kitchen
Snack Bar Anna
Or grab a quick bite to eat at these lunch spots:
Bambi
Mercato Centrale
Nobile Bistro
Getting there
San Lorenzo is just a 6-minute walk from Santa Maria Novella train station, making it a convenient dining location if you're visiting Florence for the evening.
San Frediano
Venture over the river to San Frediano to explore the independent shops, visit the Pitti Palace or enjoy this area's vibrant nightlife. Then stop for lunch, dinner or an aperitivo at one of these restaurants. San Frediano has options to suit all budgets and tastes, from Michelin-starred restaurants to casual pizzerias.
Experience contemporary Italian cuisine at these exclusive restaurants:
Essenziale
Gunè
Logo
Io Osteria Personale
La Pepiniere Ristorante Biologico
Sample traditional, local dishes in a relaxed environment at:
La Vecchia Maniera
Borgo
Salerosa
I'Brindellone
L'Arte di Dory
Bistrot 3 Tavoli
Before heading to the bars on Borgo San Frediano, grab a casual bite to eat at:
Berberè
Pizzeria Riva d'Arno
One Eyed Jack
Djaria
Or try some of Florence's best gelato whilst you wander around the Oltrarno district from:
Gelateria La Carraia
La Sorbetteria
Getting there
If you're arriving in Florence by train, San Frediano is a 15-minute walk from Santa Maria Novella station.
Santa Croce
Although Santa Croce is best-known for its Franciscan Basilica, there are some fantastic places to eat in this neighbourhood. Start your day with a coffee and pastry at one of the cafes near Piazza di Santa Croce, or head here for dinner before making the most of the nightlife in this area.
Planning a busy day of sightseeing? Start your day with breakfast or coffee at:
Le Vespe Café
Coffee Mantra
Café Letterario Le Murate
Ditta Artigianale
For the best pizza in Santa Croce, go to:
Pizz'Agnolo
Mister Pizza
Berberè
Enjoy authentic Florentine cuisine in a traditional setting at:
Trattoria Verdi
Casa Toscana
Boccadama
I Ghibellini
Finisterrae
Boccanegra
Grab a light snack or aperitivo here:
Fermino
Note di Vino
Schiacciamatta
Officina Street Food
Or try these restaurants for a unique dining experience and contemporary Italian cooking:
San Marco
San Marco is known as the home of Florence University, making it a lively area of the city, with plenty of history, culture and food to enjoy. Discover the best restaurants and cafes in this neighbourhood. You can take a well-deserved break from sightseeing after visiting the Accademia Gallery or San Marco Museum.
Stop for a pastry or schiacciata (Tuscan focaccia bread) at one of these bakeries for breakfast or lunch on the go:
Pugi
Focacceria San Marco
Lo Sgrano
Enjoy traditional Tuscan cuisine at:
Ribeo
Antica Trattoria da Tito
Acquacotta
Trattoria i Due G
Ristorante Accademia
Osteria Giglio d'Oro
La Mescita
Braciere Malatesta
Hungry for steak? These are the best places to try bistecca alla Fiorentina in San Marco:
Santo Spirito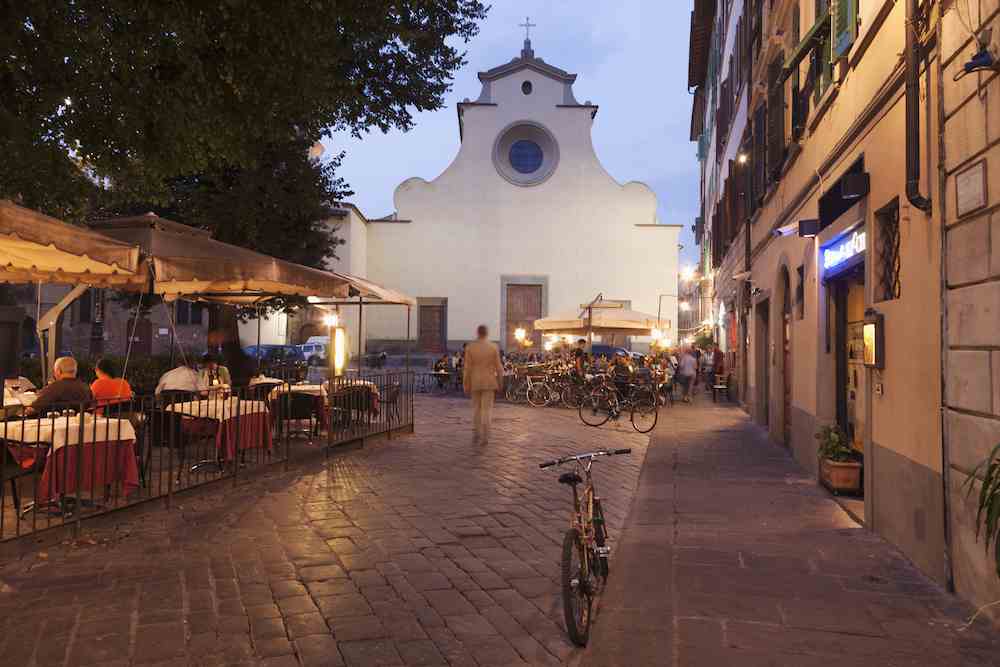 Cross the River Arno to explore the Santo Spirito neighbourhood, where you'll find plenty of restaurants and cafés. Enjoy your morning coffee overlooking Piazza di Santo Spirito, then head to an authentic trattoria for lunch or dinner to dine with the locals.
Grab a coffee and pastry before exploring Santo Spirito at:
Ditta Artigianale
Caffè Notte
Bar di Santo Spirito
Café degli Artigiani
Experience Florentine cuisine like a local at these traditional restaurants:
Trattoria Giovanni
Osteria del Cinghiale Bianco
La Bottega di Via Maggio
Trattoria Boboli
Trattoria Sant'Agostino
Trattoria La Casalinga
Gusta Osteria
Or try Tuscan dishes with a contemporary twist at:
Osteria del Pavone
Osteria dell'Enoteca
Cuculia
Borgo San Jacopo
Il Santo Bevitore
Getting there
Get to Santo Spirito in under 20 minutes if you're walking from Santa Maria Novella station.
Bagno a Ripoli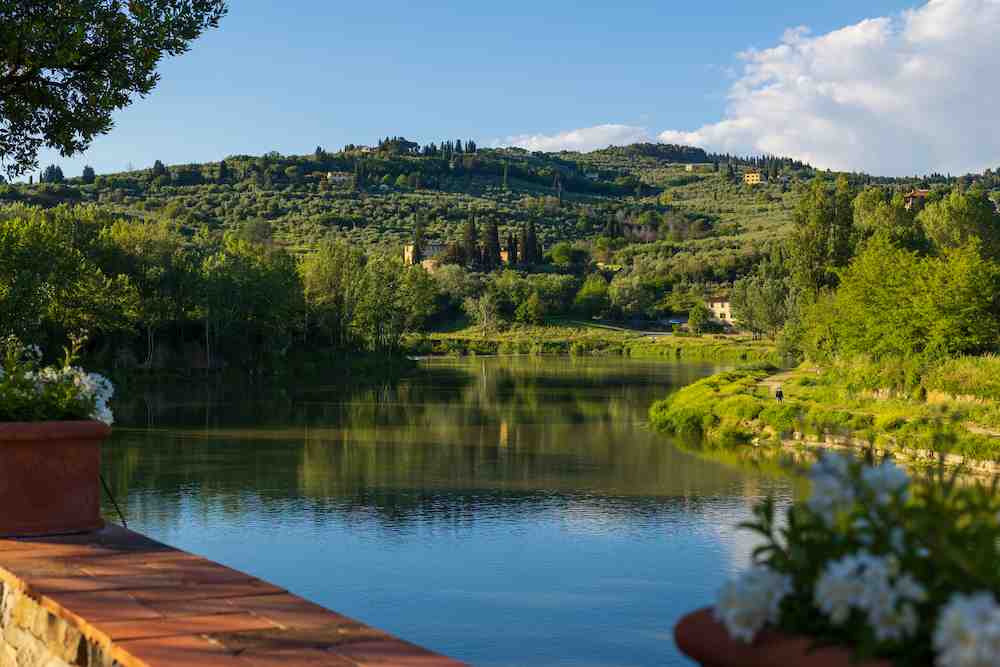 Want to escape the city for a few hours? Head south-east of Florence to Bagno a Ripoli. Here you'll find traditional restaurants serving local cuisine against the backdrop of the beautiful Tuscan countryside. Some of the best restaurants in Bagno a Ripoli include:
Trattoria La Gargotta
Osteria del Rosso
Osteria Bruciategami
La Grotta degli Angeli
Ristorante Il Cavaliere
Getting there
Getting to Bagno a Ripoli from Florence city centre is easy. Catch the 353A bus from Santa Maria Novella train station, which will take you to Bagno a Ripoli town centre in just 25 minutes.
Sant'Ambrogio
Sant'Ambrogio is one of Florence's oldest districts, offering a much slower pace, yet there's plenty to see and do here. Whether you're visiting the Great Synagogue of Florence, Mercato Sant'Ambrogio, or wandering around the narrow streets, these are some of the best places to eat and drink.
Get your morning coffee, pastry or a sandwich at one of these cafes:
Coffee Mantra
Cibreo Caffè
Ditta Artigianale
Schiacciamatta
Piazza Lorenzo Ghiberti surrounds the Mercato di Sant'Ambrogio, where you'll find some fantastic places to grab lunch, including:
Trattoria da Rocco
Semel Street Food
Occomè
Il Trippaio di Sant'Ambrogio
For dinner, enjoy traditional Tuscan cuisine at these restaurants:
Cibreo
La Giostra
Osteria Antica Casa Torre
L'Ortone
Trattoria Cesarino
Getting around
Florence is a relatively small city, so it's easy to get around on foot if you're dining out in the city centre or heading to the other side of the river, Oltrarno, for the evening.
If you'd prefer to use public transport when you arrive in Florence, many buses depart from Santa Maria Novella train station to various parts of the city. Or venture further afield to nearby towns like Bagno a Ripoli, just 25 minutes by bus.
Travelling to Florence by train, or visiting another destination in Italy? Direct services operate regularly to and from Milan, Venice and Rome, amongst other locations. If you're staying in Tuscany for an extended period, why not take a day trip to one of Florence's neighbouring cities like Pisa, Lucca, Siena or Arezzo?