The Gingerbread City flows along the natural waterfront – and of course, uses the water as transport infrastructure! Here, miniature water-based transport services give a unique experience for tiny residents and visitors alike.
Fan of harbourside strolls? Try taking the train to Bilbao, Sorrento, or even Plymouth!
This area of The Gingerbread City's masterplan is split up into several individual plots. Teams from architecture and design companies were asked to pick one of these plots – and then supply a bespoke gingerbread building appropriate for it. Over the past few months, the wonderful buildings below have been conceived, designed, crafted, and baked by them to fit.
The buildings of the Gingerbread Waterfront
Sea(side) House
[Y/N] Studio
Sea(side) House turns the traditional beach hut shape on its side to frame oblique sea views down the coast past its neighbours. A flat roof terrace with jammy hot-tub offers amazing views over the gingerbread city while a cantilevering chimney swing will attract attention from passing gummy bears.
About the designers: [Y/N] Studio is an architecture practice based in London. They ask questions about the site and brief to maximise their potential. Their talented team has experience of delivering award-winning buildings and they work at all scales, across all sectors and in any location.
Gingerbread Cap
AKT II
'Gingerbread Cap' is AKT II's reinvention of the beach huts dotted all along the English Coast Line. A modern interpretation with transparent walls and a cantilevered roofline reaching out to the sea. Opposing the traditional introverted and protective hut, Gingerbread Cap will be a light-filled minimalistic space.
About the designers: AKT II is a progressive, design-led structural and civil engineering firm. Operating from their headquarters in Central London, they have current and complete projects in over 40 countries worldwide. The practice believe that design is by its very nature curious, iterative and subject to refinement and improvement if it is to be successful.
The Sugar Crystal Shack
Amos Goldreich Architecture
A beach hut on the waterfront and one of the first buildings seen from the edge of the table. Due to its prominent position and relatively small scale, the building is intended to be read like a jewel or gemstone: a small object which might catch the eye, absorbing light and refracting different colours. Related to the GingerBread City it provides a space for the city's population to relax and unwind; a time out before heading to, or coming away from the busy beach.
About the designers: Amos Goldreich are a young, forward-thinking practice. Their objective is always to marry the pragmatic with the aesthetic in a way that results in buildings and places that have a positive impact on people's lives and are a joy to experience.
Candy-Claus Depot
Assael Architecture
With views across the water and over Bakewell Beach, Candy-Claus Depot celebrates its fantastic position within Gingerbread City with an open-fronted office building 'shell' for local city workers. Employees travel to work by bicycle, kayak, electric water taxi and on foot and are able to store their vehicle on the generous ground floor plaza beneath the CandyClaus depot building. Internal slides and a range of Santa's workshops, from gift wrapping to toymaking, allow workers a truly inspiring, comfortable and fun work environment. Finished off with a rooftop drone-pad to transport all gifts to the city.
About the designers: Assael Architecture is an award-winning practice providing a cohesive suite of architecture, interior design and landscape architecture services to a range of developers, investors and local authorities.
Hansel Hall
AtelierWest/Jensen Hunt Design
Hard day at uni? Are you just too cool for school? Ride into Hansel Halls chalet on this sweet ski lift and relax in the Aprés Ski Bar. Hansel Hall takes inspiration from the familiar sight of messy, disorganised ski racks after a long day on the slopes. The chalet appears to be floating above the icy-icing slopes resting on a forest of candy pilotis, reminiscent of Peter Zumthor's Zinc Mine Museum in Sauda, Norway, which forms the structure below the chalet and the angled fenestration to the sides of the halls. Light floods out between the ski façade and from the slender stained-glass windows - a beacon for the students of the Gingerbread City!
About the designers: AtelierWest are an architectural, design, and project management practice based in Knightsbridge, London. Jensen Hunt Design combine structural engineering design with architectural focus in London. Domestic residential extensions to large commercial buildings.

Cinnamon Circuit
BBUK Studio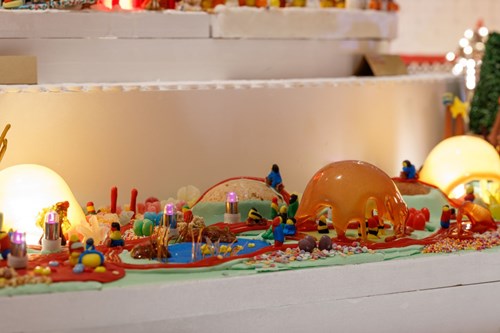 The 'Cinnamon Circuit' is an intricate series of liquorice lanes assembled amongst a sour-patchwork of spaces designed to flexibly facilitate a variety of outdoor public space programmes that respond to the diverse and sugary needs of the gingerbread community. It fruit-loops around the park and aniseed twists and twirls through Turkish delightful seating and play areas, giving users the opportunity to revel in the scenery. The track pear drops down and up along a sloping, organic geometry and the park has gum tree wind turbines allsorted amongst the trees allowing users to charge their electric bikes and scooters.
About the designers: Led by Harriet Bourne, BBUK is an award-winning landscape practice established in January 2002. From inception, the practice has taken on a wide range of projects ranging from Streetscape Design Guidance, large residential schemes, Public Parks and Open Spaces through to private gardens for individual and commercial clients.
Meringue Marina
BPR Architects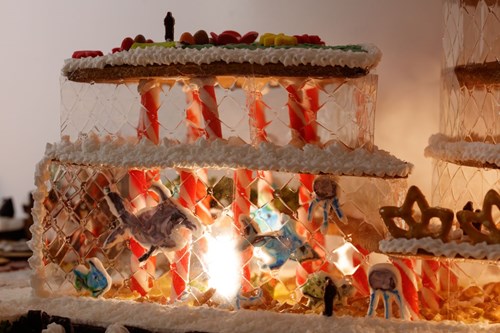 Sea levels have been rising at an astonishing rate due to global warming, affecting the biodiversity of our oceans and the availability of habitable coastal areas. BPR Architects design for 'Meringue Marina' is a direct response to this growing crisis. The Marina has been designed to be retuned to the water as sea levels rise. The design creates floating walkways at multiple levels where sailboats can moor as sea levels increase. A biodiverse sea wall protects the Marina Building and provides a habitat for ocean wildlife. The ground floor aquarium in the building provides a refuge for already endangered sea creatures.
About the designers: BPR Architects believe that good design adds value. They are a leading London-based firm of Architects working within the Higher Education, Transport and Regeneration sectors. They are passionate about the future of our planet and built environment.
Gingernut Cracker Ballet
Charcoalblue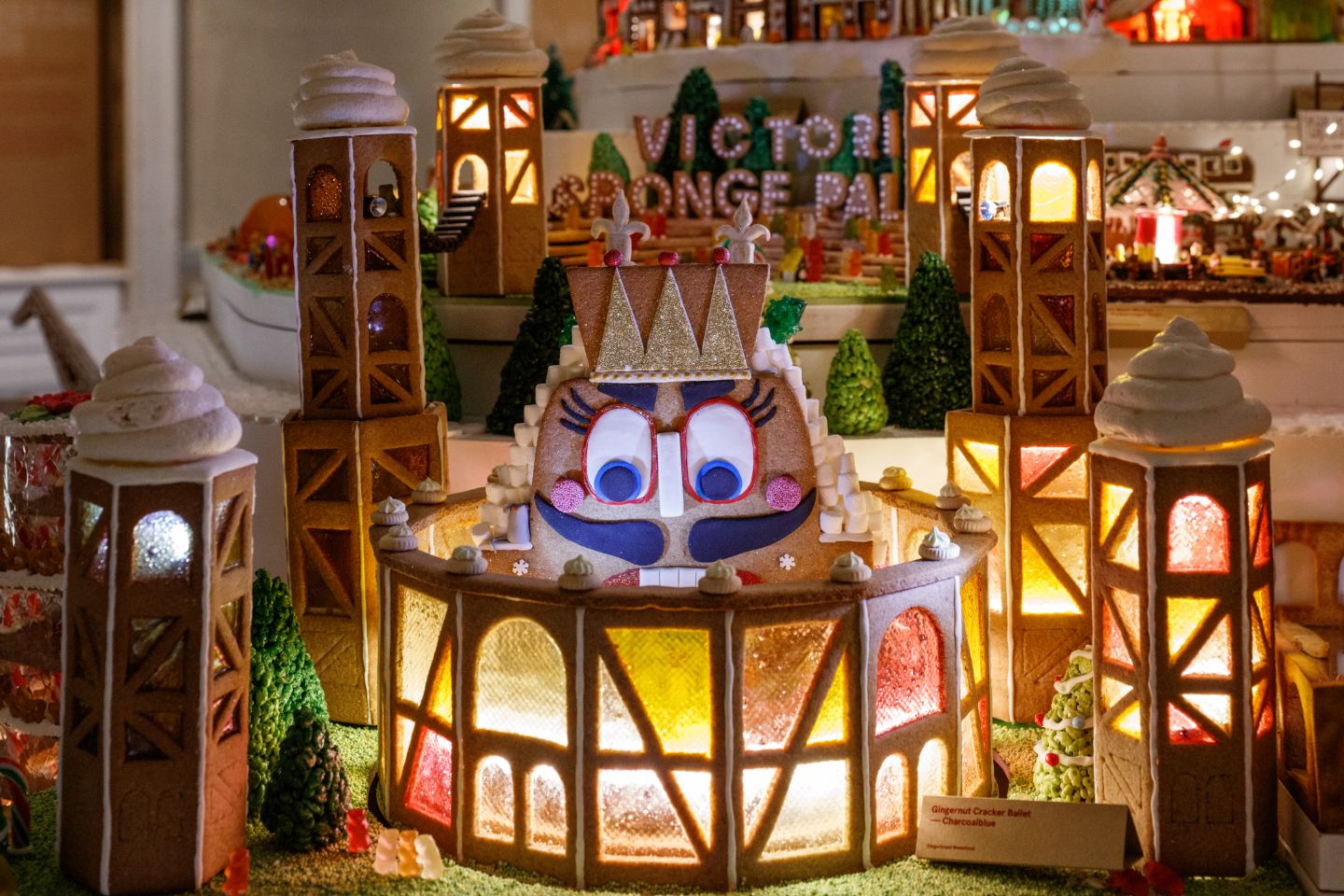 Charcoalblue takes us back to the splendour of the Victorian age and celebrates the theatrical innovations of the time with a rotating carousel presenting their very own Gingernut Cracker ballet! The baked biscuit spectacular is set within the park at the water's edge featuring the famed tin soldiers, fondant iced dolls and of course giant sweets! This magical wonderland is a place to bring people together, to share experiences and enjoy a nibble or two.
About the designers: Charcoalblue is the world's leading integrated Theatre, Acoustic and Digital Consultancy. They specialise in design services for a wide range of creative spaces: from historic theatres to contemporary workplaces; permanent buildings to temporary structures, from the physical to the digital world.
Santa Cruise
Claydon Reeves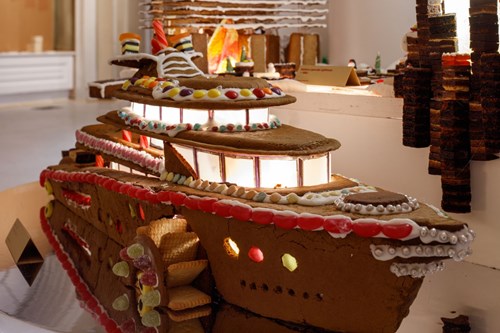 A 75m amphibious icebreaker designed as a supply ship and exploration vehicle for Santa Claus, operating across the Arctic tundra and surrounding ice-cold water. As a ship she is propelled by her 3 paddles at around 11 knots, however, when in 'driving mode' on top of the ice, the paddles become wheels, propelling this immense vehicle at 15 mph. The form language is inspired by Steam Punk and 1960s jet age design fused with an appreciation of the Buckminster Fuller Dymaxion car. With a permanent crew of 25 elves and powered by a Hybrid Gingerbread/Hydrogen fuel cell this immense vessel has the potential for over 1yr of autonomous operation.
About the designers: The studio was formed in 2010 and focuses upon the design of bespoke yachts. With a background in architecture and automotive design, the team at Claydon Reeves develop elegant, task-specific vessels. From 120m superyachts to rough and ready explorer ships capable of tackling extreme environments, every project they undertake is rooted in a well defined visual narrative. Alongside the marine division, the studio is involved in residential, automotive and aviation design.
Meringue House
Coffey Architects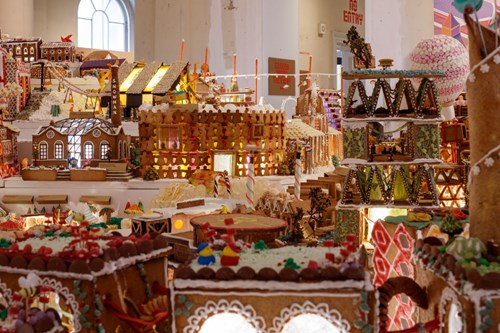 Coffey Architects will transfer the studio's preoccupation with light, craft and wit from their large scale, real-life projects to a deliciously playful gingerbread dreamland. Working with different materials, colours and building techniques to create a playful yet productive commercial plot that focuses on future transport and explores views, scales and density.
About the designers: Over the past decade, Coffey Architects has grown a reputation for highly crafted public, residential and commercial projects across the UK. The practice delivers projects of all scales to tight deadlines, offering value through beautiful design and considered strategic and intelligent thinking.
Gingerbread Beach Hut
Eckersley O'Callaghan
This design embodies a mixture of functionality with pioneering technology, to form a spatially fluid, contemporary take on the traditional beach hut. A disc roof rests gently on an elusively translucent, cylindrical, structural façade; comprised of 12 supporting identical radial panels. It is the largest gingerbread roof in the world solely supported by Glacier sweets. Weighing 12 grams, it was craned into position in just one lift. Sitting atop an infinity pool, the hut allows for panoramic sea views to be enjoyed both indoors and outside. The EOC Gingerbread Beach Hut is unlike any before of its kind.
About the designers: This team of structural and facade engineers has cultivated an international reputation through a commitment to research and innovation. It's this reputation that has spurred their exceptional growth, with over 90 professionals working on projects around the world.
Eton Mess Market
Finkernagel Ross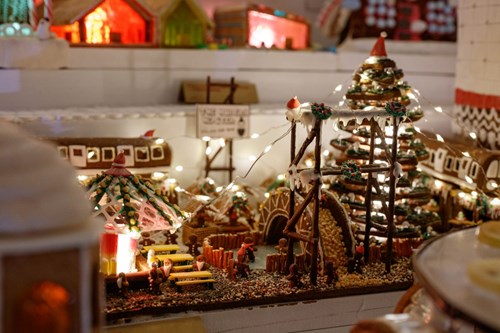 In their third year of Gingerbread City, Finkernagel Ross are bringing a little slice of Shoreditch to the event where grit will meet glitter at their fun and festive recreation of the practice's hipster hub home. The sustainable food market is a pop-up vegan's playground where Santa fills up on falafel before beginning his rounds. Look out for plenty of not so subtle quips, the practice have enjoyed letting their imaginations run free!
About the designers: The practice are architects and designers, but moulding and carving out beautiful spaces isn't all they do. Finkernagel Ross add up the business case, the design and the brand, sharing their clients' entrepreneurial spirit, business acumen and drive, from conception to delivery.
Rhum Baba Beach Hut
Graphic Structures
The Waterfront area of the city is home to a vibrant mix of beachfront property which can support a thriving community of Gingerbread City Surfers at the water's edge. This beach hut design provides Surfers with a viewing platform out to the open water and space to hang out while waiting for the next big wave to roll in.
About the designers: Graphic Structures are a vibrant practice of structural engineers, committed to proactive design collaboration for new buildings and using practical ingenuity to find the perfect structural solutions for imaginative architectural concepts.
Cyclodeon
Haworth Tompkins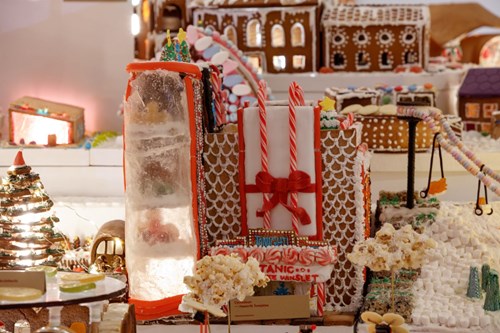 Haworth Tompkins' gingerbread creation aims to re-invigorate the popular 1930's craze of the 'drive-in theatres' by bringing this phenomenon into the modern world of sustainable transport. The Cyclodeon is designed to be accessible by bike, with the inclusion of a large cycle ramp that leads to an open-air rooftop cinema. Further nods to the classic 1930's cinema-style will be present in the massing and decoration of the design.
About the designers: Haworth Tompkins is a British architectural studio, founded in 1991 by Graham Haworth and Steve Tompkins. They have an international reputation for design, the Liverpool Everyman Theatre winning the RIBA Stirling Prize.
The Jelly Ferry Terminal
Jestico + Whiles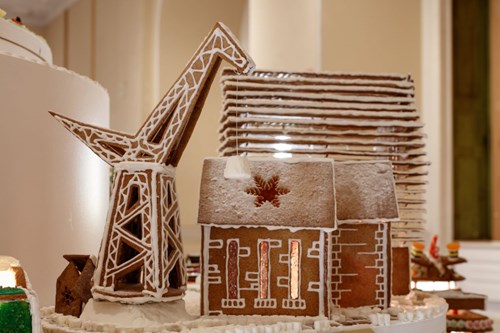 Jolly seasonal greetings await at the Jelly Ferry Terminal. This transport complex elevates the City's public network, cementing itself as an essential component of civic life. Experience the City's timeless values exemplified in Architecture, Resourcefulness and Sustainability. Constructed of a lightweight modular system and clad with reclaimed driftwood, the entrance building sits side-by-side its Victorian warehouse counterparts. Blood, sweets and tears have gone into rolling out this resilient plan that will stand the taste of time. When yuletide arrives, say farewell with some produce from the local market, just remember, too many mince pies, and you'll sink the boat!
About the designers: Jestico + Whiles is an award-winning architecture and interior design practice with offices in London and Prague. At the forefront of innovation and design excellence, the practice has won over one hundred national and international awards.
The Old Snowman Brewery
LOM Architecture + Design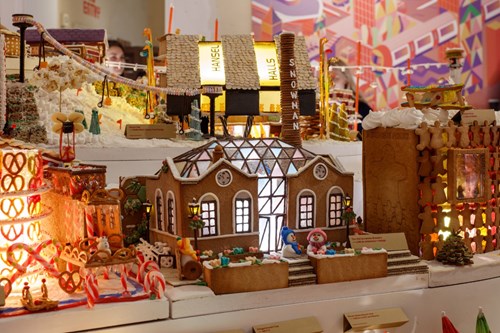 The Old Snowman Brewery's treasured ginger beer was once transported all over the city via the Jelly Ferry. Following the rise in sugar taxes however, the brewery was closed and lay neglected. Now, the building has been offered a new lease of life as a thriving, eco-friendly coworking space and (b)icicle café. The brewery's revamp, with its new gelatine roof and restored gingerbread façade and chimney, creates a welcoming and vibrant working environment. Its surrounding landscaping opens the building up to everyone with an accessible route that leads right into its centre for snowpeople, jelly babies and 'icyclists'.
About the designers: LOM's architects and designers use insight and imagination to create harder working and inspiring places for people to live, work and learn. Their expertise spans workplace, residential, education, retail and mixed-use design. LOM's talented and friendly team is based in Shoreditch.
Rhum Baba Beach Hut
native north architects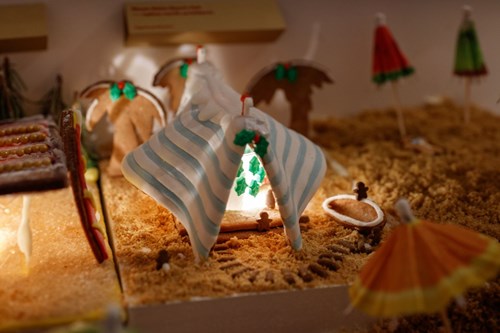 Inspired by the unique plot as part of the 'Rhum Baba Beach Huts' and this year's theme, the practice turned the idea of using a boat quite literally on its head to form the roof of the shelter. It sails above a simple raised platform which provides space for the gingerbread community to gather around a hearth. Boardwalk style paths lead to and from the surrounding landscape, with edible seaside flora and fauna. Traditional brightly coloured stripes of beach hut vernacular reinforce identity whilst bringing joy and vibrancy to the structure.
About the designers: native north is a London-based architecture practice with people and place at the heart of what we do. They design and deliver thoughtful architecture which functions as beautifully as it looks. The practice's vision is to enhance the environments they inhabit.
Rainbow Layercake Lighthouse
NBBJ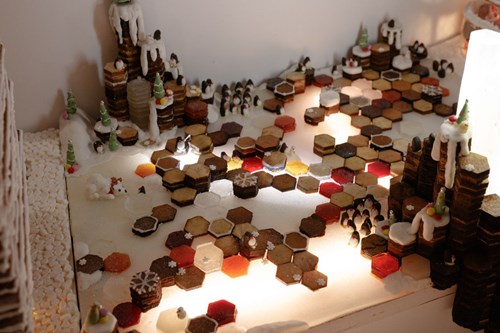 Inspired by Giant's Causeway, a lighthouse in organic form; a plethora of hexagonal forms producing the rising tower, bleeding into the landscape. A rotating strip of light will produce a navigating beacon in the tower, aiding the nearby water transport routes. The architecture doesn't just extend throughout the site, but cantilevers over the sheer cliff edge, reaching out towards the waters below. Borrowing from the more traditional colour schemes of red and white, the construction will be made out of sugar and gingerbread.
About the designers: NBBJ is a different kind of design practice, one that helps clients drive innovation by creating highly productive, sustainable spaces that free people to live, learn, work and play as they were meant to.
The Pizza Palazzo
Proctor & Matthews Architects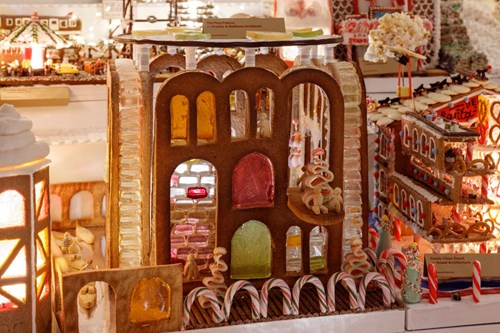 Arched openings punctuate the façade of the Pizza Palazzo office building, located in the heart of the Gingerbread Waterfront Character Area. The building's design is influenced by traditional Venetian architecture. Natural light and double height spaces create an innovative open-plan working environment, complete with breakout spaces and outdoor working platforms with views across Bakewell Beach. A colonnaded loggia at ground floor level provides a mooring for gingerbread gondolas encouraging sustainable modes of transport for staff.
About the designers: Proctor & Matthews are a London-based award-winning studio of architects and urban designers with over 30 years of experience. Their portfolio of projects, alongside focused research into homes, lifestyles and construction methodologies, demonstrates a commitment to the creation of imaginative solutions, combined with a regard for historic, cultural and social contexts.
Rhum Baba Beach Hut
RUFFarchitects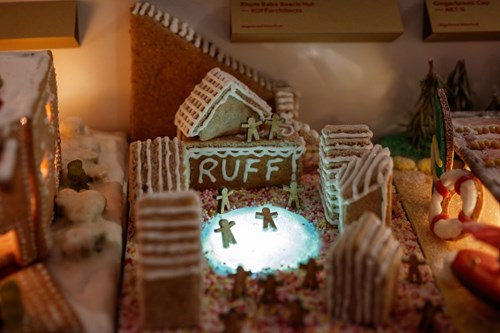 The design challenges the traditional private beach hut by creating a courtyard for communal recreation on Bakewell Beach. The scheme is extendable and adaptable. Prefabricated units of lightweight construction can be rearranged depending on the season and, in a time of changing climates and rising sea levels, the space can be used for sun-bathing or ice-skating. The beach hut becomes a destination for trips to the seaside all year round, extending the British summer holiday to all seasons and weathers. Focusing on sustainability, air-source heat pumps and solar panels provide heating and electricity for the users.
About the designers: RUFFarchitects approach every project with pride and creativity. They believe in the power of teamwork to exceed expectations and to provide clients with well-considered, rational and beautiful schemes, embracing a hands-on and experimental approach, regardless of scale or complexity.