While England might not have the best reputation for national cuisine, its capital is easily one of the best cities globally for eating. That's thanks, in part, to foreign food influence. London is home to locals with roots in all four corners of the world, sharing their food culture in restaurants, cafés and pop-ups around the city.
That reputation we mentioned? Couldn't be more wrong! British cuisine spans far beyond fish and chips, pies and roasts. The island enjoys access to some of the best seafood, acres of well-watered farmland and plenty of cooks making the most of fantastic produce.
Where to eat in London
There's great food all over London, and particular pockets of the city are on the culinary map for different reasons. If you're struggling to get stuck in, head to one of these areas for plenty of excellent choices:
Camden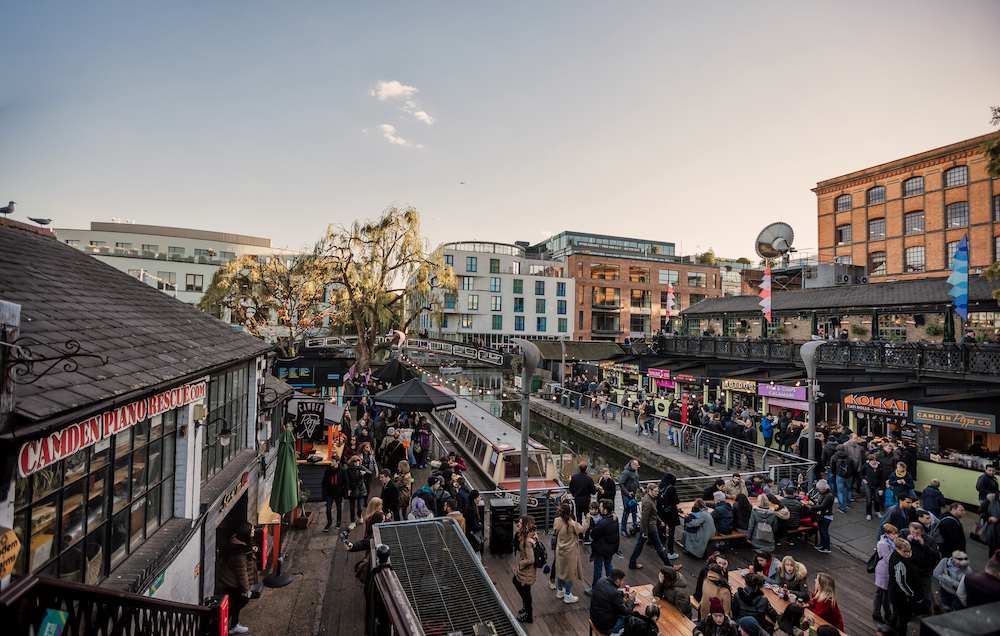 Camden Town is one of London's famous alternative neighbourhoods, attracting artists, musicians and revellers for decades. It's also known for its market, which just happens to offer some of the best street food in London. Pubs, cafés and casual eateries also abound, and plenty of great restaurants call Camden home.
Food stalls and restaurants at Camden Market
If you're going to Camden to eat, be sure to head to Camden Market for an unbeatable selection to satisfy every taste.
Street food? Of course! Camden Market is home to Schwarma Bar for Kosher Lebanese wraps, Original Salt Beef for amazing deli-style sandwiches and Nori Line for delicious sushi rolls. Wok Boy serves fresh noodles, while Pino's Warung offers homemade Indonesian street food. Yorkshire Burrito makes not-so-traditional roasts wrapped in Yorkshire pudding burritos!
Tuck into smooth Portuguese custard tarts, French patisserie or Dutch pancakes if you fancy something sweet. Or look around and pick one of the other tens of street food vendors in the market.
There are also many restaurants with indoor seating in Camden Market, so you can settle in on rainy days or if you want to enjoy a leisurely meal. The Farrier is a favourite, a neighbourhood pub and restaurant serving modern British dishes. Powerhaus is another go-to for traditional pub food. At the same time, Gabeto serves more refined plates combining British ingredients with Latin American flavours.
Covent Garden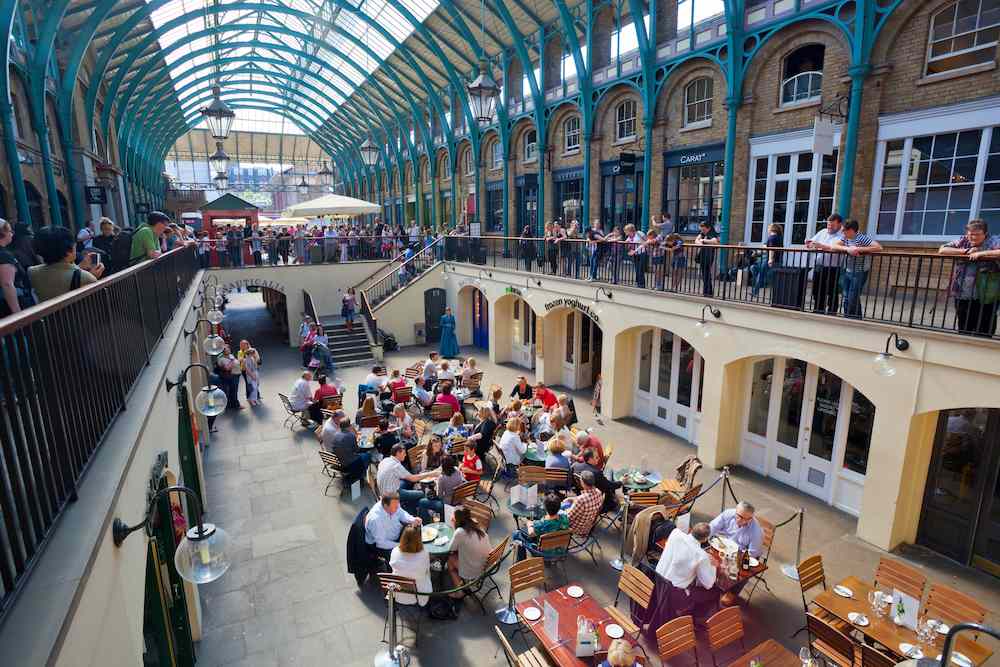 Covent Garden is one of the most popular parts of London among visitors, and it's no surprise. This beautiful part of the city centre is studded with shops, restaurants and theatres, making it perfect for days and nights out in London. Looking for the best places to eat in Covent Garden? Look no further.
Ave Mario
This fun Italian restaurant is the third from the Big Mama group, also responsible for Gloria in Shoreditch and Circolo Popolare in Fitzrovia. Like its siblings, Ave Mario is all about aesthetics and delicious food. It's split over three floors, each with its own eye-catching design.
The menu here is Tuscan-inspired, including fluffy pizzas and fresh pasta. Save room for pudding; the towering stracciatella ice-cream cake is cut at the table, an exciting way to end any meal.
More Covent Garden go-to's include:
Nutshell – refined Iranian menus
Spring Restaurant – a new three-course set menu daily
Red Farm – modern Chinese dim sum and fusion mains
26 Grains – a simple menu with one starter, main course and pudding daily
Sushisamba – sushi and small plates
Frenchie – French tasting menus
The Ivy – a Covent Garden staple
Café Murano – fresh pasta and a laid-back atmosphere
Balthazar – a Parisian-style Brasserie first seen in Manhattan
J Sheekey – a landmark champagne and oyster bar
Hackney
East London is packed with excitement and vibrancy. If you're looking to get away from the tourist trail and experience some of the city's down-to-earth energy, head over to Hackney. This area encompasses some of London's best foodie neighbourhoods, including Shoreditch, Dalston, Stoke Newington and London Fields.
Shoreditch
Shoreditch is home to many of the best restaurants in London, including Ceviche, Angler, Brat and Burro e Salvia. The Clove Club is perfect for special occasions, set inside Shoreditch's Old Town Hall. At the same time, Crispin is a charming café-restaurant serving perfect, innovative small plates.
Dalston
Dalston is home to several of London's best Turkish restaurants (thanks to the thriving community who live in the area) and lots more exciting international spots. If you're a foodie visiting London, be sure to hop on the overground and check it out.
The best restaurants in Dalston include Angelina, a Japanese-Italian mash-up and Brilliant Corners, a restaurant-come-music venue serving a range of sushi, tempura and sides. Want to try some of the area's legendary Turkish food? Cirrik 19 Numara Bos is a cosy spot serving flavoursome classics. At the same time, Umut 2000 serves tasty Turkish kebabs straight off the grill.
Stoke Newington
Stoke Newington is another lesser-known London neighbourhood full of great food. Head to buzzy Stoke Newington Church Street or hit Newington Green for lots of great spots around a small green space.
Visit Primeur, set inside an old motor garage, for French-English bistro-style dishes and quality wines. Perilla is a local favourite serving contemporary British menus in a refined, relaxed setting. Or head to Jolene, another unmissable spot on Newington Green.
London Fields
As the locality of choice for many of London's creative community, it should come as no surprise that Hackney's London Fields is bursting with great places to eat. If you can only spare a day, head over on Sunday when the entirety of Broadway Market is taken over by street food stalls.
Marylebone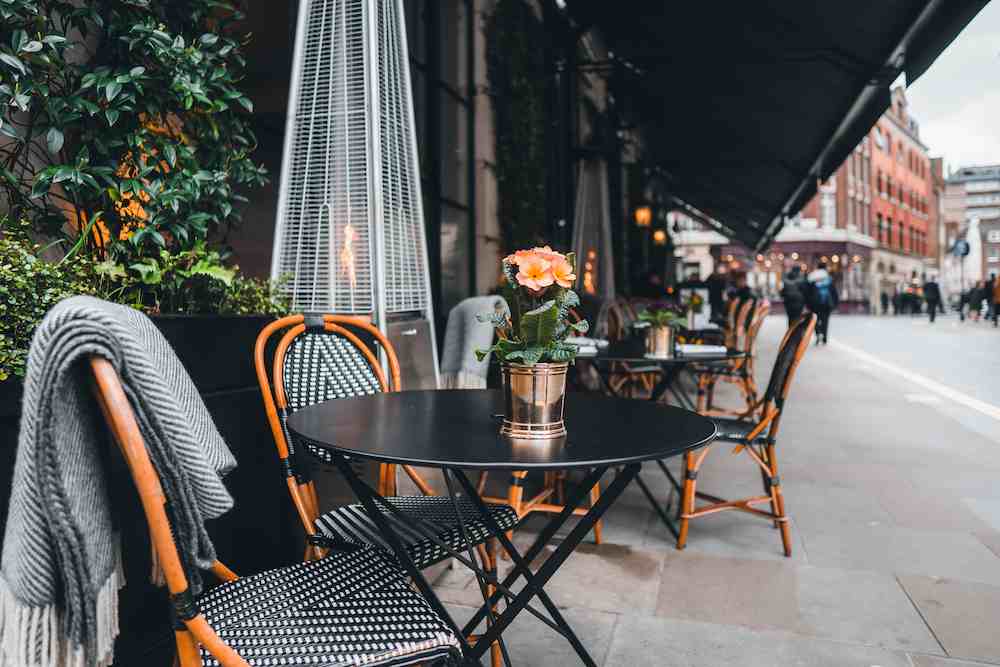 Marylebone Village is a beautiful part of London for staying, shopping and – of course – eating! There's an eclectic mix of cosy cafés and neighbourhood restaurants dotted around the picturesque streets of Marylebone, with plenty of options to suit any mood or occasion.
Cafés and lunch spots
If you fancy something light to fuel your shopping or you want to settle in over a coffee and a good book, Marylebone can more than meet your expectations. The best cafés, bakeries and lunch spots in the village include:
Back on Track Coffee
Hagen
Le Pain Quotidien
Mr & Mrs Small
Ottolenghi Marylebone
The Good Life Eatery
The Ivy Café
Restaurants in Marylebone
If you'd prefer to dine out at dinnertime, you'll find plenty of choices in Marylebone worth the booking. Call ahead to secure a table at one of these London favourites:
108 Brasserie
2 Venti
Aubaine
Caldesi
Delamina
Fischer's
Fishworks
Home Marylebone
Le Relais de Venise
Oka
The Cavendish
Chelsea
Chelsea is one of London's most affluent neighbourhoods, with no shortage of impressive cafés and restaurants serving excellent plates of food. If you're heading to Chelsea for brunch, lunch or dinner, you're in for a real treat. But just what are the best restaurants in Chelsea?
The Cadogan Arms
The Cadogan Arms is a classic English pub with a more-than 200-year history. Today, the charming interiors are as pleasing as the menu, which features perfect pub classics made with the finest British ingredients.
Bluebird
One of Chelsea's favourite spots, Bluebird, is a jewel in the crown of King's Road, serving as a place to be and be seen since it opened in 1997. This former garage enjoyed a stunning transformation before becoming the restaurant we know today, but exposed red beams and a lofty ceiling are a constant reminder of the building's industrial past.
Sit inside on colder days or enjoy the terrace in summer; it's a perfect setting for the modern European menu served here. Head to Bluebird for lunch for a genuine Chelsea experience.
More of the best restaurants in Chelsea
No. Fifty Cheyne
Hans' Bar & Grill
Stanley's
Chicama
Rabbit
Daphne's
Kutir
Islington
Islington is easily one of the best places to eat in London. This unpretentious borough is home to many of the city's best gastropubs and sophisticated restaurants, not to mention casual eateries, pop-ups and bakeries. Where to start?
Frederick's
Frederick's has been one of the best restaurants in Islington since it opened in 1969. Today, the sleek conservatory space is adorned with striking contemporary art and dotted with trees and plants. The menu includes modern European plates, changing with the seasons. Choose a fixed menu to narrow down the choice and enjoy great value as well as great food.
Oldroyd
This intimate gem on Upper Street is a perfect choice for a date night or dinner with a few friends. Order from the small plates menu and enjoy flavours of Spain, Italy and France. Enjoy a selection of beautiful wines and a cocktail to finish.
Prawn on the Lawn
In the mood for some deliciously fresh seafood? Head to Prawn on the Lawn, which started life as a fishmonger but has transformed into a locals' favourite restaurant today.
The menu keeps the spotlight on seafood, highlighting the best catches with simple ingredients that change with the seasons. Enjoy juicy oysters fresh or fried, buttery squid or flaky cod. Save a little room for pudding; the small menu at Prawn on the Lawn is well worth the sacrifice.
Getting around London's foodie neighbourhoods
If you want to visit some of the best cafés, restaurants, gastropubs and food markets in London, the best way to get around is by using public transport.
London's tubes and overground trains can whisk you to another part of the city before you can say "seconds". At the same time, regular busses can make travelling shorter distances easier on your legs.
Camden stations
Camden Town underground station couldn't be more convenient. Take the Northern line (black) here and step out into the heart of the action. You can ride the tube straight here from London Euston. Or take the London Overground to Camden Road for easy access to Camden.
Covent Garden stations
Covent Garden underground station is on the Picadilly line (dark blue) and is the closest one to the heart of this area. You could also take the Northern line (black) to Leicester Square if it's more convenient.
For National Rail services to Covent Garden, hop off the train at Charing Cross, just a few minutes away on foot.
Hackney
Hackney is better served by London Overground services than by tubes. You could take the Northern line (black) to Old Street and stroll into parts of South Hackney, like Shoreditch, from there.
London Overground and National Rail services can take you to Hackney Downs, putting you right in the middle of this part of the city. Busses are a convenient option for exploring its smaller neighbourhoods when you're there.
Marylebone
There are several tube stations around Marylebone, including Baker Street on the Bakerloo (brown), Circle (yellow) and Hammersmith & City line (pink). Bond Street and Oxford Circus stations are perfectly positioned between Marylebone and Mayfair.
Travelling from out of London? Marylebone train station is convenient for the main village, while London Euston is also a short walk away.
Chelsea
To get to Chelsea, take the Circle (yellow) or District line (green) to Sloane Square or South Kensington, then explore the pretty streets on foot.
Want to arrive in Chelsea by National Rail train? The nearest station is London Victoria, a short walk away. If walking isn't an option, you could also take the tube from Victoria to one of Chelsea's underground stations.
Islington
Islington has two tube stations on either end of Upper Street: Angel on the Northern line (black) and Highbury & Islington on the Victoria line (blue). Highbury & Islington is also served by London Overground trains, convenient for East London.
If you're taking the train into London from elsewhere in the UK, the closest stop to Islington is King's Cross St Pancras. From here, it's around a 15-minute walk to Angel or one stop on the tube.
Travelling to London by train?
It's easy to travel to this well-loved city by train from all over the UK and into Europe. In the UK, trains from Brighton to London take just 1 hour, from Norwich to London take just 1 hour and 30 minutes and from Bristol to London take just 1 hour and 28 minutes. Find out more in our guide to trains to London.