London is famous for many things, from its landmarks and museums to shopping, restaurants and culture. The city also stands out for its vibrant nightlife. There's always something happening here! But with so many distinct boroughs to explore – not to mention neighbourhoods nestled inside them – just where does a visitor start?
When you're looking for the best nightlife in London, consider what appeals to you. For some, great nightlife means electronic clubs hosting the world's best DJs; many of these start late and last until dawn. Others prefer live music bars for dancing and drinks late into the night. Maybe you're after a couple of cocktails in a picturesque setting? The best nights happen in the pub for many Brits – there are plenty of those in London, too!
Where in London has the best nightlife?
This is hotly debated amongst Londoners, but some of the same top spots come up repeatedly. These neighbourhoods have a long-standing reputation as being some of the best for nightlife in the city.
Soho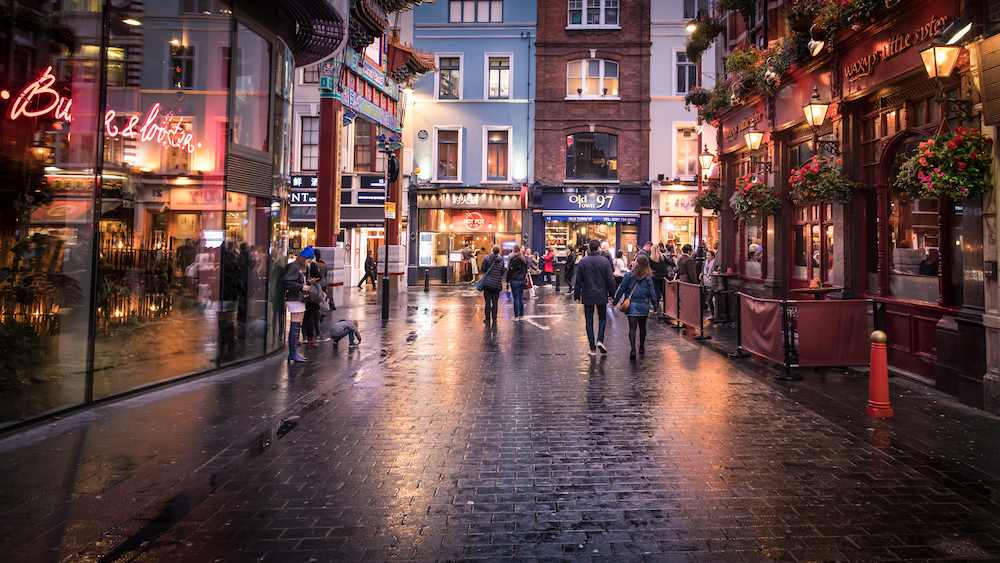 Soho is an easy go-to for visitors looking for a good time in London. It's super-central, which means it's easy to get to no matter where you're staying. It's also part and parcel with Covent Garden and the West End, which means plenty of opportunities to enjoy dinner or a show in one of London's best venues.
LGBTQ+ Soho
Soho is the LGBTQ+ heart of London, home to one of the first gay bars, the Cave of the Golden Calf, a lounge and performance club which ran through the late 1800s. By the 1930s, the area was home to plenty of thriving nightclubs, including the famous Cavern Club, a gay and lesbian members club tucked in a Soho basement.
The area became the LGBTQ+ hub it is today in the 80s. Today, the best of the bunch include G-A-Y Bar, Friendly Society, Yard, SHE Soho, The Duke of Wellington and Admiral Duncan.
Soho's iconic nightlife
Soho is home to many legendary nightlife spots, including Ronnie Scott's, one of the most famous jazz bars in the city. Not to mention the 100 Club, another iconic live music bar that has played host to the Sex Pistols and the Rolling Stones. More great options include Club 49 and Freedom Bar.
Tube station: Oxford Circus, Tottenham Court Road and Piccadilly Circus are all just a couple of minutes walk from central Soho
Train station: Charring Cross is a 17-minute walk from Soho
Shoreditch
Shoreditch is London's hipster heaven, home to a colourful nightlife that suits its edgy crowd. It's the city's epicentre for world-famous DJs and themed events, as well as lots of great restaurants and casual bars to ease you into the night. Head to this fashionable part of London for a great night out, no matter what you're looking for.
Shoreditch bars
Some of the best bars in Shoreditch include Tonight Josephene for throwback 80s vibes, Nightjar for beautiful cocktails in a dimly-lit setting or Cocktail Trading Co. for wacky creations.
Boundary Rooftop is one of the best bars in Shoreditch, with a roof terrace overlooking East London. Or try Happiness Forgets, a laid-back speakeasy-style spot. Callooh Callay has been named among the world's best bars more than once.
Shoreditch nightclubs
Many of Shoreditch's diverse nightclubs stay open until the following morning, so there's no need to go home before you're ready. The best of the bunch include XOYO for gigs and top DJs, The Old Blue Last for more live music and Cargo, a purpose-built venue with a diverse programme.
Tube station: Shoreditch High Street for overground services, Old Street or Aldgate East for around 10 minutes walk to Shoreditch
Train station: It's an 8-minute walk into Shoreditch from London Liverpool Street station
East London
There's more to East London than Shoreditch, particularly when it comes to nightlife. Places like Dalston and Bethnal Green have plenty of casual bars and world-class clubs off the tourist trail. Expect an authentic London experience when you hop on the overground to these parts of town.
Dalston nightlife
In many ways, Dalston is what Shoreditch was a couple of decades ago. This edgy part of East London is mostly unvisited by tourists, studded with vintage stores, independent pubs, bars, cafés and restaurants. It's known for its number of traditional Turkish eateries and Caribbean shops, home to a diverse community that make the area what it is.
Searching for the best bars in Dalston? Dalston Roof Park hosts daytime parties and late-night DJ sets, with part of the rooftop covered, so you can enjoy whatever the weather. Dalston Superstore is one of the best venues in East London, popular with the LGBTQ+ crowd but welcoming to all.
High Water and Three Sheets are two of the best cocktail bars in Dalston and London, serving seasonal menus late into the night.
Mayfair
Mayfair is one of London's wealthiest areas (it's not the highest square on a Monopoly board for no reason!), home to many excellent bars and cocktail lounges. Whether you've started the night fine dining in the area or you're hopping over on the tube for a few fancy drinks, you'll be spoilt for choice when you head to Mayfair.
Pop into one of Mayfair's charming traditional pubs for casual drinks, like Coach & Horses, The Punchbowl or The Windmill. Pubs in the area are ideal for a couple of pints and a reasonably priced meal without compromising your location.
Mayfair is also studded with luxury hotels. And what do all luxury hotels have in common? Sleek, swanky bars, of course! Iconic hotels Mayfair include Claridges, The Connaught and The Beaumont. Not to mention The Ritz, one of London's most famous luxury spots. These hotels each have several breathtaking bars inside, serving champagne, fine wines and perfect cocktails – the usual.
Tube station: Green Park, Bond Street, Oxford Circus and Marble Arch
Train station: Charring Cross is 16 minutes walk
South Kensington
South Kensington is more known for its many world-class museums than its nightlife. But that doesn't mean there's nothing to do! The area is home to many great bars and is next to buzzy Chelsea and Notting Hill, where you can carry on late into the night.
On the last Friday of every month, make the most of South Kensignton's unique nightlife by heading to the Natural History Museum for drinks! Lates at the Natural History Museum involves hanging out with the dinosaurs after dark and enjoying a drink in the shadow of Hope, the Blue Whale skeleton that hangs in the main hall. Afterwards, you can head to the V&A for live performances, DJs and drinks.
Museums aside, Kensington's best bars include Aubaine, ESQ, Percy's, The Duke of Clarence and Balans. You could also visit the art deco Ricco Lounge, Nocturn Prohibition Bar or Bar 190.
Camden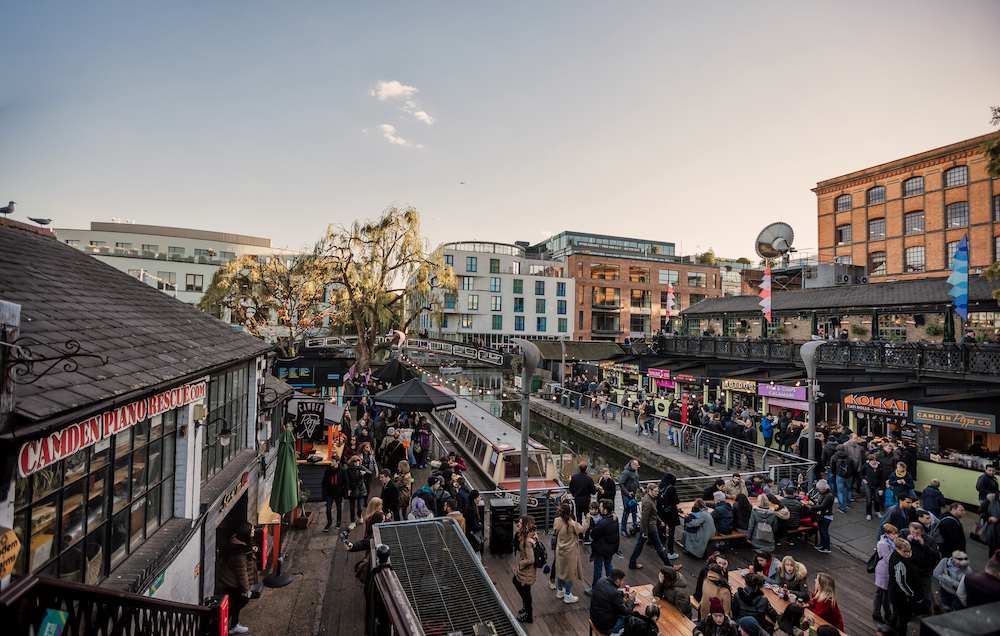 Camden Town is iconic not just in London but around the world, thanks to its eclectic community and vibrant nightlife. It boasts more live music than you can shake a stick at, as well as plenty of pubs and nightclubs that are down-to-earth and trendy in equal measure.
Live music and nightclubs in Camden
If you're looking for great music, make a beeline for Electric Ballroom, one of Camden's most famous spots. This live music venue has been at the heart of Camden's nightlife scene since opening in the 1930s, and it shows no signs of slowing down.
KOKO is another popular music venue and nightclub in Camden Town, hosting a diverse programme with everything from grime and hip-hop to soul nights. If you're into funk and soul, The Jazz Café could be right up your street; this famous venue is a home for funk, soul, jazz and disco music.
Camden pubs and bars
For something a little more lowkey, head to a Camden pub or bar and enjoy a few drinks at your own pace. The best include The Hawley Arms (a favourite of Camden local Amy Winehouse), The Assemble House, The Oxford Arms and the Spread Eagle.
Bar-wise, a few of the best in Camden include Lockside Camden, The Spirited and The Blues Kitchen, all great for a night on the town!
Getting around London at night
London is once of the best-connected cities globally, with a public transport web running both over and underground. It's also relatively easy to make your way around at night, thanks to the enormous number of black cabs, night tubes and night busses.
The night tube
London's night tube runs on Fridays and Saturdays to make sure residents and visitors can get home safely, whatever the time. These services run on the Victoria and Jubilee lines and between most Northern, Central and Picadilly line stations.
Victoria and Jubilee services run on average every ten minutes all night Friday and Saturday, from the start to the very end of the line. All stations are staffed, just like in the day. That means there's always someone to help if you've lost your way.
Simply tap on and off with your contactless card or device, or use your Travelcard or Oyster card.
Travelling to London by train?
It's easy to reach London by train from around the UK and from Europe. Hop on an Avanti West Coast train from Manchester to London in just 2 hour and 3 minutes, or travel with LNER or Lumo to get from Edinburgh to London in just 4 hours.
Direct Eurostar trains can also take you from Paris to London in 2 hours and 17 minutes, or from Amsterdam to London in 4 hours and 42 minutes.