With its two mountain ranges (the Alps and the Jura), 7,000 km of ski runs, a nature reserve offering breath-taking views and plenty of cheese specialties, Switzerland is the perfect destination for your winter holiday.
What's more, it's easy to get to Switzerland's main ski resorts by train. Read on to learn more about our top 10 Swiss ski resorts and how to reach them by rail:
Zermatt
Saas-Fee
Val d'Anniviers
Jungfrau
Laax
Arosa
Engelberg-Titlis
Arolla
Verbier
Moritz
1. Zermatt
In the shadow of the Matterhorn in the Saas Valley, Zermatt is one of Switzerland's most popular ski resorts. Open all year, this car-free village offers from up to 360km of ski runs at the height of the season, including 36km of black runs. Make sure you go there in December when an entire igloo village is set up at 2,727 metres above sea level by artists from all over the world!
Getting to Zermatt by train
If you're travelling from Geneva or Zurich, change at Visp and hop on the Matterhorn Gotthard Bahn train for Zermatt. If you're travelling from St. Moritz, Davos and Chur, take the Glacier Express to Zermatt.
2. Saas-Fee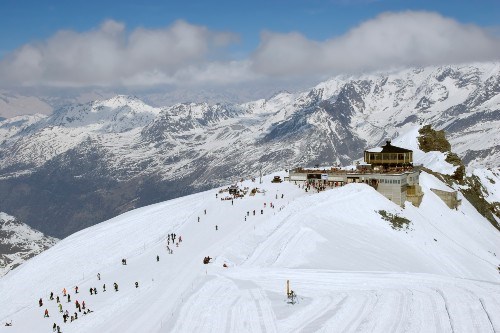 Also located in the Saas Valley, Saas-Fee is quieter than Zermatt, but equally charming. And like Zermatt, it's car-free. Dotted with traditional chalets alongside modern buildings, this ski resort offers plenty of activities, from downhill and cross-country skiing to ice climbing and curling.
Getting to Saas-Fee by train
You can easily reach this beautiful ski resort by taking the train to Visp, from which you can hop on the CarPostal bus that goes to Saas-Fee.
3. Val d'Anniviers
Val d'Anniviers is located in the French-speaking area of Switzerland and offers three ski areas with a total of 100 ski runs. If you're an experienced skier, head to the Gardes de Bordon freeride area and challenge yourself on the steep slopes and vertiginous walls.
Getting to Val d'Anniviers by train
To get to Val d'Anniviers, take the train to Sierre and then continue your journey on a CarPostal bus.
4. Jungfrau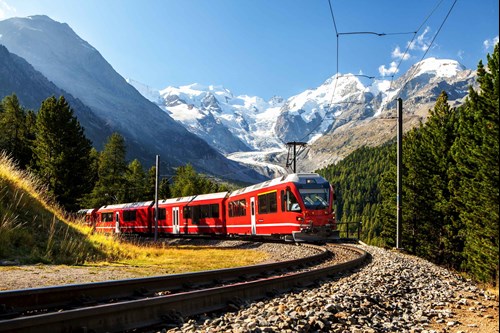 Located on one of the main summits of the Bernese Alps (3,454 metres), the Jungfrau ski area offers 200km of ski runs, the longest downhill race in the world and breath-taking mountain scenery. Enough to earn its self-proclaimed status as the best resort in Europe? You decide.
Getting to Jungfrau by train
You can easily reach the Jungfrau by taking the train from Kleine Scheidegg to Jungfraujoch, the highest railway station in Europe.
5. Laax
Located in the canton of Graubünden, Laax is one of the premier ski resorts in Switzerland, with no less than 230km of ski runs. With four snowparks and a Freestyle Academy, the resort is a favourite destination for all freeriders.
Getting to Laax by train
You can easily reach Laax by taking the train to Chur and then continue your journey on a CarPostal bus.
6. Arosa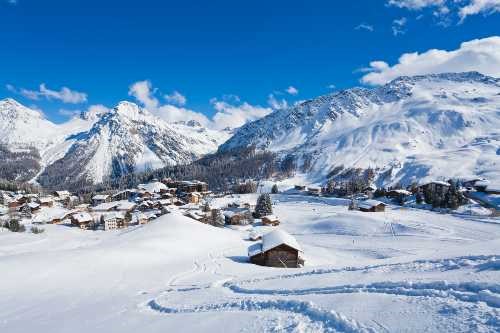 Also located in the canton of Graubünden, Arosa offers 225km of ski runs and cross-country skiing, with some runs illuminated at night so that you can ski after dark.
Getting to Arosa by train
Getting to Arosa by train from anywhere in Switzerland is quite simple – the ski resort has its own train station, and the train ride, with beautiful views of the Schanfigg Valley, is quite an experience in itself.
7. Engelberg-Titlis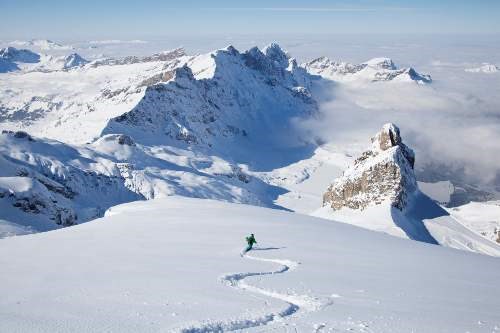 Cross-country skiing, tobogganing, ski touring and downhill skiing in a beautiful setting – these are only some of the activities this pretty village has to offer.
Getting to Engelberg by train
From Lucerne train station, take one of the many InterRegio trains operated by SBB and you'll be in Engelberg in just 43 minutes. 
8. Arolla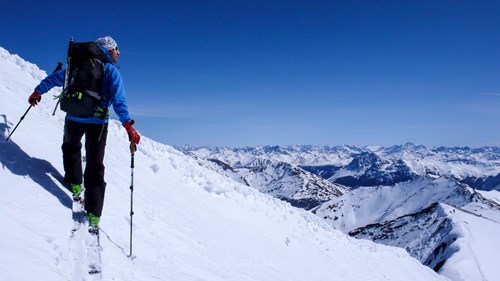 At 2,000 metres above sea level, Arolla comes with 47km of ski slopes, 10 cross-country ski runs and 85km of snowshoeing and ski trails. But the best bit of this picturesque and authentic alpine village is its exceptional setting – Arolla is completely surrounded by high peaks, a feast for the eyes.
Getting to Arolla by train
The easiest way to reach this pretty ski resort is to take a train to Sion and then continue your journey on a CarPostal bus.
9. Verbier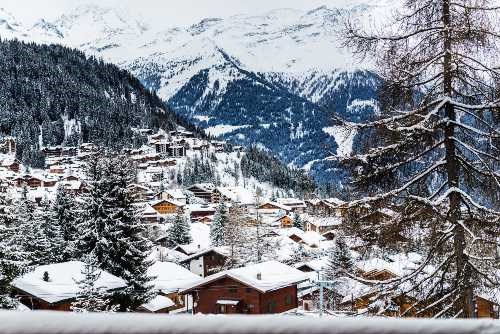 Verbier ski resort is well-known for its off-piste ski areas and steep slopes, including Tortin, one of the steepest in Europe – so it's definitely worth adding to your list if you're a thrill-seeker! This village is also part of the Four Valleys ski area, with 410km of ski runs that will delight skiers of all levels.
Getting to Verbier by train
As Verbier has no train station, you can take a train to Martigny from any location and then hop on the St. Bernard Express to Le Châble, from which you can take a CarPostal bus to Verbier.
10. St Moritz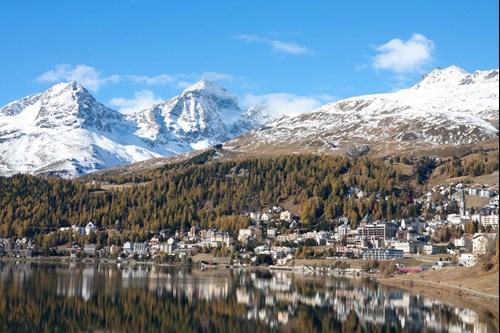 We can't talk about the best ski resorts in Switzerland without mentioning St. Moritz. With 330km of ski runs for all levels and an enchanted setting, it's no wonder this ski resort has hosted the Olympics twice.
Getting to St. Moritz by train
The train journey to St. Moritz is quite beautiful in itself – take the Glacier Express or the Bernina Express and enjoy the stunning views while travelling along the UNESCO World Heritage railway line.
Need more information about the most popular Swiss routes? Use our interactive Switzerland train map and plan your journey around Switzerland with us today. If you want to learn more about the Swiss rail network, check out our trains in Switzerland page.