Designed by Giuseppe Mengoni and built between 1865 and 1877, the Salotto di Milano (Milan's drawing room) is Italy's oldest active shopping gallery and one of the largest in Europe. Its impressive dome soaring 48 metres and the beautiful mosaic floor mark the beginning of modern architecture in the country.
What's in this guide?
Getting to Galleria Vittorio Emanuelle II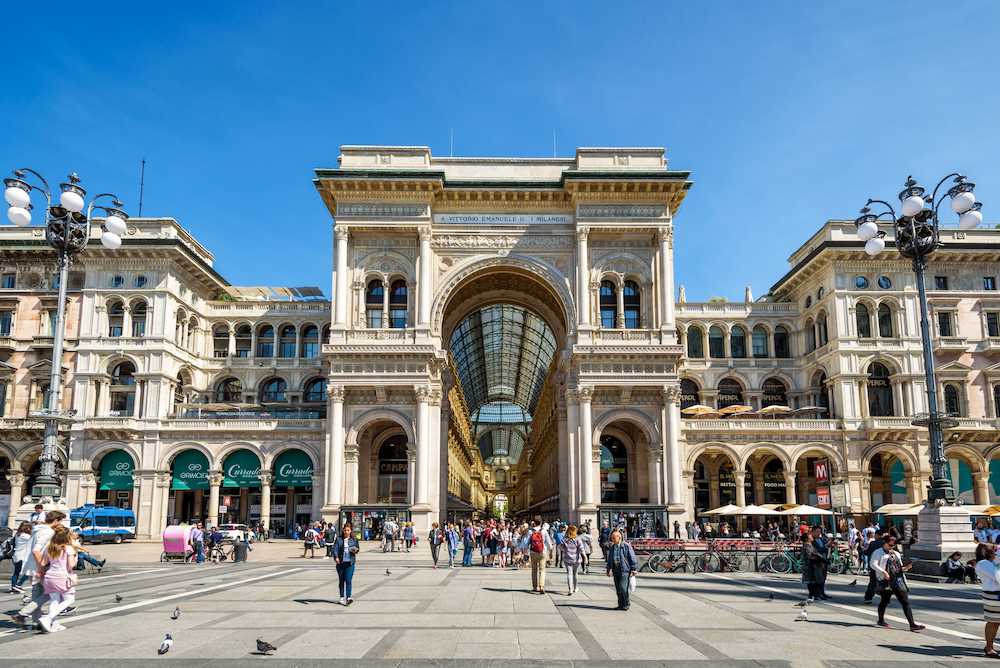 Before you can start browsing and buying, you'll need to get there. Thankfully, it couldn't be easier.
Milan's transport network is efficient and easy to understand, making reaching the Galleria very straightforward. The closest train station is Milano Cadorna, just a 15-minute walk. You can also take the red metro line to the Duomo, with the majestic Galleria opening before you.
If you arrive in Milano Garibaldi, you can choose to have a 25-minute stroll through Milan's city centre. Or, if you don't feel like walking, you can take the green metro line to Lanza and walk for about 10 minutes. Alternatively, you can take the suburban line 5 to Milano Repubblica and hop on the yellow metro line to Duomo.
If you arrive in Milano Centrale, you can get the yellow metro line to Duomo. The journey takes around 10 minutes.
Galleria Vittorio Emanuele II history and building facts
The Galleria was designed by architect Giuseppe Mengoni to modernise the city after liberation in 1859. It was built between 1865 and 1877 and was named after Victor Emmanuel II – Italy's first king.
In the late-19th to 20th century, the Galleria was nicknamed the Salotto di Milano (Milan's drawing room) because of its popularity among Milan's bourgeoisie. In the 1960s, it was the centre of various rallies and student demonstrations. Still, it managed to reinvent itself as the fashion paradise we know and love today.
Myths about the Galleria Vittorio Emanuele II
Such a historic landmark cannot exist without its enduring myths. While you're admiring the magnificence of its glass arcade and dome, don't forget to also look down. The Galleria's stunning mosaic floor is a cascade of colours and patterns that tell the city's history.
The mosaic of the Dancing Bull of Turin is one of the must-see attractions in the gallery, thanks to the legend associated with it. It is believed that if you place your heel between his two hind legs and turn around three times with eyes closed, the mosaic will bring you good fortune.
Galleria Vittorio Emanuele II today
When you visit Milan's Galleria Vittorio Emanuelle II today, you can enjoy a leisurely walk around the many shops. Whether you browse or buy, admiring Milan's high-end fashions is always worth the trip. The Galleria is also a premier place to dine, drink and people-watch. Its majestic architecture sets it apart from the crowd. Visit to enjoy the unusual octagonal building, vaulted glass, wrought iron arcades and its stunning domed glass ceiling.
What to see and do at Galleria Vittorio Emanuele II
Milan's glamorous drawing room is not just a simple shopping arcade. It's a celebration of fashion, a showcase for established creators and a haven for fashion and design enthusiasts. But the Galleria is not only about fashion. It is also about the beautiful architecture and exquisite food, a perfect place to enjoy Milan's fashionable lifestyle.
Shopping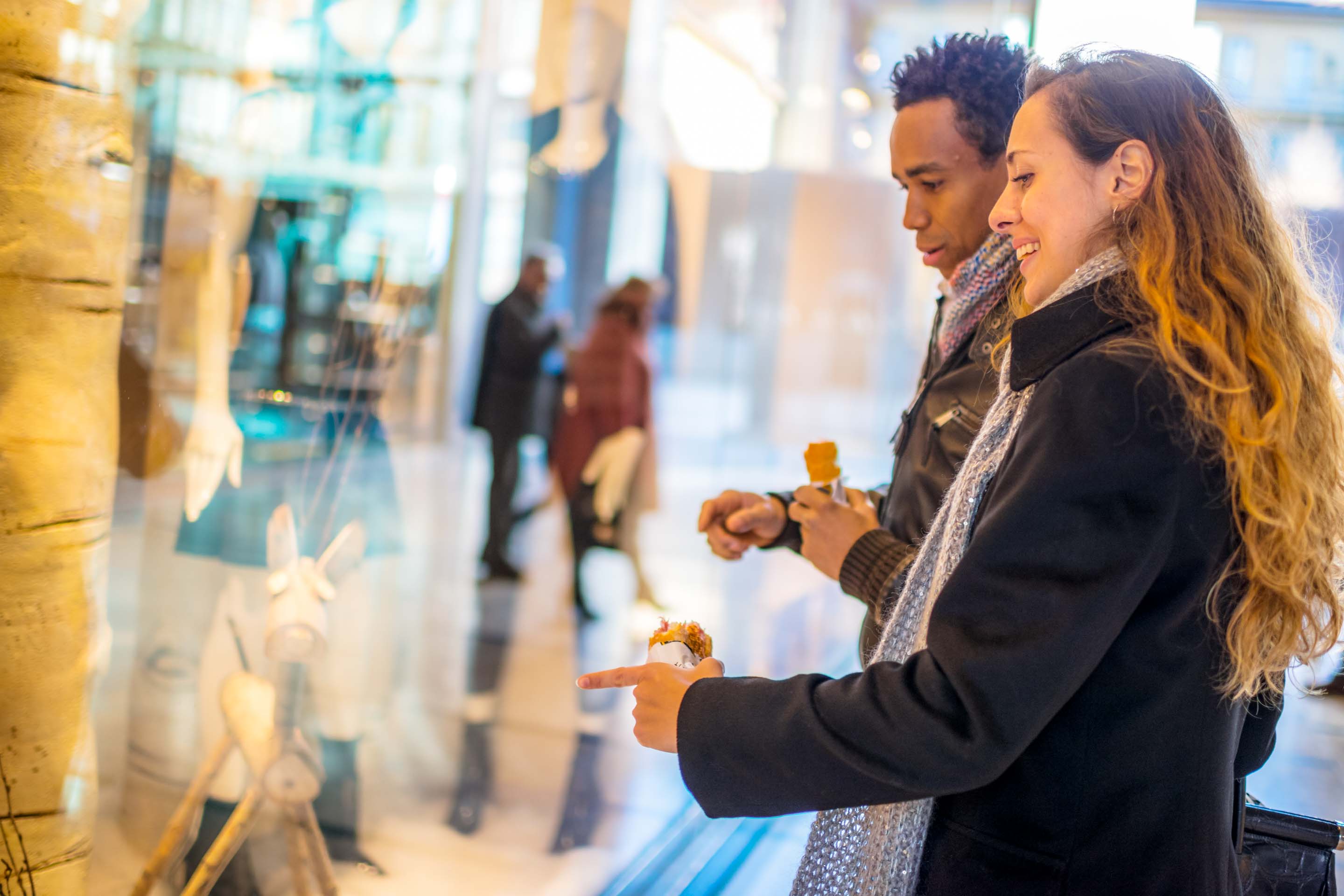 It's no news that shopping is one of Milan's specialities. But for the Galleria, shopping is more than just picking up the latest fashions.
The Galleria Vittorio Emanuele II is home to Prada's first shop, which opened in 1913 when the brand was just starting out. The store underwent renovation in 2000, but it still contains most of the original furniture. That means you can step back in time and follow in the footsteps of fashion icons when you pay this store a visit.
Prada isn't the only luxury designer celebrating the grandeur of Italian fashion. In the Galleria Vittorio Emanuele II, you can also find Versace, Gucci, Armani, Borsalino and Luisa Spagnoli, just to name a few.
The Galleria has also housed the iconic Libreria Bocca (Bocca Library) since 1930. This is one of the oldest bookshops of its kind. It features a retail division, produces books and newspapers and holds various cultural events, such as book presentations and art exhibitions.
If you're looking for handcrafted accessories, head to Piumelli. This Italian brand is known for its stunning gloves. For a perfect gift or practical treat for yourself, head to Mejana for a luxury fountain pen.
Food inside the Galleria Vittorio Emanuele II
Although shopping is what the Galleria is mainly famous for, food is also an essential part of the experience. For a memorable meal in historical settings, head to Ristorante Galleria – an institution in Milanese cuisine since 1960. Or choose Savini to pay tribute to Lombardy traditions. Off-the-wall presentations and extravagant combinations of local ingredients are always worth the visit. Make sure you try the risotto allo zafferano (saffron risotto) – considered by many to be the best in the city.
The Galleria is also home to a Michelin-starred restaurant, Cracco, where typical Italian flavours are the protagonists of modern recipes in a sophisticated location.
If you want to do as Italians do, there's no better way to finish your meal than with a freshly brewed espresso. Café Biffi, on the south wing of the gallery, was established in 1852, making it the oldest café in the Galleria. Head over for a quick pick-me-up at the end of an indulgent meal or at any time of day.
Aperitivo? Make a beeline for Camparino in the Galleria Vittorio Emanuele II. It's a must if you want to enjoy one of the city's oldest traditions among locals. Stop to sip their unrivalled Campari and soda or Negroni, with a few small snacks to elevate your experience.
Opening times
The Galleria is open all day and night for walking through. However, shops and restaurants' opening times vary. The Highline Galleria (the rooftop walk) is accessible from Monday to Sunday between 10:00 and 20:00.
Most shops are open between 09:30 and 13:00, then close for lunch and re-open around 15:00 until 19:30 or 20:00. Restaurants and cafés open around the same time as shops but stay open until later, around 23:00, perfect for late dinners, drinks or espresso.
Want to travel to Milan by train?
If you're planning a trip to Milan, why not travel there by train? Due to the high-speed rail connections operated by Trenitalia and Italo, getting to Milan is quick and easy from around Italy. You can travel to Milan from some of the most popular destinations, including Florence to Milan in just 1 hour and 40 minutes, Turin to Milan in just 47 minutes, and Rome to Milan in just 2 hours and 52 minutes.
Need more information about travelling to Milan by train? Check out our dedicated page to trains to Milan.