What's in this guide?
Getting to Santa Maria delle Grazie 
Getting to Santa Maria delle Grazie is easy, thanks to its central location. The closest train station is Milano Cadorna, only an 8-minute walk. If you don't feel like walking, you can take the metro from Cadorna to Conciliazione on the red line.  
If you arrive in Milano Centrale or Milano Porta Garibaldi, reaching the church on foot can mean a long stroll. Luckily, Milan's transport network is excellent, and there are plenty of options for getting around in comfort. 
From Milano Centrale, the quickest way is to take the metro green line to Cadorna. You can also take the yellow line to the Duomo and hop on the red one to Concilazione.  
From Milano Garibaldi, the fastest alternative is to get the green line to Cadorna, which takes approximately 10 minutes, or the number 10 tram to via Ariosto 19 prima di via Mascheroni, a 20-minute ride.  
Journey prices: A single ticket for both metro services and trams costs €2 and is valid for 90 minutes 
Opening times and ticket prices 
Santa Maria delle Grazie is open to the public from Tuesday to Sunday from 08:15 to 19:00, with the last entry at 18:45.  
General admissions to the church are free. If you plan to visit Da Vinci's The Last Supper, you'll need to book your tickets in advance. You can book them either online, by email or over the phone. Only 30 people can enter the refectory at once, and time slots are 15 minutes. Standard tickets cost €15, but some concessions are available. 
| | |
| --- | --- |
|   | Santa Maria delle Grazie tickets  |
| EU and EFTA citizens aged 18 to 25  | €2  |
| Under 18s  | Free + a €2 booking fee  |
| Disabled visitors  | Free + a €2 booking fee  |
What to see at Santa Maria delle Grazie 
Articulated in brickwork and terracotta, the brainchild of Donato Bramante is a prime example of the early Italian Renaissance. The six-sided dome dominating the landscape is an architectural delight. Not to mention the interiors adorned with frescos by Bernardo Zenale and Bramantino, which will take you on a journey through Milan's golden age.  
If you're planning a visit to the church, here are some of the exhibits and tours you cannot miss. 
The Last Supper 
The church boasts World Heritage Site status, home to Da Vinci's most famous masterpiece – Il Cenacolo Vinciano (The Last Supper).  
The Last Supper is Leonardo da Vinci's world-famous work of art, commissioned by the Duke of Milan Ludovico Sforza, his patron at the time. Sforza wanted to transform the church into a mausoleum for the family and planned to adorn it with paintings and frescos. It's believed that Leonardo began his work between 1495 and 1497, completing the project in 1498. 
Housed in the refectory of the former Dominican Convent, the mural portrays the moment when Christ tells his apostles that one of the group will betray him at dawn. The masterpiece became famous for its revolutionary painting techniques; he chose oil painting over frescos and opted for chiaroscuro – a greater intensity of lights and shades.  
If you're visiting Santa Maria delle Grazie, you can't leave without stopping at Da Vinci's unrivalled masterpiece. But don't forget to look at the opposite wall too! Giovanni Donato's Crucifixion is another impressive Renaissance fresco. You can book a private tour, which lasts about 20 minutes. Ticket availability is always minimal, so we recommend booking them well in advance.  
Renaissance period tour 
Santa Maria delle Grazie is one of Italy's finest examples of Renaissance architecture, thanks to Renaissance Master Donato Bramante.  
The church boasts an imposing single-apse chapel, a majestic drum-shaped dome surrounded by columns and the beautiful Chiostro delle rane (Frog Cloister). The square cloister has five terracotta arches sustained by columns and marble capitals.  
If you want to learn about the Renaissance period, take a three-hour guided tour around the church, the cloister and its Baroque chapel. The experience includes a visit to Milan's own Sistine Chapel – San Maurizio al Monastero Maggiore – and a walk around Sempione Park.  
Santa Maria delle Grazie history and building facts 
Santa Maria delle Grazie dates back to the 15th century. Count Gaspare Vimercati, commander of Francesco Sforza's troops, donated a frescoed chapel to the Dominicans to build a church and a convent. Sforza assigned the project to architect Guiniforte Solari, who started designing the Gothic nave in 1463 and completed it in 1469. But the construction of the church itself took much longer.  
Duke Ludovico Sforza, also known as Ludovico il Moro, wanted to transform the church into a mausoleum of the whole family. He entrusted Donato Bramante to build a six-sided dome, semi-circular apses, a refectory and a cloister. Bramante completed the work in 1490, although nobody, except for Beatrice d'Este, was ever buried there. Her grave was later moved to the Certosa di Pavia cemetery.  
Towards the end of the 15th century, many of the Milanese nobilities took part in the construction of the chapels. They commissioned some of the best Italian artists, such as Antonello da Messina and Ferrari, to decorate these spaces. 
During WWII, an aerial bombardment hit the church and convent, destroying the library and the left side of the church with all its chapels. The attack also severely damaged most of the walls in the refectory, except for Leonardo da Vinci's masterpiece The Last Supper, which was protected by sandbags. However, Pinin Brambilla undertook a significant restoration project from 1978 to 1999, when the painting was again exhibited to the public. 
But Santa Maria delle Grazie is not only the home of Da Vinci's unrivalled talent. It's also frescoed with other Italian masterpieces, including Stories of the Passion by Gaudenzio Ferrari, Resurrection and Passion by Bernardo Zenale and Bramantino's Madonna of the Towers. Not to mention Bramante's architectural genius. His Sacrestia Vecchia (Old Sacresty) is today used as the seat of a Dominican Cultural Centre – the Centro Culturale alle Grazie.  
Thanks to its invaluable cultural heritage, the ultimate expression of the Renaissance, Santa Maria delle Grazie has been a UNESCO World Heritage Site since 1980 and remains one of Italy's most priceless gems.  
Restaurants, bars and shops near Santa Maria delle Grazie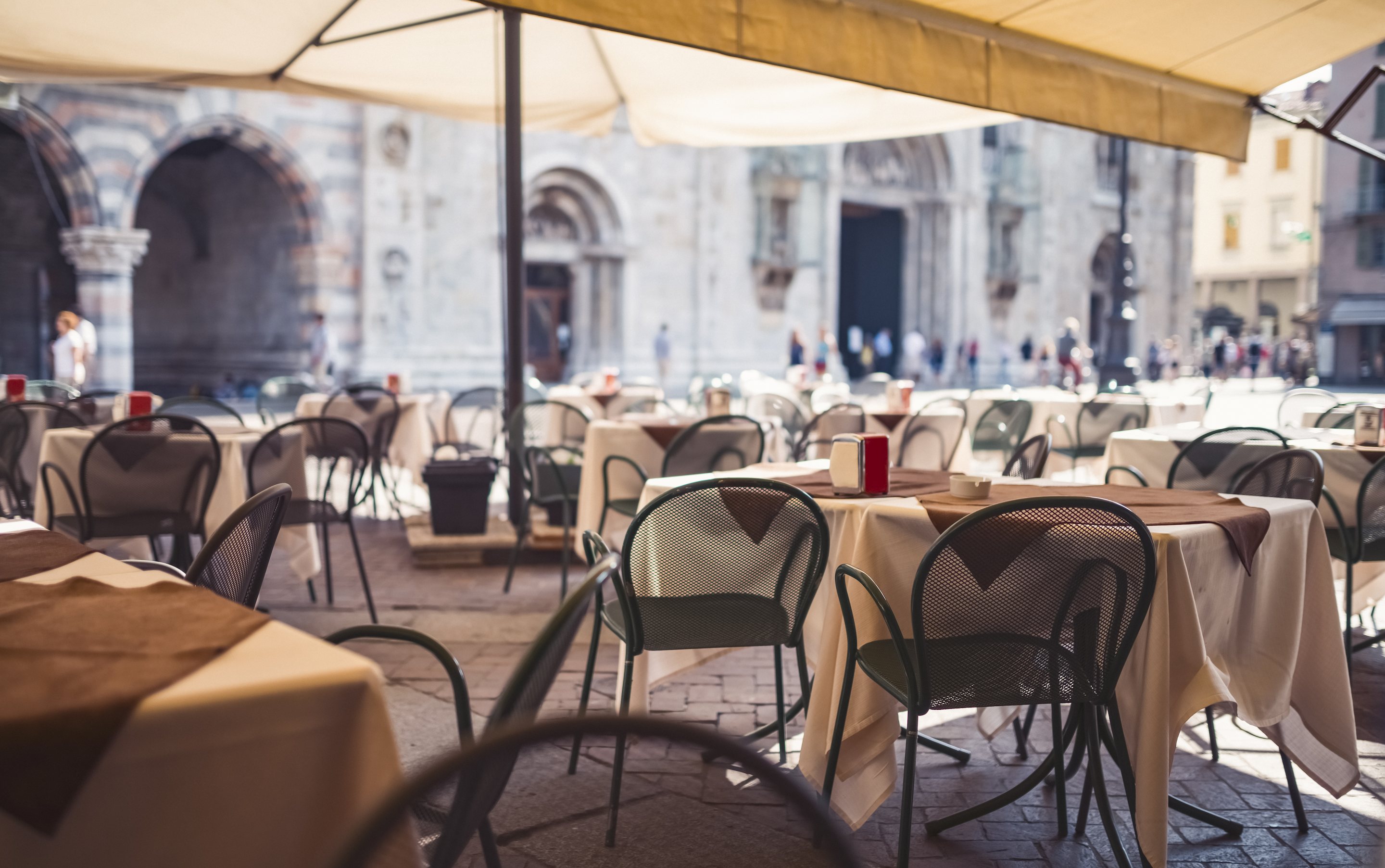 Conveniently located for all the main attractions, including Sempione Park, Sforzesco Castle and the Arco della Pace, the area surrounding Santa Maria delle Grazie is studded with bars, restaurants and shops. 
Whether you want a bite at a local trattoria to explore Milan's latest fashions or enjoy an aperitivo as the sun sets, you'll be spoilt for choice in this part of the city. Here are some of the best restaurants near the majestic church: 
Ghe Sem 
Cavoli a Merenda! 
Bistrò Aimo e Nadia 
Pasta-mi 
Acqua Pazza Ristorante 
Ristorante Bianca 
Arcano 
Pizzeria Biagio 
Tutto bene, Grazie Bistrò 
L'Uccellina 
Need an espresso after lunch? Some of the bars around Santa Maria are: 
Bar Magenta 
Caffè Le Grazie 
Pasticceria Lizzy 
Caffè de Amicis 
Bar Monti 
Dosso 18 
Caffè Biffi 
Guido Gobino 
Aperitivo time? No problem. Milan knows how to do it! Below are some of the best cocktail bars in the area: 
Parkering 
Panini Durini 
L'Alter Bar 
La Rocchetta - Cafè Bistrot 
Cantina Carducci – Enoteca Wine Bar 
Guadagno Milano 
Could you do some shopping after a long day of sightseeing? Some of the best stores for any type of budget are: 
Fashion Discount 
Bernardini Milano 
Gioielleria Vintage 
Autentico 
Il Fiocco di Camilla Sala 
BERSIA Antiquariato e Bijoux d'epoca
Planning a trip to Milan by train?
Travelling by train is a great way to visit the beautiful city of Milan. With high-speed services running to the city from popular destinations around Italy, you can get there quickly and in style. Trenitalia and Italo operate these speedy srvices, and can get you from Venice to Milan in just 2 hours, Florence to Milan in just 1 hour and 40 minutes and Rome to Milan in just 2 hours and 52 minutes.
Want to find out more about travelling to Milan by train? Check out our dedicated guide to trains to Milan.