Nestled at the foot of the Alps, Lake Como is Italy's third-biggest after Lake Garda and Lake Maggiore. Lombardy's crowning jewel has always attracted elite crowds, from artists and opera singers to writers and Hollywood celebrities. Lake Como is an idyllic place to explore, from opulent villas and lush gardens to charming fishing villages frozen in time.
What's in this guide?
How to reach Lake Como by train from Milan
Travelling from Milan to Como by rail is both quick and cheap. Even first-class tickets are surprisingly affordable, and standard fares will barely make a dent in your budget. Two rail lines connect the city with the lake: trains from Milano Centrale/Porta Garibaldi (services from these stations travel the same route) and trains from Milano Nord Cadorna.  
The train journey from Milan Central to Como San Giovanni station is about 40 minutes on Trenord and Eurocity trains, and it takes just over an hour from Garibaldi station. It may also surprise you to learn that trains run virtually around the clock, with the last train being at around 22:50 and then resuming after a short break at 00:30.
Ticket prices
A single ticket on regional trains costs €4.80* and €12* for the fastest services, a slower but more scenic alternative is taking the train from Milano Nord Cadorna to Como Nord Lago, with single tickets beginning at €4.80* and hourly departures. 
*Prices correct March 2022
Travelling from the airport
If you're planning to reach Lake Como directly from the airport, Milano Malpensa is by far your best option. You can take the TILO train, travelling daily to Como S. Giovanni in an hour and a half. Alternatively, hop on the Malpensa Express heading to Milan and getting off at Saronno, where you'll take another service to Como Nord Lago.  
Landing in Milano Linate or Bergamo Orio al Serio? We advise you to travel into Milan city centre by bus (30 minutes from Linate, one hour from Bergamo) and get a train to Como.
Things to do at Lake Como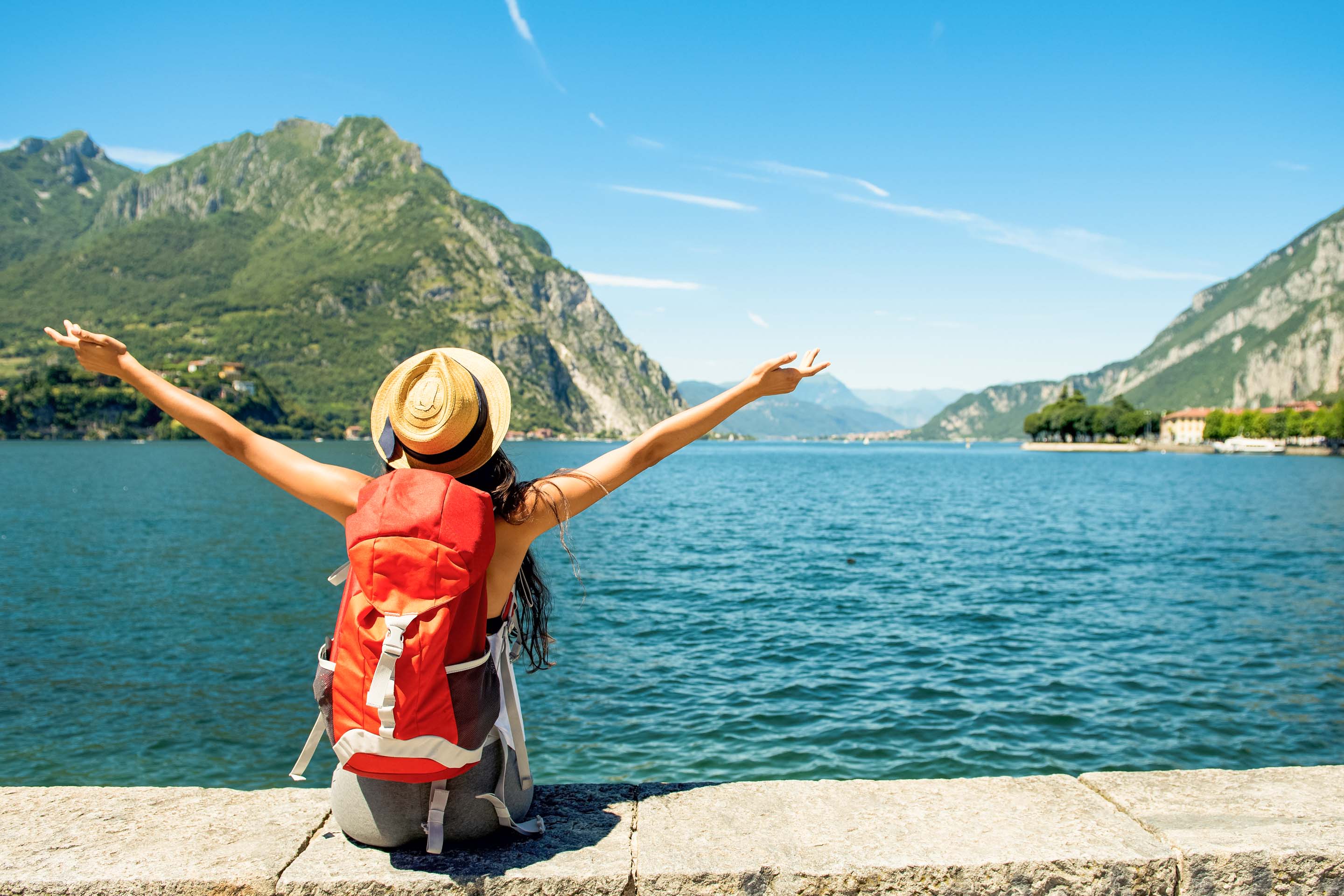 The setting of the 2006 James Bond movie and home of the Clooneys and the Kennedys – Lake Como is Italy's most glamorous lake. And it's no wonder!
Favoured by jet-set travellers for its eye-popping scenery, splendid lakeside lodgings and local historic attractions, the Alps dominate the skyline, almost plunging into the water, the surrounding landscape is dotted with exquisite villas and abundant gardens bursting with azaleas, camellias and cypress. An explosion of colours and fragrance. The short distance presents a marvellous opportunity to make a Milan to Lake Como day trip. If you've got the funds, Como makes for an unforgettable place to splurge for a few nights. Cheaper options exist as well, including lakeside camping and home rental options.
Visit Como's majestic Duomo and the Basilica di Sant'Abbondio, soak in Bellagio's elegant charm and explore the sumptuous Balbianello Villa. And don't forget to take a boat ride – most of the sights are best seen from the water! You can also take time to explore the spectacular lakeside area. Going for a walk to the shore is a magnificent way to appreciate Como's natural beauty at any time of year, with the villas dotted around the mountainside leading down to the water making for pretty views. In the summer, many visitors enjoy swimming or sailing around the lake.
Take a boat trip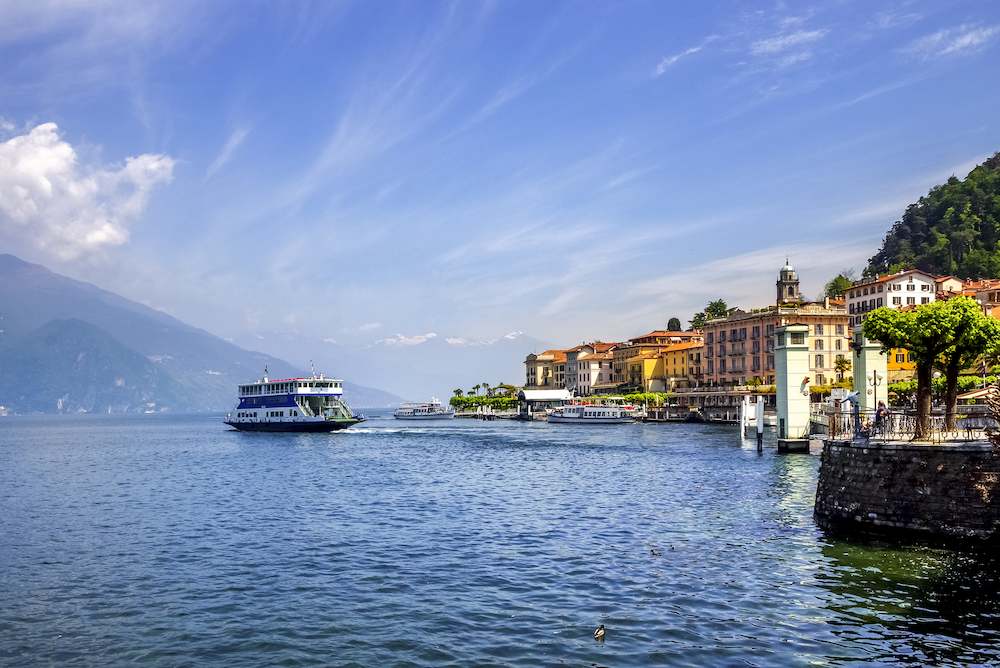 Lake Como is beautiful from every angle, but nothing beats a boat experience. This is where you get the most breathtaking views. No matter what part of the lake you'd like to see – Como Navigation Service makes it possible to visit all of them. It operates the whole year, with more frequent spring and autumn services.
Found at the fork of the 'Y' shape, let Bellagio's cobbled streets treat you with their timeless charm. Explore the luxury of Villa Serbelloni and Villa Melzi and get a gelato on the go while strolling along the lime-fringed promenade.
A tour of the central lake is also another scenic route you can't miss. Spend an afternoon wandering around Varenna, a romantic getaway like no other. Its hilly streets climb up the historical centre, offering picture-perfect views of the lake and sublime villas. And for even more stunning panoramas, visit the Castello di Vezio, opposite Villa Monastero. One of the region's most magnificent sights, Castello di Vezio is a 12th-century castle that has plenty to discover within its walls. Tour the dungeon and learn about the castle's role in medieval Italy, before heading up the tower for unforgettable views out across the water.
Lake Como is also well known for its stately homes. These include Villa Monastero, sitting by the water and boasting a rich 19th-century interior. You can visit the museum and spend time wandering through its lush gardens. Villa Carlotta is also well known in Como. Sitting among 20 acres of gardens, it features a wonderful art collection and embodies the chic elegance of this area.
If you still have time, take the Upper Lake tour to the majestic Piona Abbey – a 7th-century Gothic structure found at the top of the lake.
Relax on a beach
Did you bring all the essentials? It's time to lay down, unwind and sunbathe. Lake Como is packed with beautiful beaches, most of them managed by beach clubs. All offer facilities such as resorts, cafes, restaurants and more.
To save you extra legwork, we've rounded up some of the best beaches in the area for a well-deserved break.
Lido di Bellagio – much more than a beach. It's a lakefront club that offers gazebos, comfortable sunbeds and a well-equipped bar serving cocktails and drinks. This beach turns into an open-air disco with DJs and music when the sun goes down. You can even rent a private terrace for special occasions
Lido di Argegno – in the pretty town of Argegno, this grassy beach is ideal for families with children, with supervised pools overlooking the lake. The lido is also equipped with umbrellas and sunbeds, and the bar serves aperitivo and gourmet pizza
Lido di Cernobbio – while swimming in the waters of Cernobbio is forbidden, this lido offers an exciting alternative. The beach club is at the end of the Riva di Cernobbio. It provides deckchairs, umbrellas and a swimming pool. The fully-stocked bar and restaurant serve typical Lombardy dishes and Aperol Spritz
Discover a famous villa
Framed by a dramatic landscape overlooking the Rhaetian Alps and surrounded by Lombardy's glorious countryside, Lake Como owes its popularity to its opulent villas. Since Roman times, the lake has been a destination of choice among the wealthy, who have gifted the area with timeless architectural wonders.
Over recent years, the lake has become the home of Hollywood celebrities like the Clooneys, Madonna and Sir Richard Branson.
Visiting Lake Como means admiring its grand villas. These are some of the most striking:
Villa del Balbianello
Standing proud on a wooded peninsula on the western shores of the lake, Villa del Balbianello is Como's pearl. It was constructed in 1787 by Cardinal Angelo Maria Durini on the old site of a Franciscan monastery. The villa was sold to Guido Monzino in 1974, who filled it with art and artefacts from his expeditions. These were donated to the National Trust of Italy when he passed away. The villa was the backdrop of Casino Royale and Star Wars II: Attack of the Clones.
Villa Carlotta
Built for the Milanese marquis Giorgio Clerici in 1690, Villa Carlotta stretches 17 acres, including a garden with fountains and sculptures – some by Antonio Canova. After the owner's death, Princess Marianne of Nassau gave the villa to her daughter Carlotta as a present for her wedding. The garden houses rare plants such as camellias and sequoias. The blooming of azaleas and rhododendron in springtime make it a place like no other.
Villa d'Este
In Cernobbio, Villa d'Este was built for the Cardinal of Como, Tolomeo Gallio, as his summer residence. It was initially called Villa del Garovo; Caroline of Brunswick resided here in 1815 and gave it its current name. It became a luxury hotel in 1873 and is among the best hotels in the world today. Various couples have lived their romance here, including Frank Sinatra and Ava Gardner.
Villa Erba
Located in Cernobbio, this 19th-century villa was built by Luigi Erba and was inherited by his daughter Carla after his death. The mansion was bought by a public company in 1986 and used as an exposition centre.
Villa Oleandra
The 1720 Villa Oleandra was sold by sauce mogul John Heinz to George Clooney in 2004. This 18th-century mansion has 30 rooms and offers breathtaking views of Lake Como. In the same year, Clooney purchased Villa Margherita – adjoint to Oleandra with the Riva Soldino bridge.
Visiting towns around Lake Como by train
Como is one of the most visited destinations in Lombardy and spectacular regardless of what part you decide to visit. Whether as a base or a stopping point on your trip, it's a superb springboard for seeing more of the area, and it's the towns that populate its shores that make it truly exceptional. This northern Italian gem exerts a powerful pull on the imagination, thanks to its sumptuous villas, picturesque fishing villages stunning views across Lombardy's glorious landscape.
We've put together some of the towns you'll be mesmerized by while visiting Lake Como.
Bellagio
Midway between the two southernmost branches of the lake, the town of Bellagio looks like a fairytale. Its pastel houses and hilly cobbled streets, magnificent coastal views and romantic atmosphere make this place one of a kind. Make sure you save enough time to visit two of the most sublime villas in the area – Villa Melzi and Villa Serbelloni.
Varenna
Home to around 900 residents, Varenna has always retained its authenticity as a fishing village. The contrast between the old, rural houses and the luxurious villas lined up by the passerella (promenade) makes it a destination of choice among many, especially those looking for a quiet getaway. Hike to Vezio Castle for some incredible scenery and don't forget to visit Villa Monastero.
Como
You can't visit Lake Como without seeing the town it belongs to. Como is often underrated by tourists rushing to explore the lake, but it's well worth your time as a gorgeous hilly town that's famous for its beautiful architecture. The 15th-century cathedral is the last Gothic church built in Italy. At the same time, the Basilica di San Fedele displays a beautiful Romanesque style. Be sure to visit the Palace Grand Hotel too, if only to stop for coffee and admire its superb art nouveau architecture and attractive gardens. Hop on the funicular up to Brunate for panoramic views of the lake.
You can take a regional train operated by Trenitalia from Como to Varese in around 45 minutes or so.
Como to Lecco and Bergamo
You can also take the Trenord train from Como to Lecco in about an hour to savour the natural beauty of this hidden gem in Lombardy. Take the Piani d'Ema cable car up the mountain and have your camera at the ready! It's also about 1h 40m on a train from Como to Bergamo, which is home to a number of historic churches including the marble-clad Colleoni Chapel. This is a 15th-century site that deserves some exploring with its unique statues and frescoes.
Tremezzo
Across the lake from Bellagio, Tremezzo is another place you can't miss. Home to one of the most luxurious villas and gardens in the region, Villa Carlotta. See azaleas, rhododendrons and orchids among more than 500 species in the gardens here. Another must-see attraction is the Grand Hotel Tremezzo – an art nouveau masterpiece.
Nesso
Halfway between Bellagio and Como, Nesso is the perfect place if you want to be immersed in nature away from the usual tourist spots. This idyllic corner is famous for its magnificent gorge and waterfalls plunging into the lake. The town is home to fewer than 1,500 inhabitants, offering just a few cafés and restaurants at reasonable prices.
From Como to Switzerland by train
If you fancy taking in another country on your trip, hop over to nearby Switzerland by train. The train journey from Como to Lugano is about 30 minutes on Eurocity trains. Located within Switzerland's Italian-speaking region, Lugano's wonderful climate and palm-lined boulevards make it an attractive destination in the country.
You can also take a train from Como to Locarno – you'll reach your Swiss destination in about 90 minutes. Locarno sits on the shores of Lake Maggiore and features colourful architecture and opportunities for boat tours.
As part of a wider European trip, you can also make the easy trip from Como to Zurich by train. Sitting in comfort, take in Switzerland's beautiful scenery as you travel, arriving in its largest city in under three hours. The shores of Lake Zurich and the famous Grossmünster Cathedral await you here in the country's financial capital.
You can also easily travel by train from Como to Geneva. This journey also takes less than three hours to get to this high-level global city. Visit Geneva's Palace of Nations and UN Office, and witness the workings of this global institution at first hand. You'll also be within reach of the national capital, Bern, from Zurich in under an hour. Visit the Parliament Building and the Bear Pit, a park housing several examples of the animal that's a symbol of the city.
When taking train trips from Milan to Como or from Como to its surrounding towns and even to nearby Switzerland, you'll have an open door to many of Europe's most beautiful destinations. Travelling quickly by train allows you to relax and enjoy the dramatic and inspiring views of Northern Italy and Switzerland at your leisure. Tailor your trip to your specific tastes and see a little bit of everything, or simply travel with ease directly from Milan airport to spend your holidays in beautiful Como.