Getting to Tibidabo
Tibidabo is situated northwest of the city centre, just beyond Sarria-Sant Gervasi. While the easiest way to reach it from central neighbourhoods like El Born and the Gothic Quarter is by car, it's possible to get there on public transport, too.
Barcelona's public transport system is efficient and includes trams, buses, trains and a metro. Make your way to Plaça de Catalunya, where you'll find Tibibus services that are put on specifically by the Tibidabo Amusement Park.
Tibibuses leave every 10 minutes during park opening hours or every 30 minutes when the Panoramic Area viewpoint is open. They're free to use if you have a pre-booked ticket for the park and take you all the way to the lower station of the Cuca de Llum funicular railway.
When the park isn't open, you can get the line 7 (brown) metro from Plaça de Catalunya and hop off at Avenida Tibidabo. From there, stroll up the road and catch the Cuca de Llum funicular railway right up to the top of Tibidabo.
The funicular is also free to use if you already have a ticket for the amusement park. Otherwise, it's €12 for adults, €6 for kids and €2 for seniors.
What to see at Tibidabo
Once you've reached the top of Monte Tibidabo, you'll be greeted with a range of things to add to your Barcelona travel itinerary.
The city's highest point is a popular place to visit for a reason – and it's not just because it has epic views. You'll also have the chance to enjoy the following.
Tibidabo Amusement Park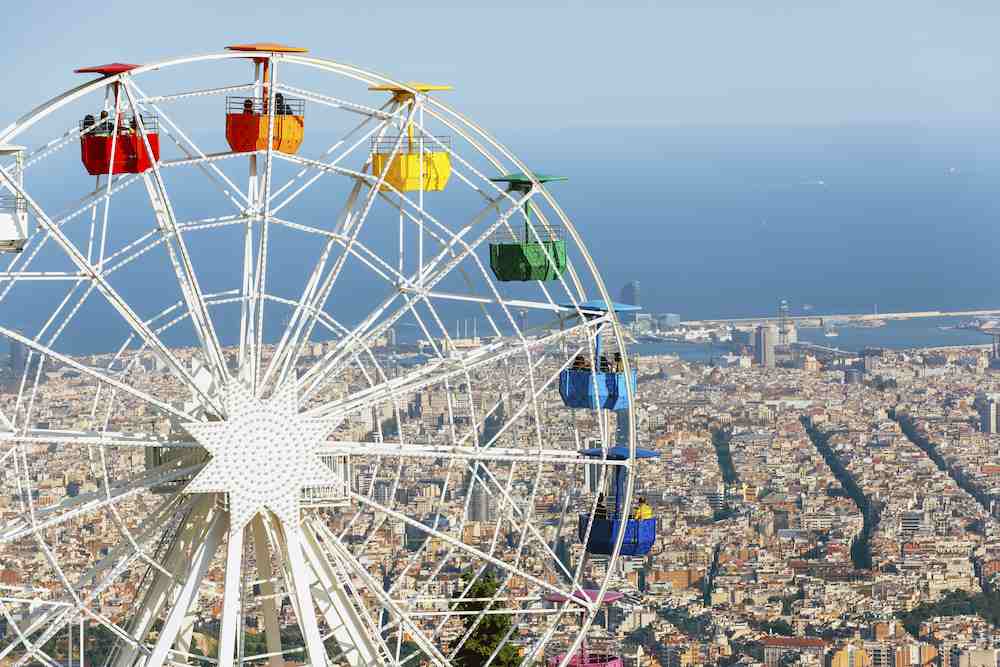 We've already mentioned Tibidabo's theme park. It's easily one of the best things to do with children in Barcelona. Whether you're travelling with little ones or are simply a big kid at heart, set aside half a day to enjoy the park's exhilarating rides and equally as exciting views.
Tibidabo first opened its gates in 1901, making it Spain's oldest amusement park and one of the oldest in the world. Start with classic rides like a carousel, bumper cars and a giant Ferris wheel. The park also has several rollercoasters, simulator machines, a 4D cinema and the Hotel Krüeger – a haunted house set inside an abandoned hotel.
Tibidabo's Panoramic Area
Want to soak up the best views in Barcelona? The Tibidabo Panoramic Area is the highest point on the mountain, sitting a whopping 500 feet above sea level. It's accessed for free throughout the year and lies just above the Tibidabo Amusement Park.
Sagrat Cor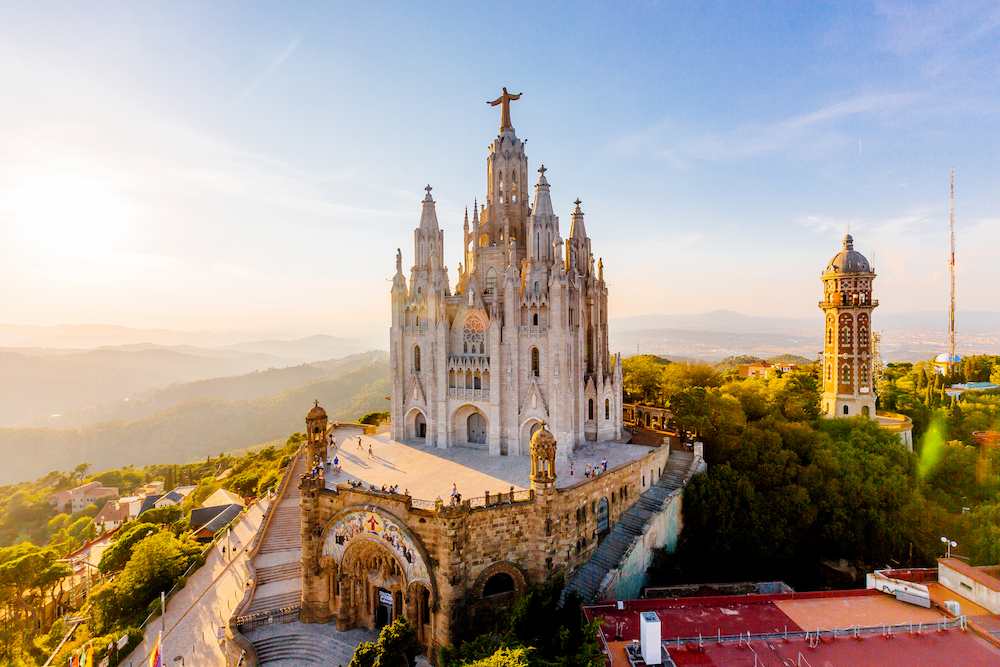 The Catholic Tibidabo church is one of the oldest structures on the mountain and a brilliant place to pop into for some peace and quiet. The impressive basilica is hard to miss on Tibidabo's skyline. It was designed by Modernist architect Enric Sagnier in the early 20th century.
Sagrat Cor (or the Temple of the Sacred Heart) was officially consecrated in 1952 and given minor basilica status nine years later by the Pope. Take a moment to admire its eye-catching façade: the lower half resembles a Romanesque fortress. At the same time, the top has been built in a neo-Gothic style and features a bronze statue of Jesus Christ.
Step inside the basilica, and you'll discover gorgeous stained glassed windows and a crypt decorated in an unusual mish-mash of styles. Sagrat Cor's outlook across Barcelona is also pretty impressive. Climb the steps to the platform just below the Jesus Christ statue for uninterrupted vistas.
Tramvia Blau
While not technically an attraction, the vintage Tramvia Blau is still worth having on your radar. It's yet another way to reach Tibidabo beyond the options we've shared above.
These blue trams are city symbols and take you from Avenida Tibidabo metro station to Plaça del Doctor Andreu, just below the funicular railway. Unfortunately, Tramvia Blau's lines are closed for upgrades for the foreseeable. Keep an eye out on the official TMB site for updates on reopening.
Fabra Observatory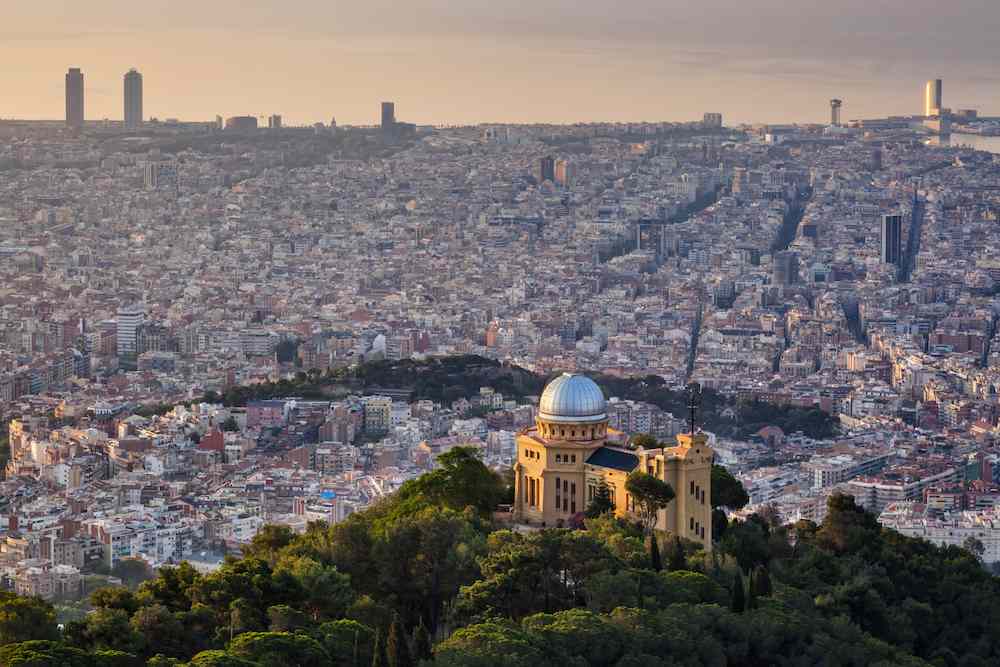 The Fabra Observatory is another structure worth checking out in Tibidabo, especially if you're in Barcelona over a weekend. The building was first opened in 1904 for Barcelona's Royal Academy of Science and Arts to monitor asteroids and comets. It's only accessible on guided tours at 11:00 on Sundays and public holidays.
Tibidabo history and facts
As well as holding the title of Barcelona's highest point, Tibidabo has a fascinating heritage that stretches back several centuries. Here are a few critical moments in its history worth knowing.
From humble beginnings
Tibidabo sits within the Collserola mountain range on the fringes of Barcelona. It was called Puig d'Àliga (Mount Eagle) during the Middle Ages before the name changed in the 16th century.
The name Tibidabo comes from the Gospel of St Matthew and means "I will give it to you". There's a passage in the bible where the Devil says the exact words to tempt Jesus Christ. According to local legend, the scene took place on Tibidabo, which was later given this name.
Developing Tibidabo
Tibidabo has long been a retreat for those hoping to escape the hustle and bustle of the city. Due to its remoteness, it wasn't really inhabited – except by shepherds – until the 1900s.
In 1886, the first official building, a small hermitage honouring the Sacred Heart, was constructed at the top of Tibidabo. This was followed by a road weaving its way almost to the summit, built for the Universal Exposition of 1888. The road was used by Queen Maria Cristina when she travelled to Tibidabo during an official visit to Barcelona.
Tibidabo becomes a tourist attraction
Fast forward ten years, and even more buildings and amenities start to spring up across Tibidabo. This includes the Tramvia Blau network, the funicular railway and, of course, the Tibidabo Amusement Park.
All three were completed by 1901, and the mountain slowly became a popular destination for tourists. New rides were introduced at the park over the years, while the Sacrat Cor church was built between 1915 and 1951. Another prominent feature of the mountain – the striking Collserola Telecommunications Tower – was constructed in 1992 for Barcelona's Olympic Games.
Today, Tibidabo is one of the best locations in Barcelona to enjoy sweeping vistas of the land and sea, in addition to an array of thrilling attractions!
Restaurants, bars and shops at Tibidabo
If you're spending an entire day exploring Tibidabo, you'll likely want the lowdown on where's good to eat, drink and shop in the area. Here are some of our top picks.
El Club dels Aventurers
This is one of many dining venues located in and around Tibidabo Amusement Park. Family-friendly and with a central location next to the funicular railway station, it's a good option if you fancy a bite to eat or a refreshing drink at the beginning or end of your visit.
El Club dels Aventurers' menu features a mix of sandwiches, pastries, tapas and other light bites. You'll also find an extensive list of hot and cold drinks, including beer and wine. Grab a table on the outdoor terrace to enjoy fantastic views of the entire city as you dine.
Can Marti Restaurant
About halfway down Tibidabo's south face, this welcoming restaurant is a local haunt known for its delicious Mediterranean cuisine. The food is wholesome, fresh and seasonal, with dishes ranging from patatas bravas to calçots (grilled onions).
You'll be able to soak up epic vistas as you dine if you bag one of Can Marti's outdoor tables. Fancy a short hike beforehand? Make your way to Peu del Funicular and then walk up through the trees along Carretera de les Aigúes to the restaurant.
Mirablau
Mirablau is just one of a handful of enticing restaurants on Plaça del Doctor Andreu, close to the Cuca de Llum funicular railway station. Its biggest draw is its jaw-dropping outlook which can be appreciated indoors from the venue's floor to ceiling windows.
The food at Mirablau is a real treat, too. The menu features both Catalan tapas and comfort food favourites, plus you'll be able to order up excellent local wines to pair with your meal. Heading back down from Tibidabo in the late afternoon or evening? Mirablau has a lively vibe after dark, with music and delicious cocktails.
Tibidabo opening times and prices
Access to the Tibidabo area is free, but you'll need to pay to get into the Tibidabo Amusement Park. The park's opening hours differ depending on the time of year. Usually, it's open between 11:00 and 19:00 in spring and autumn and until 21:00 or 22:00 in summer.
Typically, you'll find the park opens on the following days throughout the year:
Want to visit Tibidabo's Panoramic Area viewpoint? Opening hours change from month to month, so look at the website before you go.
Ticket prices
While the Panoramic Area is free to access, Tibidabo Amusement Park tickets cost the following:
General admission: €35
Juniors (children between 90cm and 120cm): €14
Children under 90cm: Free
Travelling by train to Barcelona?
It's easy to travel to Barcelona by train from within Spain and even from other European countries. Renfe's high-speed AVE trains can whisk you from Madrid to Barcelona in just 2 hours and 30 minutes, Valencia to Barcelona in just 2 hours and 40 minutes, or Alicante to Barcelona in 4 hours and 25 minutes.
Some of the most popular international train routes to Barcelona include Renfe-SNCF direct trains from Paris to Barcelona, as well as Toulouse to Barcelona, and Amsterdam to Barcelona.
Want to find out more about travelling to Barcelona by train? Check out our expert guide to trains to Barcelona.