What's in this guide?
Getting to Piazza della Repubblica
Because Piazza della Repubblica is as central as you can get in Florence, it's not just easy to reach, but other historical landmarks are also within walking distance. Cattedrale di Santa Maria del Fiore, Statue of David, Uffizi Gallery and Ponte Vecchio can all be reached by foot in less than 10 minutes.
If you're heading to Piazza della Repubblica first thing from your hotel, there are plenty of ways to get there by public transport. Staying a bit out of the city centre or travelling from a neighbouring city? The central station, Firenze Santa Maria Novella, is only a 10-minute walk from Piazza della Repubblica.
Alternatively, if you're staying within the city centre, a bus can get you much closer. The Vecchietti and Santa Maria Maggiore bus stops are just a few minutes away. When travelling by bus, make sure you buy your tickets in advance from an authorised retailer.
What to see at Piazza della Repubblica
Piazza della Repubblica is one of the biggest squares in Florence. A place to admire the beautiful architecture and enjoy entertainment from street artists, there are plenty of sights to take in when visiting this square.
Piazza della Repubblica is surrounded by ancient buildings and narrow alleys dating back to medieval times! If you're unsure of what deserves your attention, here's a summary of the landmark's key selling points.
Colonna della Dovizia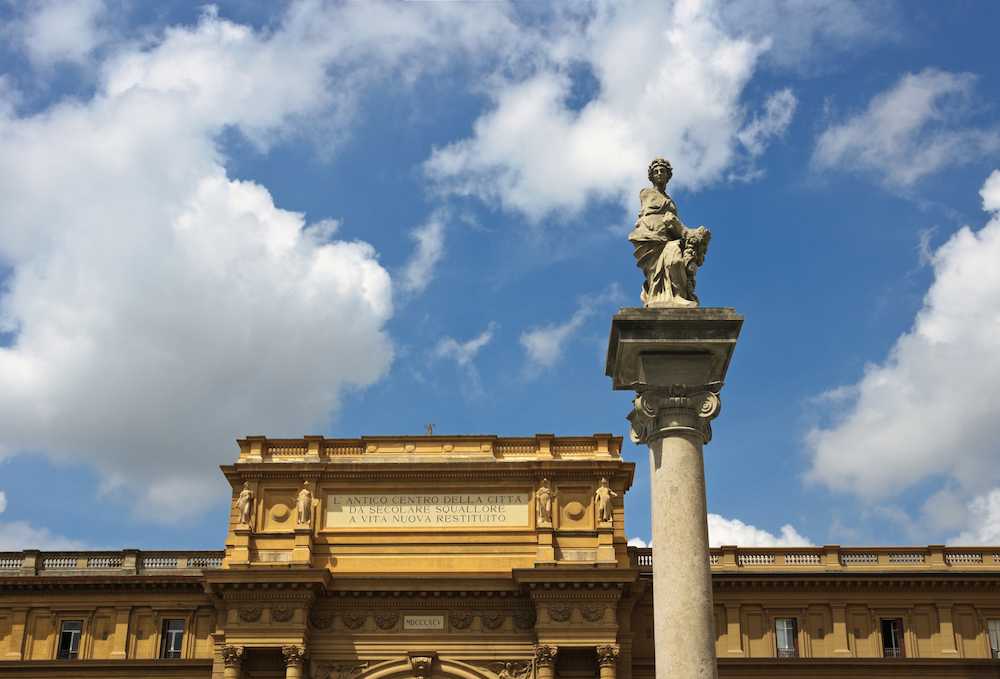 The last remaining trace of Roman Florence in Piazza della Repubblica, Colonna della Dovizia (The Column of Abundance), marks Florence's exact city centre. This landmark also marks where the cardus and decumanus maximi streets met back when it was a Roman forum.
The column dates to 1431 and was originally topped by a Donatello statue. This was destroyed and replaced in 1956 with a Giovan Battista Foggini statue.
As the indicator of the city centre, in medieval times, the column would be surrounded by markets and churches. Before Donatello's statue was added, the column was topped with a bell, rung to warn shoppers that pickpocketers had been spotted in the square.
Today, the column stands tall in the square and reminds Piazza della Repubblica's medieval past.
Piazza della Repubblica's Arcone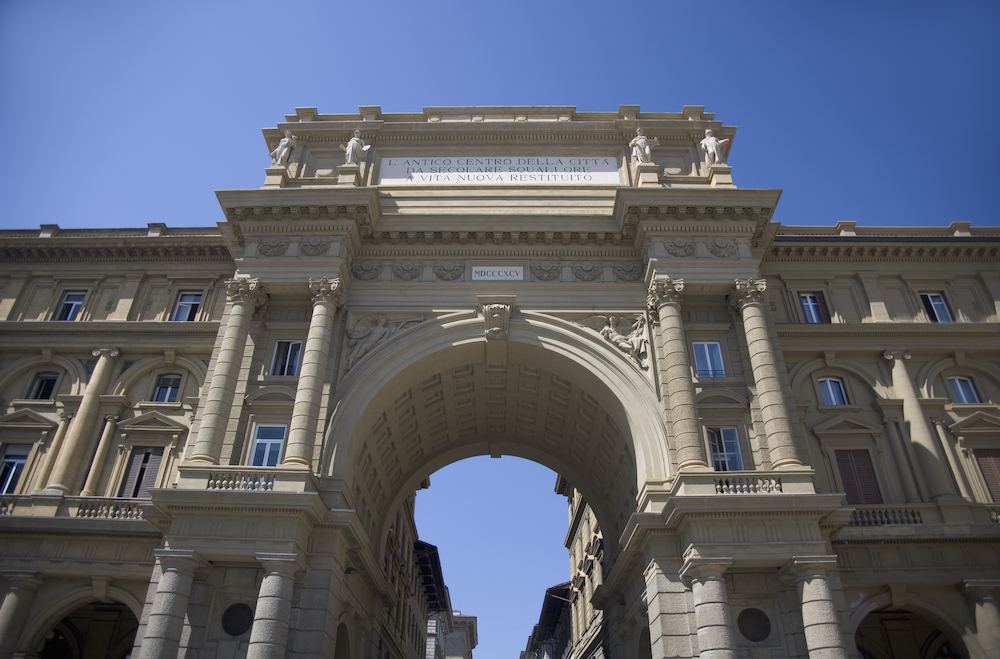 Head to the square's west side, and you'll find portico after portico, each intricately decorated. The series of entrances can be found along via Brunelleschi and via Pellicceria, joined by a majestic arch named Arcone.  
Designed by Vincenzo Micheli, the vast arch takes inspiration from the Renaissance era in the city and is the square's focal point. Above the Arcone, you'll find an inscription that commemorates the old square before it was refurbished, which reads:
"L'Antico Centro Della Città
Da Secolare Squallore
A Vita Nuova Restituito"
In English, this roughly translates to "The ancient centre of the city, from age-old squalor, restored to new life".
Piazza della Repubblica's Cafés
18th and 19th-century cafés still operate at the square, making it ideal for an Italian aperitivo. Dotted along the square's borders, Piazza della Repubblica restaurants include Caffé Gilli, Caffé Paszkowski and Caffé Giubbe Rosse. These were once the meeting points for Florence's most famous artists and writers.
Want to spend the afternoon in a traditional Florentine café that will take you back in time? We highly recommend you pay one of the three cafés a visit.
Caffé Gilli is a firm favourite out of the three Piazza della Repubblica restaurants, as it's the oldest bar in Florence. Established in 1733, it's an institution in the city. Here, you can expect the classics done right in a cocktail bar that's beautifully dressed.
Piazza della Repubblica history and facts
Medieval Piazza della Repubblica
Although a popular tourist hotspot today, Piazza della Repubblica was busiest during medieval times. The area was so densely populated it was recorded that there wasn't a single garden to be found, with extra floors having to be added to dwellings.
During this era, each of Florence's squares had a specific purpose. Piazza della Signoria, for example, was used for political affairs. Once Loggia del Mercanto Nuovo (The New Market) was built near Ponte Vecchio, the market at Piazza della Repubblica was aptly renamed Mercato Vecchio (The Old Market).  
Piazza della Repubblica in the Renaissance era
During the Renaissance period, the main change brought to Piazza della Repubblica came when the ruler, Duke Cosimo I de' Medici, ordered that Jewish residents live within the square. Creating this ghetto, known as the Jewish Quarter, only worsened the overcrowding in this densely populated area of Florence.
Piazza della Repubblica Refurbishment
The square remained untouched in its original medieval style for centuries until the late 1800s. This was when Florence was appointed the capital of Italy. To make sure the city was up to the task, the council decided to undertake refurbishments across the whole of Florence.
These refurbishments included Piazza della Repubblica, and between 1885 and 1895, the vast majority of the square's original features were destroyed. Among the casualties were towers, homes and even churches, most of which dated back to the early medieval times.
Grand palaces, complete with porticoes, were built to replace the original medieval backdrop, designed by Vincenzo Micheli, Luigi Buonamici and Giuseppe Boccini.
Piazza della Repubblica today
It may not have many of its original features, but there are plenty of reasons to visit Piazza della Repubblica today. The square often hosts street artists, particularly in the evenings. Many events happen here throughout the year, including the Florence Gelato Festival and the flower and plant market on Thursday mornings.
Restaurants, bars and shops near Piazza della Repubblica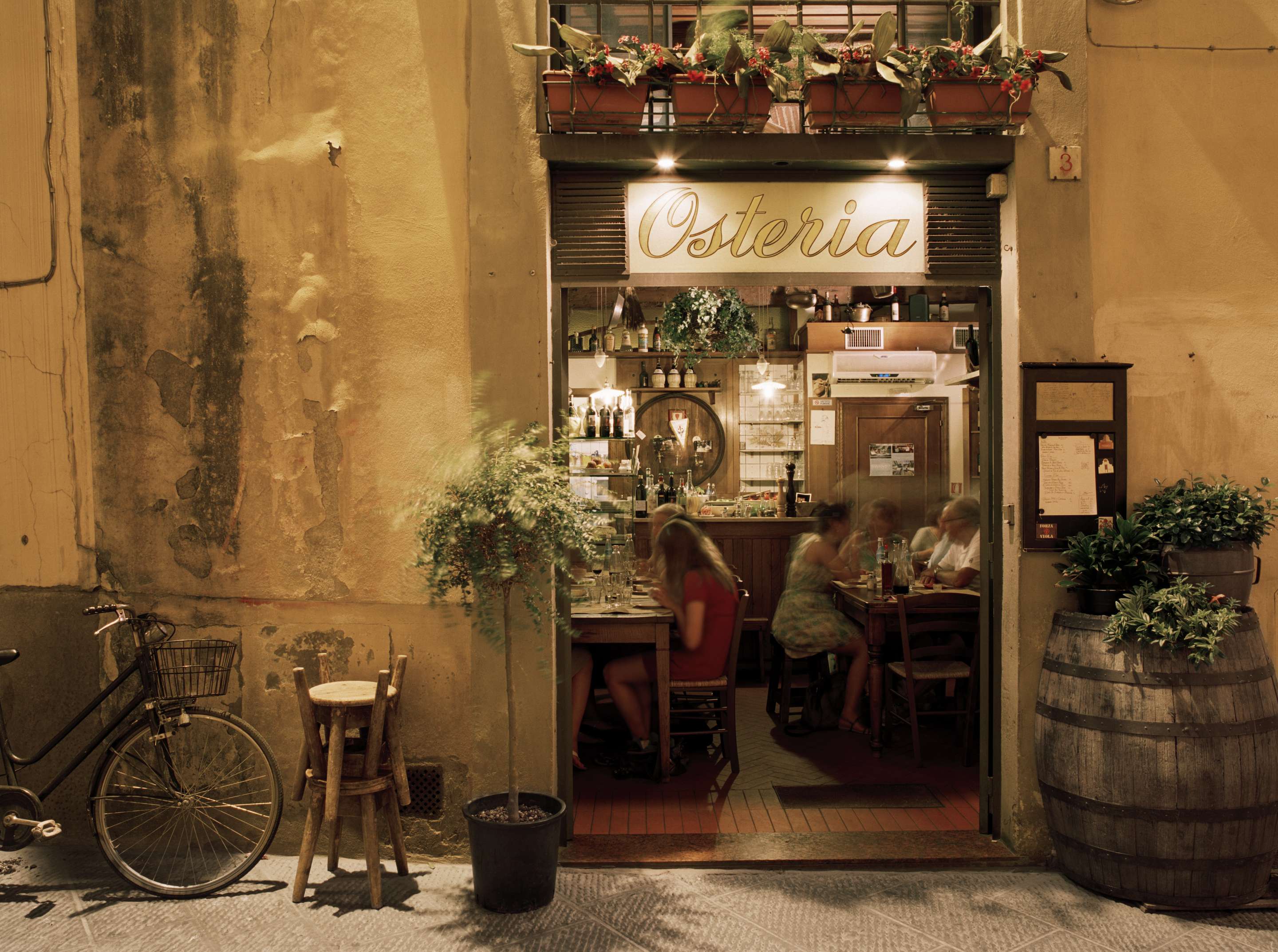 Seeing as Piazza della Repubblica marks Florence's city centre, finding a nearby restaurant or bar is easy. There are plenty of amenities dotted around the square, some even within the Piazza della Repubblica's parameters.
Restaurants
Food is often the highlight of a holiday. When visiting a city such as Florence, you want to make sure you're trying out the very best Tuscan food the city has to offer. Here are a handful of the best restaurants you can find on Piazza della Repubblica's doorstep.
I Due Fratellini: A 2-minute walk from Piazza della Repubblica, this hole-in-the-wall sandwich bar is a must-visit. With 30 paninis to pick from, along with a selection of wines, I Due Fratellini makes the perfect pit-stop. The prosciutto and truffle option is among the most popular flavours, so give it a try if you're spoilt for choice!
Il Latini: For a lively dinner where you can socialise with other tables, head to Il Latini. This family-run restaurant boasts a friendly atmosphere combined with traditional Tuscan cuisine to make an unforgettable evening. Plus, it's only a 5-minute walk from Piazza della Repubblica.
Parione: A restaurant that can quickly be passed by those less familiar with the city, Parione is a hidden gem that's just a 5-minute walk from Piazza della Repubblica. Prione has a traditional interior and a warm, friendly Italian welcome, serving superb steak and staple fresh Tuscan food.
Bars
What's a holiday without a glass of wine or two? Unwind after exploring Piazza della Repubblica by visiting some top bars within walking distance.
Rivoire: It may be famous in the city for its amazing chocolates, but Rivoire also has a cocktail bar. A 3-minute walk from Piazza della Repubblica, visit Rivoire to try a classic Negroni made the Italian way.
Angel Roofbar and Dining: Enjoy a 360 view of Florence's skyline in an intimate setting where you can sip a refreshing drink. Complete with ornate dining chairs and fairy lights, this quaint bar is only two minutes from the square.  
Manifattura: A few minutes walk from Piazza della Repubblica you'll find a charming cocktail bar. Recreating a 50s retro lounge, Manifattura has an inviting atmosphere. Once inside, you can test a range of cocktails made using Italian liquors and spirits.  
Shops
Shopping is a fantastic way of breaking up your day, giving you a chance to refresh before heading off to the next landmark.
Via della Spada: A 3-minute walk away, via della Spada, is an alternative to the adjoining via de' Tornabuoni, a real tourist hotspot. If you're looking for some peace and quiet when shopping, this is the street for you. Here, you'll find shops that sell everything, from food vendors to high-end fashion boutiques.
Borgo Santi Apostoli: Another shopping street where you can find refuge from the tourist crowds. Borgo Santi Apostoli is just 5 minutes from Piazza della Repubblica. This quaint cobbled lane is packed with history and is the home of small independents.
Opening times and ticket prices
Although surrounding restaurants and cafés will have their own opening hours, the square itself remains open 24 hours a day, seven days a week. What's more, you can visit the Piazza della Repubblica for free!
Travelling to Florence by train?
Trains to Florence run from all the major destinations in Italy. High-speed modern services are operated by Trenitalia and Italo, taking you from Milan to Florence in less than 2 hours (1 hour and 50 minutes),  Rome to Florence in just 1 hour and 17 minutes or Bologna to Florence in just 37 minutes. Check out our guide to trains in Italy to find out more.