10-day itinerary by train
Not sure about the best way to see Europe in 10 days? Itineraries can be a challenge to put together, but only because we're spoilt for choice. The excellent system of railways connecting Europe's major cities – getting you straight from city to city without the hassles of airports – makes it an incredibly easy way to see a lot in relatively little time. Need a few suggestions? Here's a rundown of our picks for a 10-day Europe itinerary by train from London.
Day 1 – Arrive in Bruges
Day 2 – Amsterdam
Day 3 – Brussels
Day 4 & 5 – Paris
Day 6 – Lyon
Day 7 – Milan
Day 8 – Bologna
Day 9 – Florence
Day 10 – Fly home
Keep reading for more details on what to see and how to travel between these amazing destinations. 
Days one to three: the Low Countries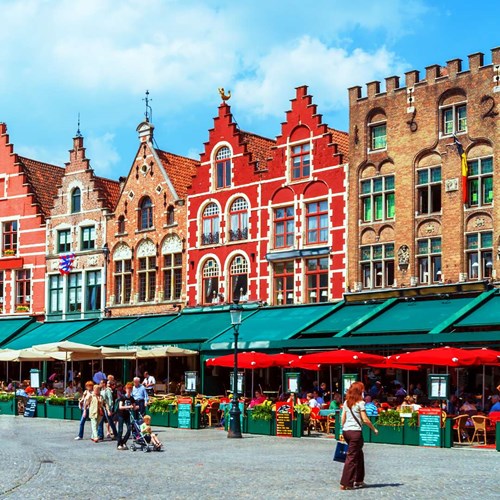 London to Bruges
Whether you live in London or are just passing through the English capital, its superb network of rail connections makes it the best place to start your 10-day itinerary by train through Europe. If you're coming from afar, perhaps you'd like to take a few days exploring London, a city which offers everything from world-class museums to underground music clubs, historical landmarks and lush public parks.
Once ready to kick off your 10 days in Europe, make for King's Cross St. Pancras station to board the Eurostar to our first destination: Bruges. The train from London to Bruges Brugge takes just over three hours with a transfer through Brussels, so if you set off in the morning from London you should be in Bruges by lunchtime, leaving you the afternoon to walk around Bruges' well-preserved medieval old town. Don't worry about losing your sense of direction in Bruges, as its many pedestrian-friendly streets seem to be packed with beautiful old houses, quaint churches, canals, and chocolate shops. It's a great city to walk around and get lost in, particularly around the medieval city walls and canals, which are also a fine spot for an evening drink and meal.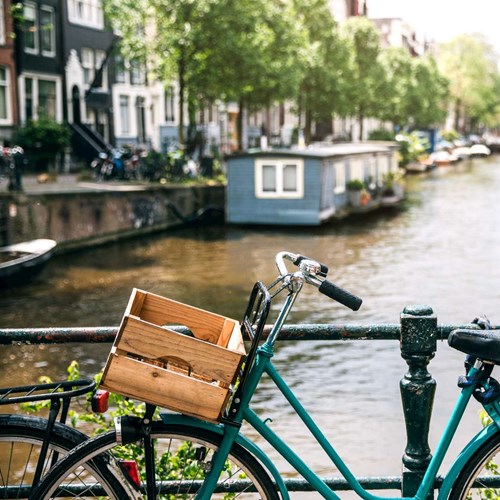 Bruges to Amsterdam
The train from Bruges Brugge to Amsterdam takes just under 3 hours. Amsterdam is a must-visit inclusion on many European itineraries, and with good reason. Rent a bike and do as the locals do, seeing the city from its many safe cycleways crisscrossing the roads and canal bridges of the city. Make for Dam Square, the heart of the old medieval centre of Amsterdam, filled with boutique shops, quirky coffee houses, and intriguing architecture. Also worth exploring are the nearby neighbourhoods of Nieumarkt and Spui, less crowded but certainly no less charming. The main train station in Amsterdam, Amsterdam-Centraal, is conveniently located just outside the old centre, on an island towards the waterfront, so you can get into cycling or sightseeing right after you get off the train!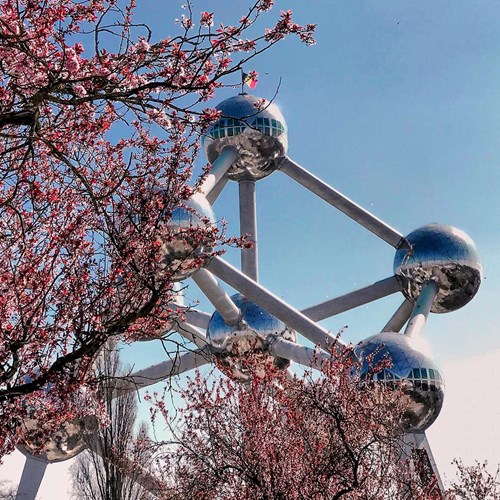 Amsterdam to Brussels
It might seem like you're backtracking since you pass by Bruges again, but the 1-hour 45-minute journey from Amsterdam to Brussels by train is actually faster than going from Bruges to Amsterdam. The reason? This beautiful, postcard-worthy city is the centre of European politics. That means that diplomats and politicians frequent the extensive rail connections between Brussels and Europe's major capitals. Unlike the busy lawmakers, you'll hopefully have a little more time to make the most of what the Belgian capital has to offer. Starting in the city's historic core, the Grand Place-Grote Markt sets the tone for the grand neo-Gothic and romantic architecture you'll run into continuously on a walk around the old town. Be sure to snap a photo of the Mannequin Pis, Brussels' tiny, cheeky city icon. You can take a historic walking tour, or even follow a walking trail of public art inspired by one of Belgium's most beloved cartoon heroes, Tintin.
Days four to six: France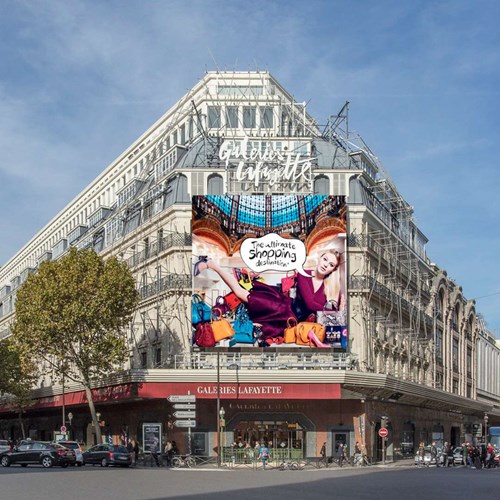 Brussels to Paris
You'll pass again from the capital city of one country to another in less than two hours. It's only 1h 22m on the fastest train from Brussels to Paris. Although we've marked out just a day in Paris, you might want to take some more time in this city that exemplifies grandeur and elegance. Wander among the art-supply shops and galleries at the foot of Montmartre, fuel up on croissants and coffee before ascending the hill for stunning views from Sacre-Coeur cathedral, and then descend into the city centre for an unbelievable treasure trove of landmarks and museums.
You could write a whole article, or even book, about each of Paris' famous art museums, but none has as strong a pull as the Louvre, which houses one of the world's best art collections under its unmistakeable glass pyramid. Stroll through the Tuileries gardens as Napoleon did, wander through the Marais district, or ascend the tower at Notre-Dame. Or, just relax and enjoy Paris' vibrant cafe culture and brilliant restaurant scene. You can't lose with whatever you choose to do during your Paris stay.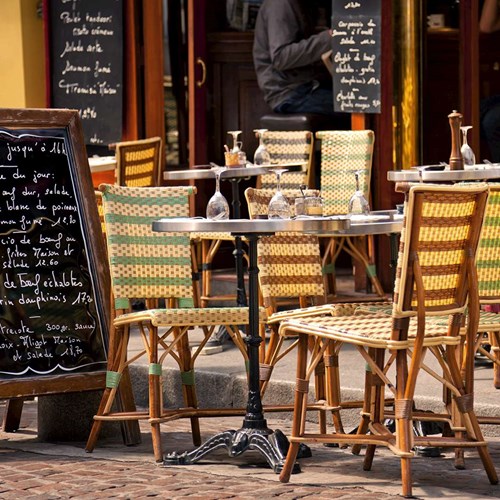 Paris to Lyon
Next on the French leg of our 10 days in Europe by train, we suggest heading to the unique eastern city of Lyon, only a little under two hours from Paris by train. Lyon boasts proximity to the kind of natural beauty that most cities could only dream of. Lyon is the closest major city to the French Alps and a hub for winter ski holidays. It's an ideal base for mountain hikes, with regular train and bus services from Lyon to alpine towns like Grenoble, Chamonix-Mt-Blanc, and even Geneva, Switzerland.
In Lyon itself, you'll be pleasantly surprised to find a lot of impressive historical landmarks. Vieux Lyon, the old quarter running along one side of the river, is the largest Renaissance area in Europe after Venice, centred around three churches dedicated to the saints Jean, Paul, and Georges. The Fourviere Basilica should also not be missed, particularly for the stunning views you get from the top! Lyon is also renowned as a gastronomic city, with plenty of famous local dishes to enjoy at affordable prices.
Days seven to ten: Italy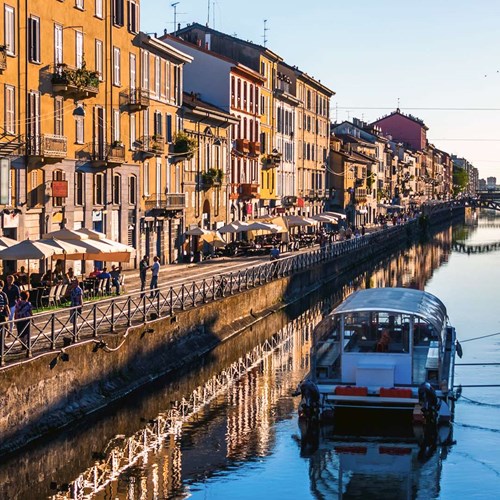 Lyon to Milan
With your bellies full from feasting in Lyon, it's time to leave France and head through the mountains to Italy. Our first segment is the journey by train from Lyon to Milan which takes 4h 42m if you opt for the fastest route or a more leisurely six to eight hours on the more scenic route. We highly recommend the latter option, given the opportunities to take in the stunning alpine scenery along the way. A global capital for fashion, Milan is a city with a lot of history and gorgeous architecture. No sight tops the Duomo, the city's main cathedral, covered in ornate gothic spires and spikes. Catch it in the early evening as the sun starts dropping for the best photo ops, with pale-pink and orange colours bouncing off its white facade. Milano Centrale train station connects with the Duomo and other major stations via the city's excellent metro network. For specific information on Milan's many other attractions, visit the official Milan tourism website!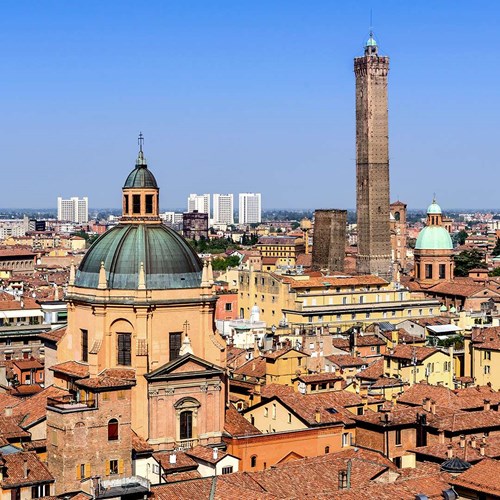 Milan to Bologna
After your day enjoying Milan, take a morning train to Bologna – but keep your stomach empty for this most delicious part of the journey! As it's only one hour by train from Milan to Bologna, get ready for an Italian food lover's paradise. A vibrant academic city thanks to one of Europe's oldest universities, Bologna is the capital and largest city of Emilia-Romagna, a smaller region that has contributed more to Italian cuisine than any other. Think Parmesan cheese, prosciutto di Parma, balsamic vinegar, and fresh pasta and Bolognese sauce. Be warned that you'll hardly recognise the marvellously flavourful ragu bolognese if you're used to spaghetti and meatballs back home! It's a rite of passage for any pasta lover to taste the real thing in Bologna, and just the thing to feast on after walking up one of Bologna's iconic medieval towers, or through its city streets.

Bologna to Florence
What better place to end our 10 days in Europe than Florence, the city where the Renaissance began? Just 35 minutes by train from Bologna to Florence, this destination is holy ground for many art lovers. The photogenic streets still look and feel as they were when Michaelangelo and Leonardo da Vinci walked them, lined with sun-baked paving stones and red-roofed buildings set against a deep blue Tuscan sky. You could create an entire 10-day itinerary visiting Florence's art museums, but the city also has some stunning architectural landmarks. None are greater than the Ponte Vecchio bridge, lined with jewellery shops bustling as it was when the Medici family ruled Florence, and Florence's exquisite Duomo cathedral, its gigantic dome a groundbreaking architectural achievement of the Renaissance. Despite its historic feel, Florence's modern rail system is well-developed, and you can alight right on the fringe of the historic old town at Firenze Santa Maria Novella station.
There's an amazing number of historic sites, quaint cities, global hubs, and natural beauty to be explored throughout Europe. If you'd like to extend your stay at any of these destinations, it's no problem – it's your choice how you build your own itinerary for Europe in 10 days. With so many combinations of cities and routes, the possibilities are endless for adding to or modifying your journey. Now that you know how easy it is to connect Europe's most beautiful cities, what are you waiting for?