A few hours in Edinburgh (near the station)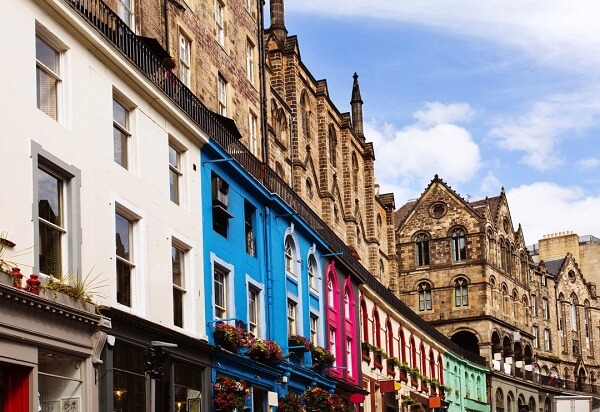 Break up your commute with our Edinburgh guide
If you follow the same daily commute, it's easy to get stuck in a routine and forget to explore your city, which means you're almost certainly missing out on some cool stuff!
If your train stops in Edinburgh then this article is for you. We've asked Catherine, from Edinburgh's The Luxury Editor magazine, to pick her selection of what's hip 'n' happening in and around Edinburgh Waverley Station. You don't need to go far to experience something new in the city.
1. Have a mooch around The Arches 
The Arches, on Jeffrey Street in Edinburgh's Old Town, were renovated in 2016. The unique boutiques and creative cafés that've popped up in the vaulted spaces beneath each arch are worth checking out.
Pop in to Tempo Tea to sample some fruit-infused bubble tea (a tea-based beverage craze from Taiwan), or head to Baba Budan for great artisan coffee and delicious, home-made doughnuts. On your way back to the station, treat yourself to a quick beauty refresh from Buff Concept Nail Salon or renowned makeup artist, Lauren Gollan.
Get your caffeine fix somewhere new
Rather than squashing yourself into the corner of a packed chain coffee shop, or taking your double espresso to-go, why not enjoy your cup of Joe in a more unique setting and explore the Edinburgh Old Town, just to the south side of the Edinburgh Waverley station.
Our favourite place to sit on a summer's day is on a bench outside the Cannongate Kirk - a prime place for a spot of people watching. But, if you're in a hurry to get to the office, Brew Lab  on South College Street does great bottled coffee to take away.
Chill out in an art gallery
Edinburgh has galleries in abundance, but our picks are as close to Edinburgh Waverley station as possible. The Fruitmarket Gallery is the perfect lunchtime excursion – it's free entry and the gallery offers beautifully curated exhibitions from the most exciting Scottish and international artists. Hop across the road, and the City Art Centre always has engaging exhibits and events to lose yourself in - like Stop the Plastic Tide. 
Soak in the immense atmosphere of St Giles Cathedral
A short walk from Edinburgh Waverley station, you'll find another place perfect for a quiet moment of contemplation. St Giles Cathedral is an amazing feat of architecture that'll have you staring in awe and wonderment. But, don't end your visit without heading down to the basement for some quick refreshment in the bustling café below. Cakes and coffee are the order of the day here and neither will disappoint. 
Enjoy a tipple in an old Victorian pump house up Advocate's close
Boasting award-winning bartenders and a choice of over 200 Scottish and International whiskies, you might assume the Devil's Advocate is a serious drinking den. Although they don't pull any punches with the selection of tipples they offer, the contemporary-meets-traditional décor and relaxed atmosphere make this tucked away bar a cosy find. It's difficult to stand out in a city full of cocktail bars, but the Devil's Advocate is sophisticated in ways other bars are OTT, making it the perfect place for an after-work drink.
Scoff pizza by the slice, in true NYC style, just off the Royal Mile
Italian street food at its best, Civerino's is fast becoming the most popular place in the city for pizza. Serving pizza by the pie or by the slice, Civerino's is relaxed, fun and forward-thinking. A great alternative to the numerous  fast food joints, Civerino's offers (relatively) quick food that's as delicious as it is well-priced. Although the restaurant isn't large, what it doesn't have in size it makes up for in character.
The classic old town building's exposed brick-work is lit up with funky neon lighting, tables and benches are shared, and the staff are chatty. This place is great for a quick bite to eat with colleagues or friends and is literally a stumble away from the station. If you're travelling for business, don't forget you book and manage your expenses with  Trainline for Business .
Whether you're an Edinburgh Season Ticket holder, or you're stopping off mid-journey you can reduce the travel stress by using our app for up-to-date ticket, train and platform info in your pocket. 
More information about getting trains to Edinburgh.