Mobile Tickets 
Book a Mobile Ticket and you can open it directly on your Trainline app. It'll stay there even after you've completed your journey. 
etickets 
Book an eticket and either scan the barcode direct from your email attachment, print it, or download it to your Trainline app. 
Why use tickets on your phone?
Less time at the station
Stay at home a little longer because you don't have to queue to buy or collect tickets.
Bye bye multiple tickets
Why walk around with a wad of tickets in your wallet? Your phone is all you need. 
Never lose your ticket
Because you always know exactly where your phone is.
Better value for money
More fares available on your app than at the ticket machine.
Book for others 
Easily book and send tickets to friends and family.
Environmentally friendly
The trees will thank you for not using those paper tickets anymore.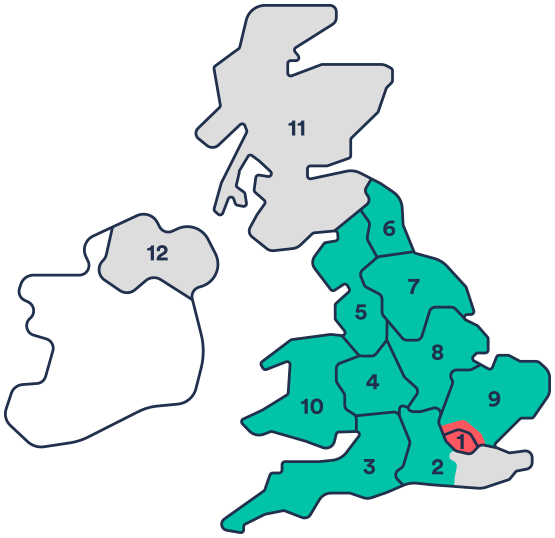 Where in the UK can I use tickets on my phone?*
All routes

Limited availability

Coming soon
Regions
Greater London

South East

South West

West Midlands

North West

North East

Yorkshire and the Humber

East Midlands

East of England

Wales

Scotland

Northern Ireland
*Available on selected routes, check the full list. Many UK operators support etickets (excludes travel on TfL Underground or Overground). To use Mobile Tickets, you'll need an Android or iOS smartphone with the latest version of the free Trainline app. 
How to get tickets on your phone
Mobile Ticket
Download the latest version of our app - available on iOS and Android. 

Choose the 'Mobile Ticket' option when booking on our app or website. If booking on the web, you'll receive a confirmation email after purchase. Simply open it on your phone to download your tickets to the app. 

Voila! Your Mobile Ticket will now appear under 'My Tickets' in the app. 
To use:
First, tap to activate it before heading to the platform. 

Scan the ticket barcode using the glass panels at the ticket gates, or show it to train station staff. 
Did you know, you can switch between a leisure and business account within our app? Keep track of all trips, expenses and tickets in one handy place. 
eticket
When booking, select 'eticket' as your delivery option.

Once booked, we'll email your tickets as PDF attachments (one email per journey booked).

If you're buying a ticket for someone else, forward the ticket to them by email.
To use:
Download your eticket to your Trainline app, or scan the barcode directly from the email on your phone.

For added reassurance, you can print the PDF and use a hard copy.
Apologies for shouting, but: OMG PAPER-FREE TRAIN TRAVEL! It's finally here. Thank you @thetrainline for your mobile tickets #ux #thefutch
Love @thetrainline app, mobile tickets are so good! Can just walk straight through without queues and hassle 😍
Gotta say, used @thetrainline's mobile app and electronic tickets for 1st time. Brilliant!
 
@Jamesamatthews